Hawkeye Fan Shop — A Black & Gold Store | Hawk Talk Monthly – May | 24 Hawkeyes to Watch 2018-19 | 2019 B1G Tournament Bracket (PDF)
By JAMES ALLAN
hawkeyesports.com
OMAHA, Neb. — The University of Iowa baseball team is hitting the reset button.
 
After ending the season with five straight losses, the Hawkeyes are the No. 8 seed at the 2019 Big Ten Tournament, which begins Wednesday at TD Ameritrade Park.  Iowa faces top-seeded Indiana at 5 p.m. (CT).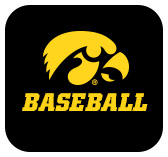 "It's a great opportunity for us," said senior captain Mitchell Boe. "We're grateful for with what happened that we get another chance.  We're still one of the best teams in the Big Ten.  We're going to take it head on and it's a new season for us."
 
Two weeks ago, the Hawkeyes were flying high coming off a series win over No. 18 UC Irvine.  The series victory propelled Iowa into the top 25 rankings for the first time this season and the team was mentioned as an at-large candidate for NCAA Regionals play.
 
The Hawkeyes then lost two of three games at home to Michigan State before getting swept in the final regular season series at Maryland. 
 
"There is no reason for us to focus on what happened the last two weeks, we have to move past it, have a couple of good days of practice, and reset our minds," said senior Chris Whelan. "We all know what we're capable of, we've done it the last two months, playing good baseball.
 
"It's a new season now, we have to reset and get back to understanding how good we are and get that confidence that we had during the UC Irvine weekend and the weekends before that."
 
Boe says the Hawkeyes have to get back to playing their game.  That means scoring runs and pitching to get outs. 
 
"(During the losing streak) games didn't fall our way," said Boe. "We have to get back to what we do, get back to playing and they'll eventually fall our way."
 
Iowa opens the tournament against the Hoosiers, who overtook Michigan on the final weekend to win the regular season title. Indiana swept Iowa to start Big Ten play from March 22-24 in Bloomington. 
 
"They were well fought games," said Boe. "They played well.  We didn't play bad, but we have a little something to prove.  We're going to come out and try to make a statement right away."
 
Senior Cole McDonald will take the mound for Iowa against a Hoosiers offense that leads the nation with 90 home runs.  In a no decision on March 22, McDonald allowed two runs on seven hits and struck out 11 in a 3-2 Hawkeye loss.
 
"I am going to go back and see what made me effective and put a game plan together to do the same thing," said McDonald, who is 5-3 with a 3.78 ERA. "I am excited to get it started and hopefully get the Big Ten Tournament started on the right note."
 
With an at-large berth into NCAA Regional play no longer on the table, the Hawkeyes are ready to fight for an automatic berth and their second Big Ten Tournament title in three seasons.
 
"No one wants to go home at this point," said Whelan. "Speaking for myself as a senior, I am being selfish at this point. I don't want my career to end and it's not going to end in Omaha. That's the mindset I am going in with and I know a lot of other guys are going in the same way."
 
Wednesday's game (and the duration of the Big Ten Tournament) will be televised on BTN.  Kevin Kugler, Scott Pose, and Danan Hughes will be on the call.