Hawkeye Fan Shop — A Black & Gold Store | Hawk Talk Monthly – May | 24 Hawkeyes to Watch 2018-19 | Box Score (PDF) | Higlights | Photo Gallery
By JAMES ALLAN
hawkeyesports.com
OMAHA, Neb. — There was raw emotion when University of Iowa senior Cole McDonald delivered a gem Wednesday night at the Big Ten Tournament at TD Ameritrade Park.
 
The right-hander from New Hampton, Iowa, scattered five hits, allowing just one run and fanning nine over eight innings to stifle the conference's most potent offense.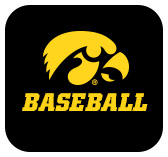 Most importantly, McDonald pitched the Hawkeyes to a 4-2 victory over top-seeded Indiana.  It is the fifth time in Rick Heller's six-year tenure that the team has posted at least one victory in the conference tournament.
 
"Thinking about this being my last start, I was thinking to myself, the last four years have been the greatest and I love repping the Iowa Hawkeyes across my chest," said McDonald. "If it is my last game, I want to go out and give it everything I had."
 
He did just that.
 
After lasting five innings in his previous two starts against Michigan State and Maryland (both no-decisions), McDonald stepped on the rubber in Omaha on a mission with the Hawkeyes limping into the postseason on a season-long five-game losing streak.
 
"Cole stepped out and said 'I am going to stop this' and that's what we needed more than anything," said Heller. "We needed someone to step up and everyone saw that. Then the feelings came back to when things were going good.
 
"Guys started to believe that and all those things tend to snowball when a guy steps up like Cole did."
 
When things were going good, Hawkeye starters were logging innings and shortening the game to get to the backend of the bullpen.  The result was six straight series wins to propel the Hawkeyes into the national rankings.
 
But during late season swoon — the final eight games of the regular season — Iowa's starting pitchers made it past the fifth inning just once. The Hawkeyes were 2-6 during that eight-game stretch.
 
"This is what we needed after losing five games," said Heller. "In the five games, we played some teams that were hot, but our starting pitching was putting us in a hole and we are not built to out-slug people."
 
On Wednesday, the Hawkeyes didn't have to.
 
McDonald retired the first nine batters he faced before surrendering a single to lead off the fourth.  After giving up his lone run in the sixth, McDonald pitched into the eighth and his ninth strikeout ended his night.
 
"The last two starts, I haven't been the best," said McDonald. "Playing Indiana, I was happy because I knew I had the stuff to get these guys out. I had to get back on track."
 
The Hawkeyes fell behind 1-0 before stringing together a four-hit, three-run inning in the seventh to take control.  Iowa added an insurance run in the eighth before junior Grant Leonard entered to record the save to keep the Hawkeyes alive in the winner's bracket.
 
"We have a great group of guys and I know we can keep on playing," said McDonald. "I don't want our season to end."
 
On Wednesday, McDonald did his part to keep it alive.