Hawkeye Fan Shop — A Black & Gold Store | I-Club Events Page
By DARREN MILLER
hawkeyesports.com
IOWA CITY, Iowa — Eric Juergens described himself as a typical Midwestern kid growing up in Maquoketa, Iowa.
 
A typical Midwestern kid doesn't win all 144 of their high school wrestling matches, attend the most notorious wrestling university in the land and then add two individual national championships and two other All-America honors to their resume.
 
Juergens wrestled at 118 and 133 pounds for the University of Iowa from 1998-2001, compiling a record of 120-13 with 23 falls. He is one of seven inductees into the 31st National Iowa Varsity Club Hall of Fame class Aug. 30 at the Coralville Marriott Hotel and Convention Center. Tickets to the event, which is open to the public, can be purchased HERE (use promo code VCHOF).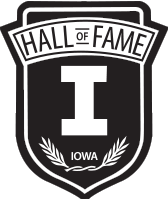 When it comes to Hawkeye wrestling, Juergens finds himself among the top 10 individuals of all time. After placing third at both the Big Ten and NCAA championships as a freshman and sophomore, he closed his final two seasons with a record of 61-1, winning two Big Ten and two NCAA titles. At the time, he was the 16th four-time All-American in Iowa wrestling history (there are now 20), winning 65 of his final 66 matches and finishing on a 28-match winning streak.
 
"Nothing can top national titles," said Juergens. "The first because you finally overcome a mountain that seemed impossible to climb; the second because I was in front of family, friends, teammates, and extended family in my back yard (Carver-Hawkeye Arena on March 17, 2001). It was a storybook ending and I don't know if you can top that."
 
In 2000, Juergens capped an undefeated 31-0 season with a 3-1 victory over Iowa State's Cody Sanderson in the 133-pound finals match. In 2001, he defeated Oklahoma State's Johnny Thompson, 10-7, in the final at 133.
 
Juergens began wrestling in third grade in Maquoketa, participating in a program that met on four consecutive Monday evenings. It wasn't enough.
 
"We were getting killed, but my brother and I loved the sport," Juergens said.
 
(Eric's younger brother, Marc, lettered for the Hawkeyes from 1999-2002).
 
Several parents, including Eric's father, Jim, organized the Little Cards Wrestling Club and when the first year came to a close, there were at least two dozen boys on the mat.
 
"By the end of the year we were at least competitive, so that made wrestling more fun," Juergens said.
 
It wasn't a case of immediate success, but Juergens utilized resources in the form of parents Jim and Deb and quality coaching at all levels. What set him apart was his dedication and ability to set goals.
 
"Every step, you learn you can push yourself a little harder and a little more, you get better training partners and that was the case for me," Juergens said.
 
In 1993, after winning the Iowa Class 3A 103-pound state championship as a high school freshman, a welcome home celebration was held in Maquoketa. Before the ceremony, Juergens picked up the local newspaper and read an article that mentioned him being undefeated.
 
"I turned to my coach and asked, 'I didn't lose this year?' Juergens said. "It was a different mindset and I think that's why we were successful. Nobody was talking about going undefeated — it was focusing on wrestling as hard as you can — preparing yourself to be the best you could be, and going out and being tough. It was never win at all costs."
 
Juergens continued to win and Iowa coaches Dan Gable and Jim Zalesky noticed.
 
"When wrestling became an outlet to get (a college) education, it was a no-brainer," Juergens said. "I knew I needed to be close (to Maquoketa) and I knew if I was going to wrestle, I wanted to go where I had the best chance to be successful. Iowa was that place."
 
Adjusting to college life wasn't easy. Either was cutting to 118 pounds. The first two Sundays on campus, Juergens wanted to pick up a telephone, call home, and move back to Maquoketa.
 
"That was an adjustment, I had never been on my own before," Juergens said. "I was missing family and being around friends. By the third or fourth week, you start meeting people and get acclimated."
 
He used his redshirt in 1996-97, going 5-2 at 126 pounds. During his first season in the varsity lineup, Juergens was 23-5 with two falls. As a sophomore, Juergens won 36 of 43 matches with four falls.
 
In two seasons, he had 59 victories, but still no individual Big Ten or NCAA title.
 
"Everybody has this idea in society that if you bust your butt and you put in all the effort that you win the prize at the end," Juergens said. "Life isn't like that, that's not true. Wrestling prepares you for those moments in life where you get knocked down. If I am successful as a person, it is due to wrestling and the stuff I learned at Iowa."
 
In the end, Juergens won two individual titles and was a member of three Iowa teams that won NCAA championships. The Hawkeyes won Big Ten titles in 1998 and 2000.
 
After college, Juergens and Hawkeye teammate Jody Strittmatter started Young Guns Wrestling Club and Juergens, who resides in Coal Valley, Illinois, supervises the location in the Quad Cities. He is also Midwest Territory Manager for a firearm importer out of Reno, Nevada.
 
On Aug. 31, at halftime of Iowa's football game against Miami (Ohio), Juergens will be in front of more Hawkeye fans in Kinnick Stadium than he was when he won his second NCAA title in Carver-Hawkeye Arena more than 18 years ago.
 
"The University of Iowa has such a neat campus and it's like there is electricity in the air," Juergens said. "I'm looking forward to reconnecting with people I haven't seen in years. My family and friends will be there celebrating with me and that is neat in itself."