Hawkeye Fan Shop — A Black & Gold Store | Hawk Talk Monthly — October | 24 Hawkeyes to Watch 2019-20 | I-Club Events Page
IOWA CITY, Iowa — The Big Ten Network announced Thursday that seven University of Iowa wrestling duals have been tabbed for national television coverage in 2019-20.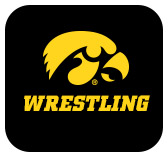 Home duals against Wisconsin (Dec. 1), Nebraska (Jan. 18), Ohio State (Jan. 24), Penn State (Jan. 31), Minnesota (Feb. 15), and Oklahoma State (Feb. 23) will air live on BTN, as will the Hawkeyes' road dual at Michigan (Feb. 8). 
The finals of the Big Ten Championships (March 8) are also televised on BTN. All televised matches and The B1G Story can be streamed exclusively on the FOX Sports app.
THE B1G STORY: ALEX AND ELI: Following Iowa's dual against Wisconsin, BTN will debut a new wrestling-centric episode of The B1G Story, a documentary-style program produced by the Emmy-nominated BTN Originals team. At 9 p.m., The B1G Story: Alex & Eli will explore the friendship and bond of Iowa All-American Alex Marinelli and former Wisconsin wrestler, Eli Stickley.
 SCHEDULE NOTE: Iowa's home dual against Minnesota will begin at 8:30 p.m. (CT). It was originally schedule for 8 p.m.
 
SEASON TICKETS: Season tickets for the 2019-20 season are available for purchase online at hawkeyesports.com and over the phone at 1-800-IA-HAWKS. Season tickets are $85 for public and $73 for faculty/staff.
BTN RECORDING SETTING COVERAGE: BTN coverage has increased 40 percent from last season. Additionally, BTN+ will carry nearly 100 matches, also a new record-high. A portion of those streamed events will be televised on delay on BTN as part of the Student U initiative.
 
2019 BTN/FOX Sports App Wrestling Schedule (ET)
 
| | | | | | |
| --- | --- | --- | --- | --- | --- |
| Day | Date | Visiting Team | | Home Team | Time (ET) |
| Sunday | November 17, 2019 | Virginia Tech | at | Ohio State | 12:00 PM |
| Sunday | December 1, 2019 | Wisconsin | at | Iowa | 8:00 PM |
| Sunday | January 5, 2020 | Oregon State | at | Michigan | 4:00 PM |
| Friday | January 10, 2020 | Wisconsin | at | Minnesota | 9:00 PM |
| Friday | January 17, 2020 | Ohio State | at | Wisconsin | 9:00 PM |
| Saturday | January 18, 2020 | Indiana | at | Northwestern | 2:30 PM |
| Saturday | January 18, 2020 | Nebraska | at | Iowa | 9:00 PM |
| Sunday | January 19, 2020 | Maryland | at | Michigan State | 3:00 PM |
| Friday | January 24, 2020 | Penn State | at | Nebraska | 7:00 PM |
| Friday | January 24, 2020 | Ohio State | at | Iowa | 9:00 PM |
| Sunday | January 26, 2020 | Ohio State | at | Minnesota | 8:30 PM |
| Friday | January 31, 2020 | Penn State | at | Iowa | 9:00 PM |
| Saturday | February 1, 2020 | Rutgers* | vs. | Michigan* | 1:00 PM |
| Friday | February 7, 2020 | Penn State | at | Wisconsin | 9:00 PM |
| Saturday | February 8, 2020 | Iowa | at | Michigan | 8:00 PM |
| Sunday | February 9, 2020 | Penn State | at | Minnesota | 2:00 PM |
| Friday | February 14, 2020 | Michigan | at | Nebraska | 9:00 PM |
| Saturday | February 15, 2020 | Ohio State | at | Penn State | 7:30 PM |
| Saturday | February 15, 2020 | Minnesota | at | Iowa | 9:30 PM |
| Sunday | February 16, 2020 | Purdue | at | Illinois | 2:00 PM |
| Sunday | February 16, 2020 | Michigan | at | Wisconsin | 4:00 PM |
| Thursday | February 20, 2020 | Northern Iowa | at | Wisconsin | 9:00 PM |
| Sunday | February 23, 2020 | Oklahoma State | at | Iowa | 8:00 PM |
| Sunday | March 8, 2020 | B1G Championships | at | Rutgers | 3:30 PM |
*Match at Madison Square Garden