Hawkeye Fan Shop — A Black & Gold Store | Hawk Talk Monthly — October | 24 Hawkeyes to Watch 2019-20 | Coaches vs. Cancer site | Tickets
By DARREN MILLER
hawkeyesports.com
 
IOWA CITY, Iowa — Fran McCaffery was on the ground floor of creating the Coaches vs. Cancer Basket "Ball" in Albany, New York, 14 years ago when he was head men's basketball coach at Siena.
 
Now head coach at the University of Iowa, McCaffery recalls sharing a laugh with friend and co-founder Ken Raymond, wondering if anyone would show up to the inaugural event.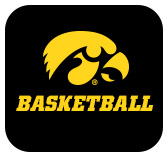 People did show, and they still do. McCaffery and his family made a return appearance Oct. 7 at the Albany Capital Center, where son Patrick received the Mary Ann Raymond Donnelly Fighting Spirit Award. At 14, Patrick McCaffery was diagnosed with thyroid cancer. After treatments and surgery, he is now a 6-foot, 9-inch true freshman forward on the Hawkeye men's basketball team coached by his father.
 
"I want to help as many people as I can, and use my platform as a way to inspire others who have gone through the same thing," Patrick said during his acceptance speech. "I want to show them that you can accomplish whatever you want to accomplish, as long as you stay persistent, stay the course, and try to win every day."
 
Patrick was 10-years-old when his father left Siena for Iowa. Last season, Patrick led the Iowa City (Iowa) West High School boys' basketball team to a record of 17-5 by averaging 25.1 points and 7.6 rebounds per game. He shot 58 percent from the field and 45 percent form 3-point range and was named first-team all-state in Class 4A.
 
Two days after the Coaches vs. Cancer Basket "Ball," Patrick was in front of reporters and photographers at his first media day as a member of the Hawkeyes.
 
"It's a humbling experience more than anything," Patrick said of the award. "Being able to go out and be honored in that way by that group of people is meaningful. Now I can spread a message and let people know we need more support in that regard. It is something we need to take very seriously so we can beat cancer."
 
The Fighting Spirit Award is named in honor of the late Mary Ann Raymond Donnelly, daughter of Ken.
 
"For (Patrick) to receive an award in (Mary Ann's) name was incredibly emotional because of the relationship that both our families have," Fran McCaffery said. "For him to receive an award at that event that we started, and also to see how that event has grown, it's an impressive one with the cooperation of both Division I schools in town."
 
Also in attendance were Carmen Maciariello, head men's basketball coach at Siena and Will Brown, head men's basketball coach at Albany. Marciariello was Siena's director of basketball operations during the 2005-06 season, McCaffery's first as head coach of the Saints. 
 
Joseph Girad III, a freshman guard at Syracuse, received the Inspirational Award, and Jeff Jones, head coach at Old Dominion, was honored for beginning his second fight against prostate cancer.
 
The Coaches vs Cancer Basket "Ball" has raised more than $2 million.
 
Patrick and the Hawkeyes open the season Nov. 4 with an exhibition game against Lindsey Wilson College on Mediacom Court inside Carver-Hawkeye Arena.
 
Single-game tickets for the 2019-20 season are currently on sale at hawkeyesports.com/tickets.