Hawkeye Fan Shop — A Black & Gold Store | Hawk Talk Monthly — October | 24 Hawkeyes to Watch 2019-20 | Photo Gallery | Brands Media Day Transcript (PDF)
By JAMES ALLAN
hawkeyesports.com
MOUNT VERNON, Iowa — University of Iowa head wrestling coach Tom Brands gathered with reporters at Iowa Wrestling Media Day on Wednesday at Kroul Farms. 
Here are a few takeaways and the complete transcript.
 
Closing the Gap
Brands didn't say the Hawkeyes have closed the gap with defending NCAA champion Penn State, but it's clear the 14th-year head coach is high on his 2019-20 Hawkeyes.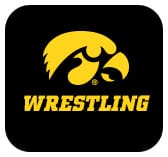 "I know what I think of our guys, and I wouldn't trade our team for any other team," said Brands. "I love our guys. We have the personnel. I'll say three names right now: Spencer Lee, Alex Marinelli, and Michael Kemerer.  Then we have four more All-Americans behind those guys, and I know that seventh and eighth place, that's not going to get the job done.
 
"(Pat) Lugo, you have to get busy; (Jacob) Warner, you have to get busy; (Austin) DeSanto, you have to get busy; (Max) Murin, you have to get busy, you weren't even on this stand, so you've got to get busy. But we have the personnel.
 
"I'm not a guy that makes predictions, but I love our team. We have a heavyweight that our fans and wrestling pundits are going to like, and I'll even say that if he does what I think he's capable of doing, they're going to love.
"There are a lot of good things and a lot of good things out there. There's a lot to talk about."
Lee's Path to Tokyo
Wrestlers across the country are utilizing an Olympic redshirt to prepare for the Summer Games in Tokyo.  For two-time defending national champion Spencer Lee, that path is training and competing as a Hawkeye.
 
"Spencer Lee's path to the Olympic Games will go through collegiate wrestling, will go through Big Tens and the NCAA championships," said Brands. "We're going to need him, and his best preparation for what he's trying to accomplish in Tokyo, he knows that it's through those seven-minute matches.
 
"Not because the styles are similar or not similar, however you want to get into that debate, but because there's a certain amount of toughness that goes into an extra minute and riding time and overtime. You have to be conditioned to wrestle 11-, 12- minute matches, and that helps Spencer Lee. That's what he needs."
 
Kem-Dog is Back
Brands isn't into predictions, but when asked who on the Hawkeye roster stands out, it's his newest 174 pounder — Michael Kemerer.
 
"He's healthy, he's strong, and he's a 74-pounder," said Brands. "Last year he moved up, and then he had corrective surgeries. He's a 74-pounder, so if anybody looks good, he looks good from where he came from. You're in a sling and you're on crutches at the same time, there's been a lot of progress since that, right? So we're fired up about everybody."
 
Kemerer is a two-time All-American, placing third at 157 pounds as a freshman and fourth as a sophomore.  He has a 60-6 career record in his first two seasons as a Hawkeye.
 
Embracing the Expectations
Tom Brands' expectations are high; Iowa wrestling fans expectations are high. Brands embraces the expectations.
 
"Our administration, our coaching staff, our fans, the athletes that we recruit, everybody that works in our department, the entire athletics department, are about one thing, and that's very rare," said Brands. "All of those entities expect to win every year, year-in and year-out, and that's because of a guy named Dan Gable, who took over for (Gary) Kurdelmeier and then brought it to maybe unimaginable heights.
 
"Yeah, we're spoiled. Yeah, I wrestled for that guy, but don't use that against us. We have to do our job. Is it a double-edged sword? I don't look at it that way. We're accountable. We're accountable to perform. Our guys know it. Our fans expect it. We love it. We love it as coaches.
 
"When that day comes where you're fatigued by those expectations or you're fatigued by the battle that you wake up every day, take head on, then — this isn't about a paycheck for any of us. This is about waking up ready to fight every day, every comer, and not in an illegal way, in a wrestling way, in a legal, sportsmanship, Division I collegiate atmosphere way."
 
Media Day at Kroul
Wednesday's Media Day was unique with a Halloween grave yard in the distance, corn fields, and media seating consisting of giant tree trunks. Brands says holding the team's annual media day at Kroul Farms wasn't about correlating toughness, it was about doing something different and including a part of Iowa that is synonymous with wrestling.
 
"Frank Gotch, he wouldn't even be sitting on these logs, he'd be splitting them," said Brands. "Gable would be splitting these logs for his wood-burning sauna.
 
"It's synonymous for those types of people, and that's where I came from. I came from a rural community, and all the baling hay and all that and wood smoke. It's a part of what everybody in Iowa is about, or at least their roots."
 
The Hawkeyes open the season Nov. 17, hosting Tennessee-Chattanooga at 2 p.m. (CT) on Mediacom Mat inside Carver-Hawkeye Arena.  Season tickets are available at hawkeyesports.com/tickets.