Hawkeye Fan Shop — A Black & Gold Store | Hawk Talk Monthly — October | 24 Hawkeyes to Watch 2019-20 | Photo Gallery | Brands Media Day Transcript (PDF)
By DARREN MILLER
hawkeyesports.com
MOUNT VERNON, Iowa — Does absence make the heart grow fonder? It does for University of Iowa senior Michael Kemerer.
 
It has been nearly 600 days since Kemerer wrestled competitively, and the Hawkeye 174-pounder isn't sure he has ever experienced that long of a hiatus from the mat.
 
"At least since I was a little kid, wrestling when I was 5 or 6 years old and playing other sports," Kemerer said Wednesday at the team's annual media day.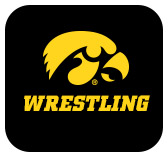 The last time Kemerer was in a competitive wrestling match was March 17, 2018. He was going for third place at 157 pounds at the NCAA Championships against Nebraska's Tyler Berger, an opponent he defeated three times the previous season.
 
Kemerer couldn't finish the bout and lost by medical forfeit.
 
Leading up to the 2018-19 season, it appeared Kemerer was in line to bump up two weight classes and compete for the Hawkeyes at 174. Instead, he underwent medical procedures to his shoulder and knee and was on the sideline when the Hawkeyes finished 14-1 in duals (sharing the Big Ten dual championship with Penn State), third at the Big Ten Championships, and fourth at the NCAA Championships.
 
He grappled with feelings of helplessness. Sitting, watching, and waiting was the hardest part for Kemerer, a two-time All-American with a career record of 60-6 and 40 bonus-point victories.
 
"You're there and you can't do anything about it," Kemerer said. "You want to go out there, whether it's a dual meet you're losing, or at nationals when you see we're behind on the scoreboard. You want to help and you can't do anything about it. You have to watch someone else go out there and win your Big Ten title and win your national title. That is tough, because we're competitors and we're selfish — we want to win everything."
 
With Kemerer out, the Hawkeyes went 10-11 at 174 (7-6 in duals). It was the only weight class they did not advance to the NCAA Championships.
 
That should change in 2020. Of four preseason rankings, Kemerer is listed anywhere between second and fourth. Defending NCAA 174-pound runner-up Mark Hall of Penn State also returns.
 
"People ask me who looks good, if you had to say one guy, the guy that comes to mind for me is Michael Kemerer," Iowa head coach Tom Brands said. "He's healthy, he's strong, he's a 74-pounder. That question has been asked a lot with him: is he a 74-pounder? Last year he moved up, and then he had the corrective surgeries. He's a 74-pounder, and if anybody looks good, he looks good from where he came from."
 
The time away from wrestling made Kemerer really appreciate the sport. Trying to find ways to improve while inactive was a mental drain, but he did his best, whether that meant watching video or acting as a student assistant coach.
 
"It makes me more excited to wrestle this year than ever before," Kemerer said.
 
It should also excite Hawkeye fans. If nothing else, the thought of the Murrysville, Pennsylvania, native in the lineup will allow them to reminisce about Kemerer's 10 wins over top 18 wrestlers as a redshirt freshman and 12 wins over top 20 wrestlers as a sophomore.
 
"The goal for me is always the same, and the same for a lot of these guys: Big Ten title, national title," Kemerer said. "That is the end goal and it starts in the room getting better today, better tomorrow, but ultimately the goal is team titles and individual titles. That's what we want."
 
Iowa is ranked second to Penn State in the preseason NWCA Division I Coaches Poll. The top six teams (other than Iowa) visit Carver-Hawkeye Arena this season.
 
"We pride ourselves on wrestling a tough schedule, and we'll be battle-tested wrestling those teams," Kemerer said. "Getting to see a lot of the top guys at each weight in Carver will be an awesome advantage, too."
 
The Hawkeyes open the season Nov. 17, hosting Tennessee-Chattanooga at 2 p.m. (CT) on Mediacom Mat inside Carver-Hawkeye Arena.  Season tickets are available at hawkeyesports.com/tickets.