Hawkeye Fan Shop — A Black & Gold Store | 24 Hawkeyes to Watch 2019-20 | Hawk Talk Monthly – November | Fight For Iowa | McCaffery Transcript (PDF)
By JAMES ALLAN
hawkeyesports.com
 
IOWA CITY, Iowa — The University of Iowa men's basketball team opens regular-season play Friday, hosting SIU Edwardsville at 8 p.m. (CT) on Mediacom Court inside Carver-Hawkeye Arena.  The game will be televised on BTN.
 
Head coach Fran McCaffery held a media availability session Wednesday to preview the opener; here are a few takeaways.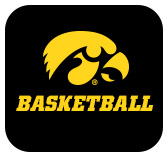 Cougs in IC
SIU Edwardsville opened the 2019-20 season with a 61-52 victory over Quincy on Tuesday night.  The Cougars are coming off a season where they went 10-21 overall and 6-12 in the Ohio Valley Conference.
 
"I've been impressed with the job (head coach Brian Barone) has done, with the talent he has brought in," said Fran McCaffery. "They have some guys that can play. They have athletes and they defend. I think (Barone) knows this is the kind of schedule you need to play to get ready to compete in the OVC."
Groomed to Distribute
Redshirt sophomore Connor McCaffery loaded his teammates up in the Hawkeyes' 96-58 exhibition victory over Lindsey Wilson College on Monday to the tune of 11 assists.  You could say McCaffery has been learning the intricacies of basketball since he was 6.
 
"He has been watching film since kindergarten, so he does have a certain feel," said Fran McCaffery. "He would come to practice every day and whenever we had a film session he would be in there watching.  Whenever we watched film as a staff, he'd be in there watching."
 
It was an abnormal childhood for Connor.
 
"It's something I was always interested in," Connor said. "I feel like every kid goes through a stage when they play with Legos or wear costumes.  Patrick wore costumes, he always dressed up until he was 10 years old. I was always playing basketball and baseball."
 
McCaffery Bond
It's a special feeling for Fran McCaffery to show up to practice every day at Carver-Hawkeye Arena and get the opportunity to see two of his sons, Connor and Patrick.  Connor is a redshirt sophomore guard, Patrick is a true freshman forward.
 
"It's a beautiful thing to come to practice every day and see them the both, to have them in a Hawkeye uniform and remember when we first got here, they would sit across the way or come to practice and sit with the managers and shoot on the side," said Fran.
 
"To see them both out there and then when they're both out there together sharing the ball and making plays together, it's terrific."
 
Connor cherishes the opportunity to make it a family affair.
 
"It's surreal being able to come out here," said Connor. "I get used to seeing my dad every day, but now getting to see Patrick, having to take care of him a little bit. He has been good. He's making sure he's on top of his work and his basketball stuff. I am proud of him for that.  I stay on him and try to be the guy always in his corner, trying to help him out."
 
The biggest fan of the McCaffery boys stay in Iowa City is their mother, Margaret.
 
"She still offers to do my laundry even though I have a laundry machine at my house," said Connor. "She just wants me to come home."
 
Yo, Dad, Coach
It makes for an interesting conundrum when Connor and Patrick McCaffery have a question they need to pose to their father, Fran. Is it dad or coach?
 
"I just yell," said Connor. "I will be like, 'Yo,' stuff like that.  I don't call him dad or coach and I haven't heard (Patrick) either.  I will wait until he looks at me, then I'll say something."
 
Baer in G-League
Former Hawkeye Nicholas Baer is the G-League roster for the Toronto Raptors following an Iowa career where he did a little bit of everything. The Raptors 905 team, located in Mississauga, Ontario, open its season Friday.
 
"They targeted him, they really wanted him," said McCaffery. "They invited him out, met with him, and then invited him back and wanted to sign him.
 
"He was thrilled with that opportunity. I think he'll be great."