Hawkeye Fan Shop — A Black & Gold Store | Hawk Talk Monthly — November | 24 Hawkeyes to Watch 2019-20 | 24 Hawkeyes to Watch: Cash Wilcke | With Winter Comes the Fall | A Year Away Makes Kemerer More Appreciative
By DARREN MILLER
hawkeyesports.com
IOWA CITY, Iowa — Aside from two-time national champion Spencer Lee, you would be hard-pressed to name a University of Iowa wrestler who wrapped up the 2018-19 season stronger than 157-pounder Kaleb Young.
 
In his first full season entrenched in the varsity lineup, Young finished 24-7, placing fourth at the Big Ten Championships and fifth at the NCAA Championships. He was 8-4 in the postseason.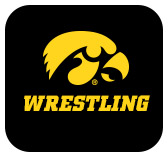 "I got better throughout the season, so I need to come in this year where I left off and keep building," Young said. "I have committed myself completely to what my coaches are saying. I'm working hard to get better and the results will come."
 
It has been a journey for Young to work his way into the varsity lineup. As a true freshman, he competed at 165 pounds and compiled a record of 21-6. In his final match of the season at the Missouri Valley College Open, he dropped a 5-4 decision in the finals to teammate Alex Marinelli.
 
As a redshirt freshman, Young saw action in 16 bouts, winning nine. He was fifth at 165 pounds at the Midlands Championships, winning five matches. At the end of the season, he wrestled in three Big Ten duals at 174 pounds, losing all three, two against top-seven opponents.
 
The native of Punxsutawney, Pennsylvania, broke out in 2018-19. He dropped down to 157 pounds for the first time in his college career, reaching as high as No. 5 in the national rankings and winning 12 of 19 matches against ranked opponents. In the finals of the Midlands Championships, Young lost to Northwestern's Ryan Deakin, 6-2. The two met twice in the NCAA Championships with Young winning both by identical 7-5 scores in sudden victory. Deakin went on to win the U.S. Open at 70 kilograms.
 
"There's progress there, and we're ranked ahead of (Deakin)," Iowa head coach Tom Brands said. "We have to keep making progress, because that guy is ranked below us, and he's hungry."
 
One key to Young's late-season surge was an uptick in offense. He took a three-match winning streak into the postseason by scores of 10-4, 11-2, and 9-5. At Big Tens, Young defeated Indiana's Jake Danishek 8-0 and Ohio State's Ke-Shawn Hayes, 11-1.
 
"I don't know if it was a certain moment, but toward the end of the year I was getting to a lot more offense then I was at the beginning," Young said. "It felt good wrestling like that. I wasn't as tight going into the matches, I was wrestling looser."
 
After placing fourth at Big Tens (his two losses were by a combined three points), Young opened his first NCAA Championships with a 16-1 technical fall over Dan Reed of Columbia and a 14-2 win over Hayes.
 
Young was pleased with how he rode opponents last season. He now wants to see more turns on top that will lead to falls. And, Young says, his defense has improved.
 
"I feel like I have gotten grittier, harder, better at defense; gutting things out when I'm getting tired," Young said. "That is big in big-time matches, so I need to keep working on that and keep getting better every day."
 
He has a head start because of a full year in the varsity lineup.
 
"Last year I had to get used to competing in big matches," Young said. "This year I already have that under my belt, so I don't need an adjustment phase."
 
The Hawkeyes open the season Nov. 17, hosting Tennessee-Chattanooga at 2 p.m. (CT) on Mediacom Mat inside Carver-Hawkeye Arena.  Season tickets are available at hawkeyesports.com/tickets.