Hawkeye Fan Shop — A Black & Gold Store | 24 Hawkeyes to Watch 2019-20 | Hawk Talk Monthly – November | Fight For Iowa | McCaffery Transcript (PDF)
By JAMES ALLAN
hawkeyesports.com
 
IOWA CITY, Iowa — The University of Iowa men's basketball team hosts Oral Roberts on Friday at 7 p.m. (CT) on Mediacom Court inside Carver-Hawkeye Arena.  The game will be streamed on BTN+.
 
Head coach Fran McCaffery held a news conference Wednesday to preview Friday's game; here are a few takeaways.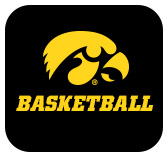 ORU to CHA
The Golden Eagles are 1-2 with road losses at Oklahoma State and Tulsa and a home win over Houston Baptist.  Oral Roberts fell by just five points at OSU's Gallagher-Iba Arena in Stillwater.
 
"They are a good team, a veteran club," said McCaffery. "They have some grad transfers and older guys. They play at a good pace, run good stuff, and have multiple guys that can score.
"It's not like you can say, OK, we can lock into these two guys; we can stop them. They've got a lot of different players that can score. They shoot a lot of 3s. They play loose with great confidence and share the ball."
 
Turn Off the Lights
Following Monday's loss to DePaul, freshmen Patrick McCaffery and Joe Toussaint were on Mediacom Court and in the practice facility putting up shots.  Fran McCaffery had to chase them out of Carver-Hawkeye Arena.
 
"I had to turn the lights out on them Friday night because it got late," said Fran McCaffery. "It was probably 11:30 and they were still in there, so I got them out of there.
 
"It's one of the things about having the practice facility we have. Guys will be in there all hours of the night pretty much all year long. Especially after a game where they didn't feel like they shot it that well or we didn't play well, they want to get in there and get a workout. (Tyler) Cook used to do that a lot.
"At some point, I'm going to go in there and say, 'Alright, you have to go to bed. It's the law of diminishing returns. You get your shots up, get comfortable, and you felt like you needed to do that, but now it's time to go eat and go to sleep."
 
Get Nunge Going
During the last 5 1/2 weeks, McCaffery says redshirt sophomore Jack Nunge has been one of the Hawkeyes' most productive players in practice.  He shoots at a high percentage — from the floor and 3-point range — rebounds, and takes care of the ball.
 
In Iowa's first two games, Nunge has gotten off to a slow start.  He has started both contests, but has just two points on 0-for-5 shooting in 25 minutes.
 
"I've had a number of conversations with him since that game and encouraged him," said McCaffery. "I showed him the stats for the 5 1/2 weeks of practice; he has probably been our most consistent guy.
 
"At some point you have to trust your talent and play through mistakes early. He's a guy that is an efficient team guy, and if he's missing a 3, he's not going to keep firing. He has to do that and I want him to do that.  I keep encouraging him to do that.
"I think he's in a good place today, and I think he'll play better on Friday."