Hawkeye Fan Shop — A Black & Gold Store | Hawk Talk Monthly — November | With Winter Comes the Fall | Young Builds Off Strong Finish | A Year Away Makes Kemerer More Appreciative | 24 Hawkeyes to Watch: Cash Wilcke | 24 Hawkeyes to Watch 2019-20 | Match Notes
By DARREN MILLER
hawkeyesports.com
IOWA CITY, Iowa — Dull or entertaining?
 
The wrestler makes the choice, says University of Iowa head wrestling coach Tom Brands. Sunday's season opening dual against Tennessee-Chattanooga will be an opportunity for 10 Hawkeyes to show where they reside on that spectrum.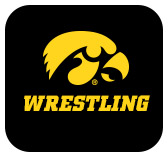 Brands knows fans already have an appreciation for the styles of Spencer Lee (125 pounds), Alex Marinelli (165), and Michael Kemerer (174). He hints that newcomers will join that mix.
 
"If I'm a guy that is representing the weight class, how can I add to the environment? Dull or explosive and entertaining?" Brands said Thursday during a news conference in Carver-Hawkeye Arena. "That's what it comes down to and most of the time, all the time, it's a choice."
 
With seven All-Americans in the lineup, the second-ranked Hawkeyes have firepower. But what about the other three weight classes? What about heavyweight, where All-American Sam Stoll and his 65 career wins and 25 falls has graduated?
 
Brands says freshman Tony Cassioppi is ready to get out of the redshirt and into a black and gold singlet. This won't be Cassioppi's first match inside Carver-Hawkeye Arena; he pinned Ronald Tucker in 3:17 during the Night of Conflict III on Oct. 13, 2017.
 
"It's exciting because I hold myself to a high standard and I know the guys in the lineup hold themselves to a high standard," Cassioppi said. "I'm glad we're all on the same page with the same goals."
 
What will it be, Tony, dull or entertaining?
 
"I'm aggressive, a pinner," he said. "I'm going to go out there and wear the guy down and try to score a lot of points."
 
Chalk one more up for entertaining.
 
Most Hawkeye fans will get their first glimpse of Cassioppi on Sunday. The two-time Illinois High School state champion competed unattached last season, compiling a 20-2 record with 14 falls. Six pins came in less than 69 seconds. During wrestle-offs Nov. 7, he pinned Aaron Costello in 5:33.
 
On Thursday, Cassioppi joined Marinelli and Austin DeSanto in the Media Room near the conclusion of Brands' news conference.
 
"If you look at his face back there, he has a big smile," Brands said of Cassioppi. "He adds a big smile to our lineup and it's a big one; it's like a big ole' Jack-o-Lantern. We love that about him."
 
Cassioppi's opponent Sunday will be Grayson Walthall, a sophomore with a 2-5 record.
 
"We're going to see how (Cassioppi) starts, but he has been winning wrestling matches since he was a little itty, bitty, boy," Brands said. "That is going to continue. He is one of these guys who has embraced what the expectations of the program are, what his expectations are, and I think he is looking forward to it."
 
As for pressure or anxiety, Cassioppi says there will be none. Mediacom Mat is just a mat and he trains on one every day.
 
"Not a big deal," he said. "I'm going to go out there and wrestle to the top of my ability."
 
Before Cassioppi's hand is raised, Hawkeye fans will see explosive and entertaining; when his hand is raised, they might see a big ole' Jack-o-Lantern smile.