Hawkeye Fan Shop — A Black & Gold Store | 24 Hawkeyes to Watch 2019-20 | Hawk Talk Monthly – November | Fight For Iowa | McCaffery Transcript (PDF)
By JAMES ALLAN
hawkeyesports.com
 
IOWA CITY, Iowa — Fran McCaffery wants to see the University of Iowa men's basketball team consistently defend when the Hawkeyes host North Florida on Thursday.
 
Iowa hosts the Ospreys at 6 p.m. (CT) on Mediacom Court inside Carver-Hawkeye Arena.  Tickets are available at hawkeyesports.com/tickets.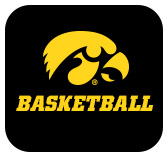 "North Florida is gifted offensively and they're capable of putting up a lot of points," said McCaffery during a Wednesday news conference. "They are not a big mistake group and they run good stuff.  They move and share the ball, defend, and compete.
 
"We have to be able to perform on a consistent level defensively and execute our stuff offensively while understanding time and score and playing the kind of game you need to play to beat a good team."
 
North Florida is 4-1 overall.  After falling to nationally-ranked Florida (74-59) in the season opener, the Ospreys have won four straight with victories over Florida National, Georgia Southern, Southern Miss, and Trinity Baptist.
 
Youngest McCaffery Update
Patrick McCaffery didn't play (nor suit up) in Iowa's 87-74 victory over Oral Roberts on Nov. 15.  Fran McCaffery says Patrick is practicing, but he likely won't play Thursday.
 
"We're continuing to work through it, trying to help him manage what his body is going through, what it has been going through," said Fran McCaffery. "When you go through what his body went through — you talk about his weight, energy level, sleeping, eating, digestive system — it's completely different than what anybody else goes through.
 
"It just takes a huge toll when you are going against the athletes the caliber of the guys he's going against right now. It has been a huge adjustment for him physically and mentally as a result of that. He's doing the best he can, and we're working through (athletic trainer) Brad (Floy) and Dr. Marcussen and our nutrition folks to try to help him."
 
Get Him Going
Sophomore Joe Wieskamp is averaging 10.3 points and five rebounds over the team's first three games.  Fran McCaffery thinks it's a matter of time before Wieskamp breaks out.
 
"That'll happen without too much difficulty," said McCaffery. "He has the green light, but he has never been a guy that hunts shots. We want him to shoot as many times as he wants, but he's going to shoot when he's open.
 
"Teams are covering him closely, as you can imagine, but he's a guy that gives it up easy. If somebody is open, he feeds the post. If somebody is open on a one-dribble kick, he does that. I'm OK with him shooting 15 or 20 shots if he wants to, and we'll keep going to him when we do."
Shooting Open Shots
Fran McCaffery has been pleased with Iowa's shot selection early in the season minus coming down the stretch in the win over Oral Roberts.
 
"We took a couple of shots early in the clock that weren't necessary as you get under two minutes, but I don't see a lot of guys forcing shots, shooting contested shots," said McCaffery. "That's when it becomes a problem. If we're missing, we're missing open shots and we're creating open shots for other people.
 
"Any time you're a coach and your team is taking open shots, that's what you encourage them to do. You encourage them to move the ball and mix up post feeds, drives, 3s, and share it to where teams can't focus on one or two guys."
Pemsl Determines Role
Coming off a season where he missed all but two games after undergoing season-ending surgery, redshirt junior Cordell Pemsl is trying to carve out his role for the 2019-20 season.
 
"I am trying to get back in my groove and get back to how I know I can play," said Pemsl. "It's still early, we are a couple of games into the year, but I am getting more confidence every day.
 
"The coaches know what I am capable of. They know I am great passer and am willing to get my teammates the ball when they're open to get them good looks. They know I am able to score the ball and find matchup problems."
 
Pemsl prides himself on being an energy guy.  He wants to bring emotion on to the floor.
 
"I find myself being a guy that shows it and wears my emotion on my sleeve and sometimes there aren't a lot of guys on our team that does that," said Pemsl. "Sometimes you need that little extra, seeing that guy diving for a loose ball or get up yelling.  It is contagious and that's something I want to do."