Hawkeye Fan Shop — A Black & Gold Store | 24 Hawkeyes to Watch 2019-20 | Hawk Talk Monthly — November | Youth Clinic Registration | Match Notes | Match Notes PDF
By DARREN MILLER
hawkeyesports.com
IOWA CITY, IOWA — It's an "OR" kind of dual for the second-ranked University of Iowa wrestling team Sunday at No. 11 Iowa State.
 
That's a good thing.
 
"We have options and we're going to exhaust our options," Iowa head coach Tom Brands said. "We have tough guys and we have more tough guys than we have weight classes. That's a great problem to have. Depth is a great problem."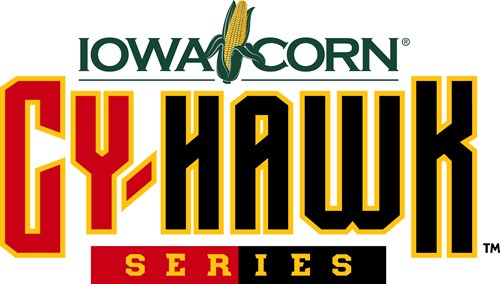 Iowa's pre-match roster includes one "or" at 125 pounds (junior Spencer Lee or redshirt freshman Aaron Cashman), two "ors" at 133 (senior Paul Glynn, junior Austin DeSanto, redshirt freshman Gavin Teasdale), an "or" at 141 (junior Carter Happel, sophomore Max Murin), and an "or" at 184 (senior Cash Wilcke, redshirt freshman Nelson Brands).
 
Brands said a decision on who takes the mat in Hilton Coliseum will be based on "every area in the sport," including lifestyle.
 
"We're going to put our best team out there on Nov. 24," said Brands, who is 14-0 in the Iowa Corn Cy-Hawk Series. "Whether that changes from Nov. 24 to Dec. 1 to Dec. 8 to Midlands and so on, we don't know."
 
The depth situation for the Hawkeyes is a throwback to the days when Lee's club coach, Jody Strittmatter competed here two decades ago. Lee heard stories of backups who trained in relative obscurity in the Dan Gable Wrestling Complex for three or four years only to become a national champion as a senior.
 
"That is how you have to train." Lee said. "If you're not the guy, you have to train and act like you're the guy. When it's your turn not to be the guy, you have to be selfless and help whoever (is in front of you)."
 
Then Lee smiled as he took a mental weight-by-weight tour of the current Hawkeye roster.
 
"We have guys who can step up if we need them," Lee said. "You want guys who want to be here, want to get better, and want to win. I can safely say that everybody in that room wants to be a national champion."
 
"That's your boy…Sam Stoll."#TBT to the 2018 installment of Iowa-Iowa State when Stoll, who wasn't supposed to wrestle, jumped in to help @Hawks_Wrestling tie things up, and eventually win. @FloWrestling pic.twitter.com/avQPXXsl2J

— Iowa On BTN (@IowaOnBTN) November 21, 2019
 
Iowa's strength was on display last weekend when seven Hawkeyes won individual championships at two different Saturday open tournaments. The next day, Iowa blanked Tennessee-Chattanooga, 39-0, with Glynn winning by decision at 133, DeSanto moving up a weight to win by technical fall at 141, and Brands, thought to be a 157 or 165-pounder, winning by decision at 184.
 
Iowa title winners at the Luther Open were Cashman (125), Happel (141), senior Vince Turk (149), and Wilke (184). Placing first at the Grand View Open were freshman Zach Glazier (197), junior Justin Stickley (141), and sophomore Zach Axmear (149).
 
Sunday's Iowa Corn Cy-Hawk Series clash will be a step up in competition and could be the toughest road dual test for the Hawkeyes all season. DeSanto competed in Hilton Coliseum as a freshman at Drexel, so he is aware of the atmosphere that awaits.
 
In Iowa State's first dual under head coach Kevin Dresser on Nov. 12, 2017, the Cyclones lost to Drexel, 21-16, but Ian Parker came away with a 7-5 win over DeSanto. Last season in Carver-Hawkeye Arena, DeSanto fell late to Iowa State's Austin Gomez, 14-9.
 
"I know what their arena looks like, I have to imagine a bunch of angry Iowa State fans screaming," said DeSanto, who thrives in hostile environments. "I kind of know what's coming, so prepare for it."
 
Iowa has won 15 straight meetings, including a 35-6 decision the last time the Hawkeyes were in Ames.
 
"We went in there two years ago and it was a good environment," Brands said. "We're going to go in there again and it will be a good environment. We have to be ready for it. I don't think our guys worry (about) the environment. If anything it helps them; you want crowds to pay attention, you want big crowds. You want to go into a big deal."
 
Sunday's dual begins at 2 p.m. (CT). It will be streamed online at FloWrestling.com and televised on CyclonesTV.