Hawkeye Fan Shop — A Black & Gold Store | Hawk Talk Monthly — November | 24 Hawkeyes to Watch 2019-20 | Youth Clinic Registration
By DARREN MILLER
hawkeyesports.com
IOWA CITY, Iowa — Pat Lugo is a senior with something to prove.
 
In 2018-19, Lugo's first season in Iowa's varsity lineup, the 149-pounder was 23-9, placed third at the Big Ten Championships and eighth at nationals. His eight-match winning streak near the end of the season included two wins over top 20 foes. That shows Lugo can succeed on the biggest stage, but he feels unfulfilled as he begins his final go-round on the mat.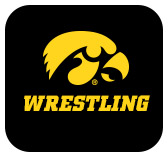 Despite the reality that his college career is nearing an end, Lugo isn't about to panic.
 
"I can't hesitate, but I have to stay calm, cool, and collected," Lugo said.
 
His calm, cool, and collected approach was displayed Nov. 24 during a third meeting against Iowa State junior All-American Jarrett Degen in Hilton Coliseum in Ames, Iowa. Lugo entered the Iowa Corn Cy-Hawk Series clash ranked fifth in the nation, but winless in two meetings against the fourth-ranked Degen. Like those first two bouts, this one was decided in the waning seconds.
 
And Lugo stayed calm, cool, and collected in the midst of chaos.
 
Lugo took a 2-0 lead with a takedown 35 seconds into the match. Degen tied it with escapes in the first two periods. Then it turned into another crazy, topsy-turvy, Lugo-Degen battle. Lugo was in the down position to begin the third period; he attempted a reversal and Degen locked his hands as the two got into a scramble that left Lugo fighting off his back. Lugo was awarded a point because of locked hands (negating back points for Degen) and he withstood video reviews to prevail, 4-3, to give Iowa a 12-3 lead in a dual it would win, 29-6.
 
"When a coach is wound up and wrapped up in a discussion with the referee, it usually means things aren't going your way, and we were in a pickle there," Iowa head coach Tom Brands said. "We were in some tight spots, so we have to clean that up. That is dangerous wrestling."
 
In Lugo-Degen I on Dec. 1, 2018, in Iowa City, Degen won, 7-4, in overtime. They met again in the seventh-place match at the NCAA Championships on March 23, 2019, in Pittsburgh. It was the final match of the season for Lugo, who took a 6-2 lead, then lost when Degen scored a takedown with 22 seconds remaining.
 
"It gave me a bad taste, my last match I wrestled last year and I lost for seventh," Lugo said. "It gave me extra motivation for sure. This is a date (Nov. 24, 2019) I circled on my calendar. A win's a win, I will take it."
 
Lugo, a native of Homestead, Florida, enters the season's first Big Ten dual against Wisconsin on Dec. 1 with a career record of 88-27. He was 63-18 in two seasons at Edinboro, earning a trip to the NCAA Tournament as a freshman in 2015-16. His first season at Iowa in 2017-18, he competed behind Brandon Sorensen and went 7-2 wrestling unattached.
 
In his time in the Hawkeye varsity lineup, Lugo has met three competitors on multiple occasions. He is 3-0 against Minnesota's Tommy Thorn, 2-0 against Nebraska's Jordan Shearer, and 2-0 against Wisconsin's Cole Martin. Prior to the most recent Iowa Corn Cy-Hawk Series, Lugo was 0-2 against Degen.
 
"The plan this time was to be patient, pick my shots, and wrestle seven minutes," Lugo said. "I wanted to do my style of wrestling and I did that for the first two periods. In the third period I kind of shied away from it a little and that's when it got all crazy."
 
Crazy, but Lugo stayed calm and cool and collected a win.