Hawkeye Fan Shop — A Black & Gold Store | Hawk Talk Monthly — December | 24 Hawkeyes to Watch 2019-20 | Midlands Notes PDF | Youth Clinic Registration | Session II Photo Gallery | Session I Photo Gallery | Session III Photo Gallery
HOFFMAN ESTATES, Illinois – Seven Hawkeyes will wrestle for titles Monday night at the 2019 Ken Kraft Midlands Championships in Sears Centre Arena.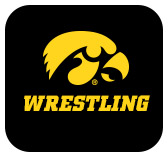 Austin DeSanto, Max Murin, Alex Marinelli, and Tony Cassioppi all defended their top seeds and won by decision in Monday's semifinals. Pat Lugo and Kaleb Young, the No. 2 seeds at 149 and 157 pounds, respectively, were also semifinal winners.
Abe Assad, a true freshman from Carol Stream, Illinois, won by fall in the semis and will wrestle for the 184-pound title as the No. 11 seed. Cassioppi, from nearby Rockford, Illinois, was an 11-5 winner in the 285-pound semis and will wrestle for his first Midlands championship.
DeSanto and Marinelli are defending titles from a year ago. Marinelli is a two-time defending champion at 165. DeSanto is defending the 133-pound title.
Murin is returning to the 141-pound finals for the second year in a row. Lugo is wrestling in the finals for the first time in three trips to Midlands at 149.
Iowa has landed 11 wrestlers on the award stand and locked up the team title with 175.5 points. Vince Turk (149), Cash Wilcke (184), and Jacob Warner (197) will wrestle for third place. Jeren Glosser (149) wrestles for fifth.
NOTABLES
Spencer Lee's medical forfeit was a Coaches Decision.
The last Hawkeye true freshman to win a Midlands Championships was Steve Mocco in 2001 (285).
The Hawkeyes have 175.5 team points. The tournament record is 189.0, set by Iowa in 2014.
Iowa has won 29 team trophies in the 57-year history of the event, including each of the last seven years.
Competition resumes Monday night 7 p.m. (CT). The Midlands Championships is streamed online at BTN2Go and at FloWrestling.com.  The tournament in broadcast on AM 800 KXIC and stream on hawkeyesports.com via Hawkeye All-Access.
SEMIFINAL RESULTS
125 – Michael DeAugustino (Northwestern) mff. #1 Spencer Lee (Iowa)
133 – #1 Austin DeSanto (Iowa) dec. #4 Travis Piatrowski (Illinois), 10-4
141 – #1 Max Murin (Iowa) dec. #5 Shakur Laney (Ohio), 4-0
149 – #1 Austin O'Connor (North Carolina) dec. #12 Vince Turk (Iowa), 3-1 SV1
149 – #2 Pat Lugo (Iowa) dec. #3 Max Thomsen (Northern Iowa), 3-2
157 – #2 Kaleb Young (Iowa) pinned #3 Kendall Coleman (Purdue), 7:57
165 – #1 Alex Marinelli (Iowa) dec. #5 Zachary Hartman (Bucknell), 8-3
184 – #11 Abe Assad (UN-Iowa) pinned #7 Zachary Braunagel (Illinois), 2:05
197 – #5 Jay Aiello (Virginia) dec. #1 Jacob Warner (Iowa), 7-5
285 – #1 Tony Cassioppi (Iowa) dec. #5 Carter Isley (Northern Iowa), 11-5
CONSOLATION RESULTS
149 – Jeren Glosser (Iowa) major dec. #13 McCoy Kent (Northern Illinois), 8-0
149 – Jeren Glosser (Iowa) dec. #16 Alec McCoy (Ohio), 7-3
149 – #3 Max Thomsen (Northern Iowa) injury default Jeren Glosser (Iowa)
149 – #12 Vince Turk (Iowa) dec. #8 K. Clarke (American), 4-2
184 – #9 Cash Wilcke (Iowa) dec. #2 Nelson Brands (Iowa), 4-2 SV2
184 – #9 Cash Wilcke (Iowa) dec. #12 Jack Jessen (Northwestern), 3-2
184 – #9 Cash Wilcke (Iowa) vs. #5 Andrew Morgan (Campbell), 7-4
197 – #1 Jacob Warner (Iowa) mff. #8 Hunter Ritter (Minnesota)
285 – #11 Yaraslau Slavikouski (Harvard) dec. #13 Aaron Costello (Iowa), 2-1
FINALS MATCHUPS
133 – #1 Austin DeSanto (Iowa) vs. #2 Seth Gross (Wisconsin)
141 – #1 Max Murin (Iowa) vs. #3 Joshua Heil (Campbell)
149 – #2 Pat Lugo (Iowa) vs. #1 Austin O'Connor (North Carolina)
157 – #2 Kaleb Young (Iowa) vs. Markus Hartman (Army)
165 – #1 Alex Marinelli (Iowa) vs. #3 David McFadden (Virginia Tech)
184 – #11 Abe Assad (UN-Iowa) dec. #1 Taylor Lujan (Northern Iowa)
285 – #1 Tony Cassioppi (Iowa) vs. #3 Matt Stencel (Central Michigan)
THIRD-PLACE MATCHUPS
149 – #12 Vince Turk (Iowa) vs. #3 Max Thomsen (Northern Iowa)
184 – #9 Cash Wilcke (Iowa) vs. #7 Zachary Braunagel (Illinois)
197 – #1 Jacob Warner (Iowa) vs. Pat Brucki (Princeton)
FIFTH-PLACE MATCHUPS
149 – Jeren Glosser (Iowa) vs. #8 K. Clarke (American)