Hawk Talk Monthly — January | Hawkeye Fan Shop — A Black & Gold Store | 24 Hawkeyes to Watch 2019-20 | Youth Clinic Registration
By DARREN MILLER
hawkeyesports.com
IOWA CITY, Iowa — During a typical week, University of Iowa wrestlers Cash Wilcke and Abe Assad eat together once or twice.
Wilcke and Nelson Brands play video games together a couple times every week.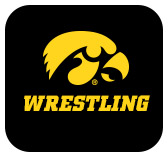 The thing that makes the relationship between these three Hawkeye teammates unique is that they are all competing for the varsity spot at 184 pounds. And they are all pretty darn tough.
Wilcke, a senior, is 11-2 and ranked 10th or 11th in the nation. Brands is a redshirt freshman with a 4-3 record. Assad, a true freshman, is 15-3 competing unattached. At the Midlands Championships on Dec. 29-30, Assad placed second, Wilcke third, and Brands went 2-2 and did not place.
Any of the three could have their name called when No. 1 Iowa (4-0 overall, 1-0 Big Ten) travels to Indiana on Friday and to No. 18 Purdue on Sunday.
"We have three guys (at 184 pounds) who could do the job and we're not down on any of them," Iowa head coach Tom Brands said Tuesday during a news conference in Carver-Hawkeye Arena. "This is not about a young guy getting a nod because he has a lot of wrestling left. This is not about loyalty factor and 'Oh, we're going to let that senior finish out his career.' This is about who has the best chance and shows us that they are going to put forth their best effort every time out."
In the only head-to-head meeting between the Hawkeyes at Midlands, Wilcke outlasted Brands, 4-2, in a second overtime. During preseason wrestle-offs, Wilcke defeated Assad, 3-2, in a first tiebreaker.
"You don't have lower-tier guys who have struggled all year," Brands said. "You have three guys who have done well all year and are capable. It's not like these guys are all .500 and you have to hope a guy gets hot."
Wilcke described the 5-2 start to his season as "clunky," with both losses to Wisconsin's Johnny Sebastian by a combined three points. He has won six in a row and improved to 74-31 for his career. Wilcke's 74 career wins are more than any other active Hawkeye.
"We're all great friends," Wilcke said of the 184-pound trio. "It's not like there is hate toward each other; we build each other and make each other better."
Senior Jake Hinz (5-7) is expected to compete for Indiana, and junior Max Lyon (12-7) or sophomore Jared Florell (3-2) will take the mat for Purdue. Lyon is from Dyersville, Iowa, and graduated from Western Dubuque High School.
It is unknown which Hawkeye or Hawkeyes will compete.
"If my number gets called, I'll be ready and do anything I can to make sure I'm the guy the next time out, too," Wilcke said.
Regardless of who gets the call for Iowa at 184, they know the expectation.
"It's not hard to see desire out on that mat," Brands said. "Competition is good."