Hawkeye Fan Shop — A Black & Gold Store | Hawk Talk Monthly — January | Youth Clinic Registration | 24 Hawkeyes to Watch 2019-20
WEST LAFAYETTE, Ind. — The top-ranked University of Iowa wrestling team batted 10-for-10 in a 41-0 win at No. 18 Purdue on Sunday. The Hawkeyes won four top-10 matchups and scored bonus points in half of their bouts, including two falls, two technical falls, and one major decision.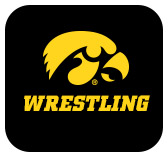 "I like bonus points. It makes it uneven and puts pressure on those guys," said Iowa head coach Tom Brands. "It doesn't have to be tight. Send messages to the rest of country. I like pins. I like bonus points."
The Hawkeyes scored bonus points in three matches before the break.
Spencer Lee and Austin DeSanto led off at 125 and 133, outscoring their opponents a combined 34-1 in six minutes, 19 seconds. In a matchup of top five opponents, Lee defeated No. 5 Devin Schroder 17-0 in 2:55. Lee scored a takedown 11 seconds into the match, forced a stalling point, and strung together four tilts worth 14 points.
DeSanto used three takedowns and 12 nearfall points to end his match 24 seconds into the second period, 17-1.
Max Murin earned a 6-1 decision at 141, Pat Lugo won by 8-0 major decision at 149, and Kaleb Young sent Iowa into the break with a 20-0 lead, topping No. 8 Kendall Coleman, 4-3.
"I'd rather get technical falls or pin guys, but we have to win close matches too," Young said. "Our coaches preach to us that the most dominant wrestlers win the close matches. I want to dominate guys, but I have to win the close ones too."
The second half opened with the "sugar bull" making its second appearance of the weekend at 165 pounds. Alex Marinelli turned his third takedown of the first period into his seventh fall of the season, flattening Tanner Webster in 1:51.
The final four bouts included two top-5 wins and a pin.
Michael Kemerer scored three takedowns in the final period to defeat No. 4 Dylan Lydy, 8-4, at 174.  Jacob Warner opened the third period with four nearfall points, and closed it with a takedown in the final 34 seconds to win 8-2 against No. 2 Christian Brunner.
Abe Assad scored a takedown in the first period and another in the third to win, 5-2, at 184, and Tony Cassioppi put an exclamation point on the shutout with a fall two minutes into his 285-pound match.
"This is when it gets fun," Kemerer said. "Down the stretch we're going to need to win highly-ranked matchups. We got the shutout here. They had a lot of guys and thought maybe they could beat us, make it 5-5 or 6-4; we took 10 matches. We just have to stay in there and stay tough."
"Purdue has a good team this year," Warner said. "They are up-and-coming, but what we showed today shows what kind of team we are. We are the No. 1 team in the country and we're here to shut everybody out."
UP NEXT
Iowa hosts No. 2 Nebraska on Saturday, Jan. 18 at 8 p.m. (CT) at Carver-Hawkeye Arena. An autograph session follows the dual.
#SORENSENSTRONG
The wrestling program will distribute #SorensenStrong bandanas to the first 3,000 fans through the doors of Carver-Hawkeye Arena on Jan. 18. The #SorensenStrong bandanas are a symbol of support for former All-American Brandon Sorensen, who is battling acute lymphoblastic leukemia.  For mor information about the headbands, visit SorensenStrong.org.
NOTABLES
Spencer Lee (16-0), Austin DeSanto (10-0), Alex Marinelli (20-0), Abe Assad (2-0), and Tony Cassioppi (3-0) are undefeated in their careers in Big Ten duals.
Spencer Lee improved to 8-0 with eight bonus-point wins.
Austin DeSanto notched his 10th win of the season, and eighth bonus-point win.
Max Murin improved to 10-0, extending his career-long winning streak.
Lugo improved to 12-0 and extended his career-high win streak to 11.
Alex Marinelli improved to 12-0 with his team-high seventh pin of the season. He has pinned seven of his last nine opponents.
Jacob Warner's 8-2 win over #2 Christian Brunner was his second win this season against top 2 opponent.
Iowa has won its last 31 meetings in the series.
Iowa has won 42 straight matches over the course of its last three duals.
The shutout was Iowa's third of the season.
#1 IOWA 41, #18 Purdue 0
125 — #1 Spencer Lee (IA) tech. fall #5 Devin Schroder (P), 17-0; 5-0
133 — #2 Austin DeSanto (IA) tech. fall Travis Ford-Melton (P), 17-1; 10-0
141 — #7 Max Murin (IA) dec. Parker Filius (P), 6-1; 13-0
149 — #1 Pat Lugo (IA) major dec. Nate Limmex (P), 8-0; 17-0
157 — #6 Kaleb Young (IA) dec. #8 Kendall Coleman (P), 4-3; 20-0
165 — #2 Alex Marinelli (IA) pinned Tanner Webster (P), 1:51; 26-0
174 — #3 Michael Kemerer (IA) dec. #4 Dylan Lydy (P), 8-4; 29-0
184 — Abe Assad (IA) dec. Max Lyon (P), 5-2; 32-0
197 — #5 Jacob Warner (IA) dec. #2 Christian Brunner (P), 8-2; 35-0
285 — #4 Tony Cassioppi (IA) pinned Thomas Penola (P), 2:00; 41-0
Records: Iowa (6-0, 3-0), Purdue (8-2, 1-1)
Attendance: 1,743