Hawk Talk Monthly — January | Hawkeye Fan Shop — A Black & Gold Store | 24 Hawkeyes to Watch 2019-20 | Match Notes
By DARREN MILLER
hawkeyesports.com
IOWA CITY, Iowa — Seventeen seconds remained in the 174-pound match Jan. 18 when University of Iowa senior Michael Kemerer scored a takedown against Nebraska's Mikey Labriola. It provided the decisive points in a 3-1 win for Kemerer, who remained undefeated in seven bouts this season.
The late score also serves as motivation for Kemerer, a two-time All-American at 157 pounds.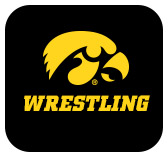 "I always want to go out and score a lot of points," Kemerer said. "We're in the heart of the season and the more matches I get, the more I want to open up my offense."
There is a reason for close results: the No. 2-ranked Kemerer finds himself in a stretch where he will face three consecutive opponents ranked in the top 8. He defeated No. 4 Dylan Lydy of Purdue, 8-4, on Jan. 12, and sixth-ranked Labriola six days later. On Friday he faces No. 8 Kaleb Romera, an Ohio State sophomore with a record of 13-2. For Kemerer, it makes no difference that he is seeing a lineup in January that is as strong or stronger than what he could face in the late rounds of the NCAA Tournament.
"I always treat my opponents with respect and I don't overlook anybody," Kemerer said. "It's about sticking with my routine and doing what I do, no matter who the opponent is. I have to treat it like it is the world finals."
Or at least the Big Ten finals. And back-to-back-to-back matches against top-8 competition is exactly what Kemerer expected when he committed to the Hawkeyes out of Franklin Regional High School in Murrysville, Pennsylvania.
"The schedule is tough and you know that when you come to Iowa, you're going to wrestle most of the top guys in the country," Kemerer said. "That's what we like to do."
Kemerer is 67-6 in his career and 18-1 in Carver-Hawkeye Arena. His win total at home is more than any other current Hawkeye.
"It's upholding the standard of Iowa wrestling and trying to be the best we can be," Kemerer said. "You want to do your part with fun, exciting wrestling."
Iowa and Ohio State did not meet in a dual last season. The teams split their last two meetings, with the Hawkeyes winning, 21-13, in 2017 in Iowa City, and Ohio State winning, 22-12, in 2018 in Columbus, Ohio. The Hawkeyes have won 15 straight duals against the Buckeyes in Iowa City.
Top-ranked Iowa enters Friday's match with a record of 7-0 overall, 4-0 in the Big Ten; No. 4 Ohio State is 7-1, 3-0. The lone loss for the Buckeyes was 21-15 against Virginia Tech on Nov. 17.
"It's cool that every time people come in here, they are trying to make a statement," Kemerer said. "We're protecting our home arena and we're going to make a statement, too. That's what makes it fun."
With all that considered, Kemerer is quick to put a dual in January — complete with its team and individual rankings — in perspective.
"What people remember is what happens in the last stretch," he said. "It doesn't mean these matches aren't important, but because we're ranked No. 1 doesn't solidify anything at the end of the year. We have to be prepared, keep working and get better."
The Ohio State-Iowa dual begins at 8:03 p.m. (CT) and will be televised live by BTN. Tickets are $15 for adult, $10 for youth and may be purchased by clicking HERE.