Hawkeye Fan Shop — A Black & Gold Store | Hawk Talk Monthly — January | 24 Hawkeyes to Watch 2019-20
IOWA CITY, Iowa — The University of Iowa plans to build a new wrestling training facility to meet the needs of one of the most successful athletic programs in the country. Pending approval by the Board of Regents, State of Iowa, the UI will begin planning a new facility adjacent to Carver-Hawkeye Arena that supports Iowa Wrestling's championship standards and validates Iowa City's reputation as the greatest wrestling city in the world.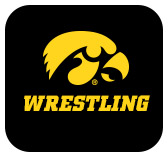 The proposed facility, funded entirely by gifts, will be located south of Carver-Hawkeye Arena and connected to the arena by tunnel. It will include an expanded training space and feature a Hall of Champions that showcases the program's legendary history — including 23 NCAA team titles, 35 Big Ten Conference team titles, 84 NCAA individual championships, and 335 All-America honors.
The new facility will also allow the university to continue its tradition of hosting the world's top senior level and international wrestling events, including the U.S. Olympic Trials and the United World Wrestling Cup, which attract tens of thousands of wrestling fans to Iowa City and delivers a multi-million dollar economic impact to the community.
To date, the project has received over $9 million in gift commitments, which in part funded a preliminary needs assessment and design plan. Upon approval by the Board of Regents, formal planning will begin with budget development and architect selection.
The Hawkeye wrestling team will continue to compete in its home at Carver-Hawkeye Arena, known internationally as a wrestling mecca and the NCAA leader in attendance in each of the last 13 seasons.
Gary Barta, Henry B. and Patricia B. Tippie Director of Athletics Chair:
"The Iowa wrestling program has a legendary history and we are committed to continuing its momentum. This facility will have a significant impact on our wrestling program and athletics department. We truly thank the contributors who have already stepped forward with leadership commitments, as this project will be funded entirely by private support. With permission to proceed from the Board of Regents, we will begin the planning process and designing the building. The fundraising will continue during that process and we are confident others will join the campaign to help our wrestling program take this very important next step."
Tom Brands, University of Iowa Wrestling Head Coach:
"This is an important step forward for the Iowa Wrestling program. We put constant thought and evaluation into everything we do, and we do it with great energy to make sure we are operating at the highest level. We are thankful that we are able to continue moving forward."