Hawkeye Fan Shop — A Black & Gold Store | Hawk Talk Monthly — January | 24 Hawkeyes to Watch 2019-20 | Match Notes
By DARREN MILLER
hawkeyesports.com
IOWA CITY, Iowa — Alex Marinelli has never lost a wrestling match in Carver-Hawkeye Arena. Among his 16 career wins, two of the highlights happened this season.
A third could occur this evening.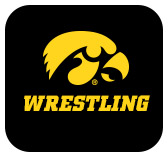 Marinelli, a University of Iowa 165-pounder from Miamisburg, Ohio, calls his 4-2 victory over No. 3 Evan Wick of Wisconsin on Dec. 1 one of those highlights. Another was a 4-3 decision over No. 5 Isaiah White of Nebraska on Jan. 18.
Tonight, second-ranked Marinelli (14-0), a junior, faces top-ranked Vincenzo Joseph of Penn State, a senior. Joseph (7-0) is a three-time NCAA finalist and two-time national champion. He is winless in two bouts against Marinelli. Marinelli is a two-time All-American, placing sixth as a freshman and seventh last season.
"Joseph is just another guy in front of me," Marinelli said. "I know what he has, he knows what I have. I have to impose my will on my opponent and it will be a good match. He is another guy stepping out there, shaking my hand, and I have to do something to him that he doesn't want to happen."
Joseph entered his previous matches against Marinelli also ranked No. 1. Marinelli won, 9-6, in a dual at Penn State in 2018; he won 9-3 last season in the finals of the Big Ten Championships in Minneapolis.
"I wrestled free and how I know how," Marinelli said of the first two meetings with Joseph.
Marinelli enters tonight's dual with a career record of 60-8. This season, he is 3-0 against opponents ranked in the top 6.
"Marinelli is a handful," Iowa head coach Tom Brands said. "He gets up for big matches and is a unique competitor that way. Marinelli delivers and he delivers at home, too."
In high school, Marinelli originally committed to Ohio State, then switched to the Hawkeyes. He was never recruited by Penn State. During Marinelli's three seasons on the Iowa campus, the Hawkeyes are 0-2 in duals against the Nittany Lions. Iowa leads the all-time series, 27-10-2, but hasn't defeated Penn State since an 18-12 decision at Penn State in 2015.
"I haven't beaten them since I have been in college, so we have something to do," Marinelli said. "We have a task at hand and we have a great team and coaching staff to do it. They are leading us to a national title, I'm super-excited about this one."
Marinelli and Joseph's 165-pound battle is one of two bouts featuring wrestlers ranked No. 1 and No. 2. The other is Iowa's Michael Kemerer (2) versus Mark Hall (1). The dual features 14 individuals ranked in the top eight of their respective weight classes.
"When I was getting recruited and told (Iowa) I was coming here, this is exactly what I wanted," Marinelli said. "I wanted the team and coaching staff I have right now that want to be national champions every day. They're having fun and they have that high-level mentality every day."