Hawkeye Fan Shop — A Black & Gold Store | Hawk Talk Monthly — February | 24 Hawkeyes to Watch 2019-20
By JAMES ALLAN
hawkeyesports.com
IOWA CITY, Iowa — University of Iowa head baseball coach Rick Heller has decisions to make across the diamond leading into the regular-season opener Feb. 14 in Florida, which showcases the Hawkeyes' 2020 team depth coming off a 31-win season.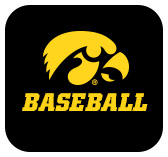 "This is an interesting year," said Heller, who enters the season six wins shy of 900 career victories. "On the mound we have a lot of tough decisions to make, and position-player-wise, this is the least amount of spots secured at this point in time of any teams I have coached. 
 
"We're having a lot battles in terms of who will play."
 
The Hawkeyes return three starters on the infield, but only senior catcher Austin Martin will likely man his starting position from a season ago. After being Iowa's primary first baseman in 2019, junior Izaya Fullard will slide to second base, while sophomore Brendan Sher (Iowa's third baseman for the final 1/3 of the season) is battling junior-college transfer Dylan Nedved to take over at shortstop.
 
Seniors Lorenzo Elion and Matthew Sosa are battling at third base.
 
"Izaya is one of our best hitters, but we need him to play a solid second base," said Heller. "That will be a big part of our team's success. With our depth, it might be a rotation more than a solid guy every day."
Fullard's move to second creates a path at first base for freshman Peyton Williams — the 2019 Iowa High School Player of the Year.  It also opens a door at designated hitter for redshirt junior Tanner Padgett, who was Iowa's top hitter early in 2019 before being in-and-out of the lineup with a hamstring injury.
"We need Padgett, Williams, and Fullard in the lineup," said Heller. "That gives us something we haven't had since the Jake Adams team (in 2017) when we had power in the middle of the order."
 
In the outfield, the Hawkeyes will be senior-laden with Ben Norman, Justin Jenkins, and Zeb Adreon — a trio that has combined to start 241 games the last three seasons. Add redshirt sophomore Connor McCaffery (when he joins the team after the men's basketball season) and Martin or Brett McCleary as a platoon player in left field means the Hawkeyes have options.
 
Gallery: (2/6/2020) BASE: 2020 IOWA BASEBALL MEDIA DAY
 
On the mound, Heller believes the staff's depth is as good as it has been at any point in his first six seasons, but the Hawkeyes need a No. 1 starter to emerge as a replacement for Cole McDonald.
 
Redshirt sophomore Jack Dreyer is a candidate to emerge now that he is healthy after logging just 7 1/3 innings in 2019. Senior Grant Judkins returns after winning four games and posting a team-best 2.72 ERA last season as the Sunday starter. 
"We need someone to step up and establish themselves as a Friday night guy and beat the other team's best pitcher," said Heller. "I think we have that, but we'll find that out when we get on the field."
 
The relief corps, specifically the backend of the bullpen, will be a strength with closer Grant Leonard and set-up man Trace Hoffman returning. Two more relievers — redshirt junior Hunter Lee and sophomore power arm Ben Probst — are both healthy after combining for four appearances and 5 1/3 innings last season.
 
"We're in a good spot with Leonard, one of the best closers in Iowa baseball history, and Trace," said Heller. "We've added to that in hopes that we don't have to use those guys as much as last season.  This year we have guys that we can go to and feel good about."
The Hawkeyes will be tested early and often, facing San Diego State, Arizona, San Diego, Duke, North Carolina, and North Carolina State in the first three weeks of the season.
 
"We played this schedule early because we felt this team would have a chance to play in the NCAA Tournament," said Heller. "A lot of people are thinking this team is not going to be that good based on where we're getting picked. That's probably for good reason based on what they know, but I think this team has a chance to be special."