Hawkeye Fan Shop — A Black & Gold Store | Hawk Talk Monthly — February | 24 Hawkeyes to Watch 2019-20
ANN ARBOR, Mich. — The top-ranked University of Iowa wrestling team defeated No. 22 Michigan, 27-9, on Saturday night at the Crisler Center.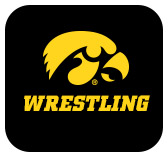 Iowa won eight-of-10 bouts and owned a 26-5 advantage in takedowns to improve to 8-0 in the Big Ten and clinch a share of the conference regular season title.
Iowa won four-of-five before the break and led 12-3 behind top 10 wins from Pat Lugo and Kaleb Young. Lugo wrestled a scoreless first period, escaped to start the second, and used a third-period rideout to top No. 9 Kanen Storr, 2-0, at 149.
Young used a takedown in each period to defeat No. 9 Will Lewan, 7-3, at 157 and extend his win streak to a career-best 12 matches.
"Pat Lugo is a rider. That guy held points and Pat Lugo made him pay when he chose down," said Iowa head coach Tom Brands. "Kaleb Young was ready to go and hit some shots that were crisp. One more score there and he can widen that gap."
Iowa extended it's team lead after the break with four straight wins.
Alex Marinelli and Michael Kemerer combined for 16 takedowns in a pair of bonus-point wins at 165 and 174. Marinelli used eight takedowns and 3:51 of riding time to win 18-6 at 165, and Kemerer used eight takedowns and four nearfall points to terminate his match 21-6 at 174. Kemerer ended his match in five minutes, 20 seconds.
Cash Wilcke's takedown in the second period was the difference in his 3-2 win over No. 20 Jelani Embree at 184. The win was No. 75 of Wilcke's career. Jacob Warner made it seven straight for Iowa with a 3-1 win at 197.
The Hawkeyes also earned wins at 125 and 141. Spencer Lee opened the dual with an 8-1 decision at 157, and Carter Happel won his second straight Big Ten dual, 7-4, at 141.
The Wolverines won by 7-5 decision at 133 and recorded a fall at 285. Paul Glynn's third-period rally ran out of time at 133, and Tony Cassioppi suffered his first career loss at 285, surrendering a fall in the second period.
"(Michigan" is a team that is coached strategically to be strong at the end of the period, score at the end of the period, keep an eye on the clock. We handled most of that well," said Brands. "Heavyweight got away from us. We were trading blows with him and got into a position where we just don't want to me. We have to get better at our finishes. That match ended up lopsided but it wasn't lopsided."
UP NEXT
Iowa hosts No. 13 Minnesota on Saturday, Feb. 15 at 8:30 p.m. (CT). The dual is streamed at BTN Plus and FloWrestling.com.
NOTABLES
Iowa wrestlers have a combined record of 67-13 in Big Ten duals, and 86-14 in overall duals this season.
Spencer Lee improved to 13-0 and has outscored  his last eight opponents 118-3.
Carter Happel won his second straight Big Ten dual. His two Big Ten wins matches his season-high from his redshirt freshman season in 2017-18 (2-3).
Pat Lugo improved to 7-1 against ranked opponent and earned his fourth top 10 win of the season.
Kaleb Young extended his win streak to a career-high 12 matches with his third top 10 win of the season.
Marinelli scored a season-high 18 points to earn his first major decision of the year and his eighth bonus-point victory (seven pins).
Michael Kemerer improved to 11-0 with his third technical fall of the season. Kemerer has won 30 straight duals.
Cash Wilcke earned his 75th career win, the most among active Hawkeyes.
#1 IOWA 27, #22 Michigan 9
125 — #1 Spencer Lee (IA) dec. #19 Jack Medley (M), 8-1; 3-0
133 — Joey Silva (M) dec. Paul Glynn (IA), 7-5; 3-3
141 — Carter Happel (IA) dec. Cole Mattin (M), 7-4; 6-3
149 — #2 Pat Lugo (IA) dec. #9 Kanen Storr (M), 2-0; 9-3
157 — #5 Kaleb Young (IA) dec. #9 Will Lewan (M), 7-3; 12-3
165  — #2 Alex Marinelli (IA) major dec. Reece Hughes (M), 18-6; 16-3
174 — #1 Michael Kemerer (IA) tech. fall Max Maylor (M), 21-6; 21-3
184 — Cash Wilcke (IA) dec. #20 Jelani Embree (M), 3-2; 24-3
197 — #6 Jacob Warner (IA) dec. Jackson Striggow (M), 4-1; 27-3
285 — #2 Mason Paris (M) pinned #3 Tony Cassioppi, 4:31; 27-9
Records: Iowa (11-0, 8-0), Michigan (6-4, 5-2)
Attendance: 3,909