Hawkeye Fan Shop — A Black & Gold Store | Hawk Talk Monthly — February | 24 Hawkeyes to Watch 2019-20 | Match Notes PDF
By DARREN MILLER
hawkeyesports.com
IOWA CITY, Iowa — University of Iowa head wrestling coach Tom Brands says it often: peaking is a mindset.
So is a wrestler's position on the depth chart.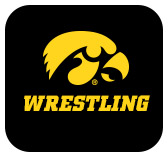 "Tom preaches that everyone is a heartbeat away from the lineup," Iowa junior 141-pounder Carter Happel said.
Happel knows. He has competed in four straight duals since sophomore Max Murin aggravated an injury during the top-ranked Hawkeyes' 26-6 win over Nebraska on Jan. 18. Since then, Happel has been Iowa's guy against Ohio State, Penn State, Michigan State, and Michigan.
"We have to rely on a lot more than 10 people," Brands said Tuesday during a news conference in Carver-Hawkeye Arena. "We have 10 weight classes represented by 37 people; we use them all. Even if they are not the guys who will be out there, our best guys in the room are using guys who aren't necessarily going to be on the mat that week."
Happel, a four-time high school state champion from Lisbon, Iowa, welcomes any chance to compete, even if it means tangling with the top wrestlers at his weight class. That happened against Ohio State, when he faced No. 1 Luke Pletcher, and a week later when he went up against No. 2 Nick Lee of Penn State.
After a technical fall loss to Lee, Happel had a heart-to-heart with associate head coach Terry Brands.
"Fight more," Terry Brands told him.
Happel gets another takedown to close out the match! He wins 7-4!

Hawks: 6
Michigan: 3 pic.twitter.com/i8oQRoJm4P

— Iowa Hawkeye Wrestling (@Hawks_Wrestling) February 9, 2020
Happel obliged. He defeated Matt Santos of Michigan State, 4-1, on Feb. 2 (two days after the loss to Lee) and knocked off Cole Mattin of Michigan, 7-4, on Feb. 8. That leaves him with a career record of 23-16.
"I went in there fighting for every position, every point," Happel said. "If I get scored on, it doesn't matter. Go out there and get the next score: scoring fast, scoring quick. It's the Big Ten, every match is going to be difficult whether it's the No. 1 guy or if it is an unranked guy. You have to keep your head in there and fight for points."
Happel isn't the only Hawkeye to respond when he gets the call. With two regular season duals remaining, Iowa is 11-0 overall, 8-0 in the Big Ten. In duals, the Hawkeyes have used multiple competitors in six weight classes: 125, 133, 141, 165, 184, and 197.
"Depth is important in more ways than having Happel show up," Tom Brands said. "It's not always an easy message (for a back-up), so when you have that happening, and that message is sinking in, you feel good about it."
Happel (8-5) is listed with Murin (10-1) on the probable lineup for Saturday's dual against No. 13 Minnesota (9-6, 4-3). Action begins at 8:30 p.m. (CT) and will be televised by BTN with Tim Johnson and Jim Gibbons on the call. Iowa has won five straight in the series.
"We're back home, so it will be fun," Happel said. "We have two duals left before postseason and we can't look past them; they will be fun and exciting. Then we have postseason."