Hawkeye Fan Shop — A Black & Gold Store | Hawk Talk Monthly — February | 24 Hawkeyes to Watch 2019-20 | Photo Gallery
IOWA CITY, Iowa — Senior Michael Kemerer put the finishing touches on a Hawkeye route Saturday, pinning No. 9 Devin Skatzka in two minutes, 52 seconds to punctuate top-ranked Iowa's 35-6 win over No. 13 Minnesota.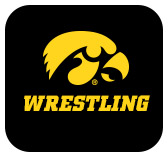 Kemerer, ranked No. 1 at 174, led 4-2 in the first period before rolling up a cradle, sending 12,608 fans home happy and clinching Iowa's first outright Big Ten regular season title since 2015.
It was also the Hawkeyes' third top-10 win of the evening, and the fifth match that ended in bonus points.
Austin DeSanto and Alex Marinelli both won by technical fall, piling up 17 combined takedowns at 133 and 165. Jacob Warner won by 13-4 major decision at 197, and Spencer Lee won by forfeit at 125.
Max Murin and Pat Lugo added top 10 wins. Murin finished a takedown with 19 seconds left in sudden victory to top No. 4 Mitch McKee, 6-4, at 141 pounds, and Lugo followed suit with a 3-2 win over No. 7 Brayton Lee at 149.
Murin was making his first appearance in four weeks, and wrestled into overtime for the first time in his career.
"I tell myself I don't want to celebrate until I get my goal at nationals, but it was kind of a big relief," Murin said. "It felt really good. Awesome team win too."
The team win was Iowa's sixth straight in the series, and represented the largest margin of victory against the Gophers since a 44-2 Iowa win in 1992.
"Big win. Onward. Oklahoma State next," said Iowa head coach Tom Brands. "We got sole possession of first place in the dual meet season for the Big Ten, so we go upstairs, get some t-shirts and hats, take a couple pictures, and get a move on. I don't say that lightly, I say that because that's what you do.
"Oklahoma State is a big dual. I don't know what they're ranked, but it's a program that takes their wrestling very seriously. It is an important dual and we have to be ready to go."
UP NEXT
Iowa hosts No. 10 Oklahoma State on Sunday, Feb. 23, at 7 p.m. (CT). The dual is televised on BTN.
The 29-point margin of victory was the largest in the series since a 44-2 Iowa win 1992.
The Hawkeyes have won or shared the Big Ten dual championships 12 times since the conference started recognizing a dual meet champion in 1999. Iowa won the title outright in 2000, 2008, 2009, 2010, 2011, 2013, 2015, and 2020, and shared the title in 2003, 2014, 2016, and 2019.
The Hawkeyes have nine undefeated conference seasons since 2006-07, head coach Tom Brands' first year.
Iowa wrestlers have a combined record of 75-15 in Big Ten duals, and 94-16 in overall duals this season.
Jacob Warner's 13-4 major decision was his fifth major decision of the season, a new career high (4 in 2018-19).
Austin DeSanto earned his sixth technical fall of the season, second on the team to Spencer Lee (8).
Max Murin's win over No. 4 Mitch McKee was the highest ranked win of his career. Murin returned to the lineup for the first time since Jan. 18. It was his first career overtime match.
Pat Lugo improved to 8-1 against ranked opponent and earned his fifth top 10 win of the season.
Kaleb Young extended his win streak to a career-high 12 matches.
Marinelli scored a season-high 21 points. He has outscored his last two opponents 39-12 and has nine bonus-point wins this season.
Michael Kemerer improved to 12-0 and has won 31 straight duals.
#1 IOWA 35, #13 Minnesota 6
184 — Owen Webster (M) dec. Cash Wilcke (IA), 3-2; 0-3
197 — #6 Jacob Warner (IA) major dec. Hunter Ritter (M), 13-4; 4-3
285 — #1 Gable Steveson (M) dec. #3 Tony Cassioppi, 7-5; 4-6
125 — #1 Spencer Lee (IA) won by forfeit; 10-6
133 — #3 Austin DeSanto (IA) tech. fall Boo Dryden (M), 24-8; 15-6
141 — #9 Max Murin (IA) dec. #4 Mitch McKee (M), 6-4 SV1; 18-6
149 — #2 Pat Lugo (IA) dec. #7 Brayton Lee (M); 3-2; 21-6
157 — #5 Kaleb Young (IA) dec. Ryan Thomas (M), 5-4 TB1: 24-6
165  — #2 Alex Marinelli (IA) tech. fall Kasper McIntosh (M), 21-6; 29-6
174 — #1 Michael Kemerer (IA) pinned #8 Devin Skatzka (M), 2:52; 35-6
Records: Iowa (12-0, 9-0), Minnesota (9-7, 4-4)
Attendance: 12,608
MINNESOTA-IOWA PHOTO GALLERY
Gallery: (2/15/2020) WREST: IOWA 35, MINNESOTA 6