Hawkeye Fan Shop — A Black & Gold Store | Hawk Talk Monthly — February | 24 Hawkeyes to Watch 2019-20 | Photo Gallery | DUAL RECAP
By DARREN MILLER
hawkeyesports.com
IOWA CITY, Iowa — What rust?
If time away from the varsity lineup did anything to diminish Max Murin's wrestling repertoire, it didn't show Saturday during a headline matchup against No. 4 Mitch McKee of Minnesota in front of 12,608 on Mediacom Mat in Carver-Hawkeye Arena.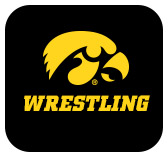 Murin returned to the University of Iowa lineup at 141 pounds after missing nearly a month because of injury. He described his time away as "banged up and dealing with a little adversity." The last time he competed was Jan. 18 in Carver-Hawkeye Arena, where he suffered his only loss of the season, 6-2, to No. 9 Chad Red of Nebraska.
This task appeared more daunting than Murin's bout with Red. In two meetings last season, McKee eked out 5-3 and 2-1 victories; he took Murin down 85 seconds into this match.
If there was rust — "in the first period a little bit," Murin said — it came off quickly. He evened the score at 3-3 with a second-period takedown, then added a takedown 40 seconds into to sudden victory to win 6-4. It is the first time Murin has wrestled into overtime as a collegian and McKee is the highest-ranked opponent he has defeated.
Murin's result put the top-ranked Hawkeyes ahead in the dual, 18-6; Iowa went on to defeat No. 13 Minnesota, 35-6, for its sixth straight win in the series.
"(McKee is) a good wrestler and I was having a hard time getting to my offense," said Murin, who improved to 11-1 on the season. "There was a little opening for the re-shots."
In Murin's absence, junior Carter Happel filled in and went 2-2 in duals, including back-to-back wins at Michigan and Michigan State. After a mid-week conversation with Iowa head coach Tom Brands, Murin expected Happel to get the nod Saturday as well.
"I talked to coach Brands earlier in the week and he said we were probably going to go with Happel," Murin said. "I didn't know I was wrestling, but I kind of like it. I wasn't nervous, I went out and tried to score points."
Saturday's dual began at 184 pounds and Iowa led 15-6 at intermission following a technical fall victory by junior Austin DeSanto at 133 pounds. Murin and Happel were warming up at the break when Brands pointed toward Murin.
Mad Max Murin brought the noise for @Hawks_Wrestling! @FloWrestling

BTN x @AutoOwnersIns pic.twitter.com/FH08m6gyro

— Iowa On BTN (@IowaOnBTN) February 16, 2020
"He asked if I wanted to go and I said, 'Heck yeah, let's go,'" Murin said.
Rust wasn't the only thing Murin shed; he also competed for the first time in a long time without a large black brace wrapped around his shoulder and torso.
"Our medical team gave him the green light and Murin made the call," Brands said. "You feel good about those things."
There was plenty to celebrate Saturday. Not only was Murin back and healthy, but the Hawkeyes remained undefeated and won their eighth outright Big Ten dual championship since the conference started recognizing dual meet champions in 1999. Still, Murin wanted to do a better job of keeping his post-match emotions in check.
"I'm kind of mad at myself for celebrating like that because I tell myself I don't want to celebrate until I get my goal at nationals," Murin said. "It was a big relief, it felt good, and an awesome team win, too."
Iowa won eight of 10 matches and improved to 12-0 overall, 9-0 in the Big Ten. The Hawkeyes have now won or shared the Big Ten dual championship 12 times — they won the title outright in 2000, 2008, 2009, 2010, 2011, 2013, 2015, and 2020, and shared the title in 2003, 2014, 2016, and 2019.
"It means you did your job in conference and good job," Brands said. "Let's move on. It's not a slouch conference and it wasn't a slouch schedule. We'll take some pictures and move on."
Iowa hosts No. 10 Oklahoma State on Sunday, Feb. 23, at 7 p.m. (CT). The dual is televised on BTN.
MINNESOTA-IOWA PHOTO GALLERY
Gallery: (2/15/2020) WREST: IOWA 35, MINNESOTA 6