By DARREN MILLER
hawkeyesports.com
IOWA CITY, Iowa — Growing up in Cedar Rapids, Iowa, sports were life for Lisa Bluder and things worked out pretty well for her. Ditto for Kathleen Doyle and Makenzie Meyer.
 
The University of Iowa Athletics Department will celebrate National Girls & Women in Sports Day on Saturday when the No. 19/21 Hawkeyes (21-5 overall, 12-3 Big Ten) take on Penn State (7-19, 1-14) in women's basketball on Mediacom Court in Carver-Hawkeye Arena. Tip-off is 2 p.m. (CT).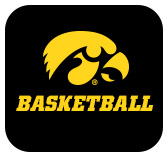 "Being part of sports is what I did," Bluder said Wednesday at a news conference in Carver-Hawkeye Arena. "I was a four-sport athlete in high school. I played six-on-six (basketball), so I remember when they polled everybody to see if they wanted five-on-five. I was the only one who said yes; I knew I wanted to play (basketball) in college, that was important to me."
 
Bluder is in her 20th season as Iowa's head coach. She has 773 career coaching victories and has led the Hawkeyes to 18 postseason appearances. Bluder attended Linn-Mar (Iowa) High School and was a three-year starter in basketball at the University of Northern Iowa.
 
"It is amazing for me to see the growth in how far it has come since I was a student-athlete at Northern Iowa," Bluder said. "You can't even comprehend it sometimes, when I think about the growth of women's basketball."
 
Two senior guards on Bluder's current team — Doyle and Meyer — have also grown up around sports. Both jump-started their careers on basketball courts in a local YMCA.
 
Doyle leads the Hawkeyes by scoring 18.5 points per game. Her 44 steals are also tops on the team, but that aspect of her game developed post-YMCA.
 
"I remember Saturday mornings, going to the YMCA, getting fired up to play," Doyle said. "When you're young, they force you to stay in a zone, your area, otherwise I would try to steal the ball from people. They made me stay in those little boxes, but I would be tip-toeing the edge of it, trying to get out there."
 
That aggressive, ball-hawking attitude comes as no surprise to Iowa fans.
 
A first-team All-Big Ten selection as a junior, Doyle leads the conference in assists with 6.3 per game. She is fourth in scoring, sixth in free throw percentage, and 10th in steals.
 
"Athlete has always been part of my identity growing up, the way I carry myself and try to treat others like I want to be treated," Doyle said. "It shapes you into the type of person you are and the attitude you have throughout life. Sports are a great way to shape who you want to become."
 
Meyer's father, Mark, called her Shaq (after 7-foot-1 NBA star Shaquille O'Neal) because she was so much taller than her fourth-grade teammates.
 
"I started playing in second or third grade," Meyer said. "I also played soccer and softball. We had a group of seven or eight girls, and we would go to basketball tournaments and stay overnight at the hotel. I remember that more than being on the court: how much fun we had together and the bond I had with my teammates at a young age."
 
Meyer averages 14.4 points per game and leads Iowa with 65 3-point field goals. She is second in the Big Ten with an 83.7 free throw percentage, fifth with a 41.1 3-point field goal percentage, and seventh with 4.0 assists per game.
 
"Sports instill so much confidence in young girls," Meyer said. "Working hard on the court and seeing that hard work pay off is such an amazing feeling. I hope my kids play sports and I hope I can instill that confidence in young girls."
 
The National Girls and Women in Sports Day is an annual day of observance typically held during the first week of February to acknowledge the accomplishments of female athletes, recognize the influence of sports participation for women and girls, and honor the progress and continuing struggle for equality for women in sports.
 
Tickets to Saturday's Penn State-Iowa game remain and may be purchased by clicking HERE, visiting the University of Iowa Ticket Office in Carver-Hawkeye Arena, or by calling 800 IA-HAWKS (800 424-2957).