Hawkeye Fan Shop — A Black & Gold Store | Hawk Talk Monthly — February | 24 Hawkeyes to Watch 2019-20 | Complete Notes (PDF)
| | |
| --- | --- |
| Date: | Feb. 28-March 1, 2020 |
| Location: | Minneapolis | U.S. Bank Stadium |
| Game Notes: | IOWA| NC State | UNC | Duke |
| Statistics | IOWA | NC State | UNC | Duke |
| | |
| Radio/Streaming: | Hawkeye Radio Network | Hawkeye All-Access ($)  |
| Live Stats: | Game 1 | Game 2| Game 3 |
| Television/Video Streaming | Game 1 | Game 2 | Game 3  |
| | |
| Game 1 | Feb. 28 | 11 a.m. (CT) | |
| Pitching Matchup: | Iowa: LHP Jack Dreyer (1-1, 2.31 ERA) |
| | NCSU: RHP Reid Johnston (0-0, 5.06 ERA) |
| Game 2 | Feb. 29 | 3 p.m. (CT)  | |
| Pitching Matchup: | Iowa: RHP Grant Judkins (2-0, 1.64 ERA) |
| | UNC: RHP Joey Lancellotti (2-0, 1.46 ERA) |
| Game 3 | March 1 | 2 p.m. (CT) | |
| Pitching Matchup: | Iowa: RHP Duncan Davitt (0-0, 2.57 ERA) |
|      | Duke: TBA |
THIS WEEK
• The University of Iowa baseball team continues life on the road this week, traveling to Minneapolis from Feb. 28 to March 1 for the CambriaCollegeClassic at U.S. Bank Stadium, home of the Minnesota Vikings.
• The Hawkeyes play the first game of the tournament against No. 8 NC State at 11 a.m. (CT) on Friday. On Saturday, Iowa plays No. 20 North Carolina at 3 p.m., with the weekend finale on Sunday at 2 p.m. against No. 14 Duke.
• Host Minnesota and Purdue are the other two Big Ten teams competing in the tournament with the three schools from the Atlantic Coast Conference.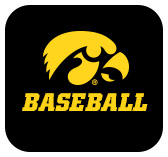 FOLLOW ALONG
• All three games will be streamed live on BTN+. It is a paid subscription service.
• All Iowa games will be available via the Hawkeye Radio Network with Morgan Hawk on the call. The games can be heard on Hawkeye All-Access, the TuneIn radio app (search Iowa Hawkeyes and it is on Iowa baseball channel), and stations across the state.  This week's radio schedule is: 
Friday: WDBQ FM 107.5 in Dubuque
Saturday: WDBQ FM 107.5 in Dubuque
Sunday: WDBQ FM 107.5 in Dubuque, KKFD 95.9 FM in Fairfield
• Live stats are available on hawkeyesports.com and fans can follow along on Twitter @UIBaseball.
LEADING OFF
• The Hawkeyes picked up a 4-1 win over No. 18 Arizona at the Tony Gwynn Legacy Tournament to move to 3-3 on the season. Senior pitcher Grant Judkins earned Big Ten Pitcher of the Week honors, following his six scoreless innings of work against the Wildcats.
• Redshirt senior closer Grant Leonard is now tied for third on Iowa's all-time saves list with 18 after picking up his second of the season against Arizona on just eight pitches. 
• Senior outfielder Ben Norman has started 63 consecutive games in the outfield dating back to the 2018 season. 
• Sophomore infielder Brendan Sher owns the 13th-best batting average (.350) and 12th-best slugging percentage (.600) in the Big Ten. Sher tied a career-high with three hits against San Diego State and hit his first home run of the season against San Diego. 
• The Hawkeyes are picked to finish fifth in the Big Ten Conference by Perfect Game and Baseball America and seventh by D1Baseball.
• Heller is only three wins shy of 900 career victories. He has posted 607 wins at the Division I level, including 206 at Iowa, with another 289 coming at Division II Upper Iowa. Heller is one of four coaches at the University of Iowa with at least 200 wins. 
• The Hawkeyes are coming off a 31-24 campaign in 2019, with 10 wins over ranked opponents and a streak of six straight series wins. It was head coach Rick Heller's sixth straight 30-win season — Iowa's longest stretch since 1979-85. Iowa has advanced to the postseason in each of Heller's six seasons, which includes two NCAA Regional appearances (2015, 2017).
• The Hawkeyes will play 23 home contests at Duane Banks Field with its home opener set for March 3 against Grand View. Iowa is 91-27 at home since the start of the 2015 season. 
QUICK HITTERS
• Iowa's .210 opposing batting average is third-best in the Big Ten, with all three of Iowa's starting pitchers ranking in the top 11: Jack Dreyer (3rd; .128), Grant Judkins (4th; .135), and Duncan Davitt (11th, .167). 
• The Hawkeyes own the fifth-best batting average (.263) and fielding percentage (.962) in the Big Ten. 
• Three Hawkeyes — Brendan Sher (.350), Ben Norman (.333), and Izaya Fullard (.300) — are hitting over .300. Sher leads the Hawkeyes with three extra-base hits, Norman leads Iowa with eight hits, and Fullard has a team-best five RBIs.
• Fullard and Norman have reached base safely in all six games this season. 
• The Hawkeyes have hit a home run in three of their last four games. Fullard hit Iowa's first home run of the season via a three-run, go-ahead homer against Pittsburgh in the third inning. Freshman Peyton Williams hit his first career home run against No. 18 Arizona, and Sher's solo home run against San Diego was the first of the season for the sophomore. 
RISE TO THE OCCASION
• The Hawkeyes picked up their first win of the season over a ranked opponent, knocking off No. 18 Arizona, 4-1, on Feb. 22.
• Iowa's next three contests are against top-25 teams. North Carolina State is ranked as high as eighth, Duke as high as 14th, and North Carolina as high 20th, across national polls. 
• Friday's game against No. 8 NC State will be Iowa's first against a top-10 opponent since the 2018 season when the Hawkeyes took two of three games from No. 7 Michigan at Duane Banks Field. 
• The Hawkeyes went 10-3 against top-30 opponents last season. 
LAST TIME AT U.S. BANK STADIUM
• In 2017, Iowa played at the Dairy Queen Classic inside U.S. Bank Stadium, going 2-1 with wins over Hawai'i (7-6) and Oral Roberts (7-5). 
• Ben Norman and Grant Judkins were the only current Hawkeyes to play in the tournament in 2017.
• In three starts at center field as a freshman, Norman went 6-for-12 with a home run, three RBIs, and two runs scored. Norman recorded back-to-back three-hit games in the first two games of the tournament.
• Judkins started the final game at DH going 0-for-3. 
JUD — B1G PITCHER OF THE WEEK
• Senior right-handed pitcher Grant Judkins was named Big Ten Pitcher of the Week on Feb. 24, following his performance in Iowa's 4-1 win over No. 18 Arizona. It was Judkins' second career weekly honor.
• The Pella, Iowa, native surrendered only two hits — a first-inning bloop single and a third-inning bunt single — over six innings, while punching out six. He retired 11 of the final 12 batters he faced as he notched his second victory of the season.
MORE ON JUD
• Judkins is 2-0 with a 1.64 ERA in two starts this season. He is tied for the league lead in wins (2), ranks fourth in the Big Ten in batting average against (.135), is tied for ninth in innings pitched (11.0), 12th in ERA (1.64 ERA), and 14th in strikeouts (12). 
ROTATION NOTES
• Iowa's starting rotation of LHP Jack Dreyer, RHP Grant Judkins, and RHP Duncan Davitt, is 3-1 in six starts with a 2.12 ERA and a .140 BAA.
• The trio has allowed only seven earned runs in 29 2/3 innings, while striking out 32 batters and issuing only nine walks. 
• Friday night starter Jack Dreyer is 1-1 with a 2.31 ERA and 13 strikeouts — tied for the 10th most in the Big Ten.
• Sunday starter Duncan Davitt hasn't earned a decision this season, but owns a 2.57 ERA and a .167 BAA. 
FULLARD'S FOUND HIS HOME
• As Iowa's three-hole hitter and starting second baseman, junior Izaya Fullard found his home at last weekend's Tony Gwynn Legacy Tournament, hitting .500 (5-for-10) with a .538 on-base percentage to raise his season batting average to .300. 
• The North Liberty, Iowa, native didn't strike out once last weekend, and only has three strikeouts all season. 
• Fullard's .444 OBP is second-best on the team behind Sher's .458 mark.
• Fullard owns a perfect fielding percentage in 28 chances. 
NORMAN THE LEADOFF MAN
• In Ben Norman's first three seasons, he spent most his time in the middle of the order. To start the season, the senior outfielder has moved to the leadoff spot. 
• In six games, Norman owns a .333 batting average and a .429 on-base percentage. The left-handed hitter has only struck out three times in 28 plate appearances.
• Norman's best day at the plate this season was a 4-for-4 performance on his birthday against Saint Joseph's on Feb. 15. He reaches base five times and stole two bases, while driving in two runs. 
THE GRANT LEONARD FILE
• After going a perfect 14-for-14 in save chances with a 3.37 ERA in 34 2/3 innings as a junior, redshirt senior Grant Leonard racked up three preseason accolades: second-team preseason All-America by the NCBWA, third-team preseason All-America by Collegiate Baseball, and he is one of 70 players in the country selected to the NCBWA Stopper of the Year Watch List.  Leonard is rated as the 20th-best relief pitcher in the nation by D1Baseball.
• Leonard is 2-of-3 in save chances this season.
• Leonard's 14 saves last season were a single season record. 
IOWA CAREER SAVES
1.    Kurt Belger (1993-97)    22
2.    Tim Gudex (2004-06)    20
3.    Grant Leonard (2017-pres.)    18
    Reed Pawelk (2000-03)    18    
RUNS AT A PREMIUM THIS WEEKEND
• Duke (0.75), North Carolina (1.56), and North Carolina State (1.75) all rank in the top four in the ACC in ERA and in the top 10 nationally. 
SCOUTING NORTH CAROLINA STATE
• North Carolina State enter the weekend with an 8-0 record with series sweeps of James Madison and Tennessee Tech.  The Wolfpack are ranked No. 8 by the NCBWA, 10th by Collegiate Baseball, 13th by D1Baseball, and 17th by Baseball America. 
• The Wolfpack have out-scored their opponents 74-15, averaging 9.3 runs per game. 
• Six NC State hitters are batting over .300 and the Wolfpack are hitting .332 as a team with a .433 on-base percentage. Junior Devonte Brown leads the Wolfpack offense with a .448 batting average, four home runs, and 16 RBIs. He is the reigning Collegiate Baseball National Player of the Week.
• The Wolfpack pitching staff owns a 1.75 ERA and a .202 batting average against. NC State has allowed three or fewer runs in seven of its eight games. 
• RHP Reid Johnston (0-0, 5.06 ERA) will start for the Wolfpack. It will Johnston's second weekend start of the season.
SCOUTING NORTH CAROLINA
• North Carolina is 7-2 overall with a series sweep over Middle Tennessee and a series loss to Dallas Baptist. The Tar Heels are ranked 20th by Collegiate Baseball, 22nd by Baseball America, and 23rd NCBWA. 
• The Tar Heels are slashing .255/.367/.393 and are averaging 7.0 runs per game, while allowing two runs per game. 
• North Carolina's pitching staff has posted three shutouts this season and own a 1.56 ERA.  RHP Joey Lancellotti (2-0, 1.46 ERA) will start Saturday for the Tar Heels. He has allowed six hits and five walks, while striking out 12 in two starts. 
SCOUTING DUKE
• Duke heads to the CambriaCollegeClassic with a 7-1 record and is ranked in three national polls — No. 14 by D1Baseball and the NCBWA, and 16th by Baseball America. The Blue Devils have won seven straight games after losing their season opener against Army. All eight of their games have been played at home.
• Duke owns the fourth-best ERA (0.75) in all of college baseball, having allowed one run in its last six games. The Blue Devils had a four-game shutout streak from Feb. 16-22. 
• Offensively, Duke's .251 team batting average is the ninth-best in the ACC, scoring 6.4 runs per game. Duke's Matt Mervis, who is hitting .393 with two home runs and 10 RBIs, and Michael Rothenberg, who is hitting .421 with a home run and nine RBIs, lead the Blue Devil offense.
THE SERIES
• It will be Iowa's first ever meeting against Duke and North Carolina State.
• In its only meeting against North Carolina, Iowa lost 5-3 in the 1990 NCAA Tournament. 
IOWA BY THE NUMBERS
• Iowa returns five starters, its designated hitter, 2/3 of its starting rotation, 11 total pitchers, and 22 letterwinners in 2020.
• Offensively, the Hawkeyes return 71.7 percent (180-251) of their RBIs, 69.5 percent (347-499) of their hits, 69 percent (20-29) of their home runs, 68.8 percent (64-93) of their doubles, 64.4 percent (38-59) of their stolen bases, and 63.7 percent (179-281) of their runs.
• Iowa returns its top returning hitter Izaya Fullard (.307 avg., 61 hits) and its top RBI producer (34), doubles hitter (12), and stolen base (14) threat in Ben Norman.
• The Hawkeyes have 94.4 percent (18-19) of the team's saves, 67.9 percent (329 1/3-484 2/3) of innings pitched, 67.7 percent (21-31) of wins, and 67.4 percent (304-451) of strikeouts returning.
SCHEDULE BREAKDOWN
• Iowa will play 23 home contests at Duane Banks Field with its home opener scheduled for March 3 against Grand View. 
• Iowa will travel the first five weekends of the regular season, playing tournaments in Florida (Snowbird Classic), California (Tony Gwynn Legacy Tournament), Minneapolis (CambriaCollegeClassic), Florida (Snowbird Classic 2), and a three-game series at Cal-State Northridge.
• The Hawkeyes will play eight games against 2019 NCAA Tournament teams, including two games against  Super Regional teams and three games against the defending NCAA runner-up (Michigan). 
• Iowa will play three NCAA Tournament qualifiers at the CambriaCollegeClassic at U.S. Bank Field in Minneapolis from Feb. 28-March 1 against preseason top-25 teams Duke, North Carolina, and NC State.
• Iowa will play midweek games against teams from the Big 12 (Kansas), SEC (Missouri), and Missouri Valley (Bradley) conferences, while also facing defending Horizon League champion UIC.
TEAM CAPTAINS
• Seniors Justin Jenkins, Grant Judkins, Grant Leonard, and Austin Martin were voted team captains prior to the season. 
2019 RECAP
• Highlighted by series wins over No. 19 Oklahoma State, No. 23 Illinois, No. 30 Nebraska, and No. 18 UC Irvine, the Hawkeyes finished last season with a 31-24 overall record to mark Iowa's and head coach Rick Heller's sixth straight 30-win season. Iowa's six straight seasons of 30 or more wins is the longest stretch since posting seven straight 30-win seasons from 1979-85.
• Finishing sixth in the Big Ten at 12-12, Iowa qualified for the Big Ten Tournament for a record sixth straight season. Iowa upset top-seeded Indiana in the first round, before bowing out of the conference tournament with losses to Nebraska and Minnesota. 
• Iowa's six straight series wins from March 29 to May 4 were the most consecutively since 2015. 
30 WINS X 6
Since head coach Rick Heller's first season in 2014, the Hawkeyes have reached the 30-win plateau six straight season. It is the program's longest stretch since posting seven straight 30-win seasons from 1979-85.  
2014: 30-23
2015: 41-18 (2nd-most wins all-time)
2016: 30-26
2017: 39-22 (5th-most wins all-time)
2018: 33-20
2019: 31-24
COACHING STAFF CHANGES
• Second-year assistant coach Robin Lund will serve as Iowa's pitching coach after working with hitters and outfielders during his first season. 
• Former Hawkeye catcher and University of Iowa graduate Jimmy Frankos will serve as the Hawkeyes' hitting coach in a volunteer assistant coaching role, replacing Tom Gorzelanny, who was last year's volunteer assistant. 
• Gorzelanny, who is in his second year with the Iowa baseball program, will move in a director of player development role. 
ROSTER BREAKDOWN
• Iowa's 37-man roster features 10 seniors, eight juniors, seven sophomores, and 12 freshmen. 
• The Hawkeye roster is made up of student-athletes from nine different states: Iowa (24), Illinois (5), Kansas (2), Arizona (1), California (1), Indiana (1), Minnesota (1), Nevada (1), and Wisconsin (1).
• Iowa has two sets of junior college teammates. Zeb Adreon, Austin Martin, and Trace Hoffman were teammates at Southeastern Community College, while Izaya Fullard, Hunter Lee, and Adam Ketelsen were teammates at Kirwkood Community College. Junior Lorenzo Elion also played with Lee and Ketelsen at Kirkwood in 2017.
• The Hawkeyes also have four sets of teammates who played together in high school: Brendan Sher and Duncan Davitt (Indianola); Izaya Fullard and Connor McCaffery (Iowa City West); Trenton Wallace and Ben Beutel (Davenport Assumption); Andrew Nord, Jackson Vines, Peyton Williams, and Jack Dreyer (Johnston).
DON'T COUNT 'EM OUT
• The Hawkeyes posted 16 come-from-behind victories last season, including four in walk-off fashion.
• The Hawkeyes have overcome deficits to win 49 games since the start of the 2017 season and posted 13 walk-offs.  Twenty-four of those victories have come with Iowa trailing or being tied entering or through seven innings.  Sixteen have come in the final at-bat.
BANKS MAGIC
• The Hawkeyes are 91-27 at home since the start of the 2015 season.  
• Iowa won 19 games last season, the third-most in a single-season in school history, trailing only the 22 wins in 1977 and 20 wins in 2018.
• Iowa has 16 walk-off victories at Duane Banks Field since the start of 2015.
#HELLERBALL
• UI head coach Rick Heller is one of nine coaches all-time to lead three different NCAA Division I teams to regional play.
• Heller recorded his 800th career win against Lehigh on March 12 at the Snowbird Classic in Florida.  Heller won his 200th game at Iowa on May 1 in a victory over Western Illinois.
• The Hawkeyes have won 30 or more games in each of
Heller's six seasons as the helm of the program. It's a first for the team since winning 30 or more in seven straight seasons from 1979-85.
• Heller has led the Hawkeyes to two NCAA Regional appearances; the program had three regional appearances in its history prior to his arrival.
• Heller is fourth in school history in career wins with 204 at Iowa, including the second (41) and fifth-most (39) in school history.
• Heller led Iowa to its first Big Ten Tournament title in 2017 — the first conference title since 1990 — and he guided the Hawkeyes to the Big Ten Tournament title game in consecutive seasons. Iowa has advanced to the league tournament in six straight years for the first time in program history.
• Heller has coached at least one first-team All-Big Ten
selection in five of his first six seasons, and has 21 Major League Baseball Draft picks in six seasons — the most in a six-year stretch in school history.
• Iowa had a school-record six All-Big Ten selections in 2015 and five in 2017. The Hawkeyes have had 23 All-Big Ten honorees in six seasons under Heller.
• Iowa has posted winning streaks of nine games (in 2015) and eight games (in 2017) — the longest streaks for the program since 2012.
FOLLOW THE HAWKEYES
Iowa baseball fans can follow the Hawkeyes on Facebook @iowabaseball, Twitter @UIBaseball, and Instagram @UIBaseball in addition to coverage on hawkeyesports.com.
SEASON TICKETS ON SALE
Season tickets for the 2020 season home schedule are on sale now through the UI Athletics Ticket Office online at hawkeyesports.com or at 800-IA-HAWKS. Reserved and general admission adult tickets are $75, while general admission youth tickets are $40. Fans can also purchase a "30-block" season ticket, priced at $99, where tickets can be used at any game or combination of games throughout the season. Iowa will play 23 home games in 2020.