Hawkeye Fan Shop — A Black & Gold Store | Hawk Talk Monthly — February | 24 Hawkeyes to Watch 2019-20 | Lugo Shines Bright, Like A Diamond
IOWA CITY, Iowa — University of Iowa wrestlers Spencer Lee and Michael Kemerer were ranked atop the NCAA Coaches' Rankings, and Pat Lugo earned the top RPI in the Division I Individual Rankings released Thursday by the NCAA.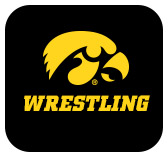 Lee is the top-ranked 125-pounder and 15-0 this season. Kemerer is 13-0 and the top-ranked 174-pounder. They lead a group of eight Hawkeyes ranked in the top three. Each of Iowa's 10 postseason wrestlers are ranked in the top 10 of the Coaches' Rankings.
Lugo (149) and Alex Marinelli (165) are ranked No. 2 at their respective weights. Austin DeSanto (133), Max Murin (141), Jacob Warner (197), and Tony Cassioppi (285) are all ranked third. Kaleb Young in No. 6 at 157 and Abe Assad is No. 10 at 184.
Lugo is the top-ranked wrestler at 149 in the rating percentage index (RPI). Six more Hawkeyes are ranked fifth or better. To be eligible for an RPI ranking, a wrestler must have a minimum of 15 Division I matches at a given weight. One of Lee's wins was via forfeit, so he is one match shy of qualifying for RPI.
The NCAA uses RPI and Coaches' Rankings when determining how many automatic qualifiers from each conference tournament advance to the 2020 NCAA Wrestling Championships in Minneapolis on March 19-21. The NCAA awarded the Big Ten Conference 79 of the 283 automatic qualifying bids, including six at 157 and 197, seven at 133 and 285, eight at 125, 141, and 165, nine at 174, and 10 at 149 and 184.
The Big Ten hosts its qualifying tournament March 7-8 in Piscataway, New Jersey.  It is one of seven qualifying tournaments across the country.
After all of the conference tournaments have concluded, the NCAA Division I Wrestling Committee will meet in-person to select the remaining 47 at-large qualifiers, which will be announced on March 10, while brackets and seeding will be announced on NCAA.com at 5 p.m. (CT) on March 11. All weight classes will consist of 33 wrestlers.
The at-large selections will be made based on the following criteria: head-to-head competition; quality wins; coaches' ranking; results against common opponents; RPI; qualifying event placement; and winning percentage.
A complete list of RPI and Coaches' Rankings, and automatic qualifiers by conference/qualifying tournament, as available at NCAA.com.