Hawkeye Fan Shop — A Black & Gold Store | Hawk Talk Monthly — February | 24 Hawkeyes to Watch 2019-20
By DARREN MILLER
hawkeyesports.com
PISCATAWAY, N.J. — It was an honest mistake, Spencer Lee's girlfriend, Emilee Bradley, meant no disrespect.
Between Lee's season as a University of Iowa wrestler and Bradley's season as a Mount Mercy softball player, the pair entered the Dan Gable Wrestling Complex to ride exercise bikes and run. Like most visitors to the historic wrestling facility, Bradley appeared a bit overwhelmed.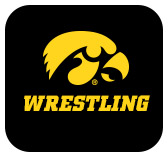 "She hadn't been in the room much and was looking at the boards (on the wall)," recalled Lee. "She was confused because my name wasn't on something."
The board causing confusion contains names of all Hawkeye Big Ten individual wrestling champions.
"She said, 'Why isn't your name up there, Spence?" Lee said. "I was like, 'That's Big Ten, and I haven't won that.' I was laughing, but she was, 'Oh my gosh, I'm so sorry.' It is kind of funny she didn't realize it."
It does make for a quirky trivia question: "Who is the two-time national champion wrestler from the University of Iowa who has a 60-5 record and zero Big Ten gold medals?"
The answer, of course, is Lee, a 125-pound junior. Lee is an overwhelming favorite to bring home gold this week when the top-ranked Hawkeyes compete at the Big Ten Championships on Saturday and Sunday at the Rutgers Athletic Center in Piscataway, New Jersey.
After the awkward offseason conversation in the wrestling room, Lee posted about it on social media. He laughed Monday when re-telling the story to reporters.
"You have to deal with things, and how you deal with them is you smile at it," Iowa head coach Tom Brands said. "You smile at it, put it in its right perspective, and you get ready to go."
Brands was referring to overcoming late-season nicks and pains, but hey, smiling fits this situation, too.
"Of course (it bothers me)," Lee said. "I didn't win. I don't like losing and that means I lost twice at Big Tens the last two years. It is two of my (five) loses; that's too many."
As a freshman in 2018 in East Lansing, Michigan, Lee lost to Nathan Tomasello of Ohio State, 2-1, in the semifinals, then won two consolation matches to place third. Two weeks later at the NCAA Championships, Lee won all five matches, including a pin over Tomasello. As a sophomore in 2019 in Minneapolis, Lee lost in the final to Sebastian Rivera of Northwestern, 6-4 in sudden victory. Two weeks later at the NCAA Championships in Pittsburgh, Lee went 5-0 with a fall, technical fall, major decision, and two decisions by a combined score of 16-4.
"Big-time wrestlers show up for big-time matches," Lee said. "In postseason you might step it up a little bit. I don't think you're training different because, every match is the biggest match."
With that said, as Lee can attest, everyone remembers what happens on the mat in the third weekend of March, not the first weekend.
"At the end of the day, the Big Ten Tournament is a qualifier for nationals," Lee said. "That's it, that's all it is. But it is a big deal, because it puts you on the board and I'm not there yet."
The first session begins Saturday at 9 a.m. (CT). The championship finals will be Sunday at 2:30 p.m., and televised on BTN.