Hawkeye Fan Shop — A Black & Gold Store | Hawk Talk Monthly — February | 24 Hawkeyes to Watch 2019-20 | Photo Gallery (Session I) | 2020 Big Ten Championships Session II
PISCATAWAY, N.J. — The University of Iowa wrestling team advanced seven wrestlers to the semifinals of the 2020 Big Ten Championships on Saturday afternoon at the Rutgers Athletic Center.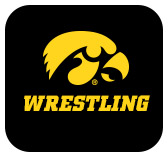 The Hawkeyes lead the team race with 72 points.
Spencer Lee (125), Austin DeSanto (133), Pat Lugo (149), Alex Marinelli (165), Michael Kemerer (174), Abe Assad (184) and Tony Cassioppi (285) wrestle Saturday night for a chance to compete in the Big Ten finals Sunday afternoon. All seven semifinalists have secured automatic berths to the 2020 NCAA Championships in Minneapolis on March 19-21.
The Hawkeyes won 12-of-15 matches in the opening session, scoring bonus points in 10 bouts. Every Hawkeye in the lineup picked up at least one bonus-point win. Lee, Max Murin, Kemerer, and Cassioppi all won by fall.
Murin (141), Kaleb Young (157), and Jacob Warner (197) dropped their quarterfinal matches and compete Saturday night in wrestle-backs. The three wrestlers lost their matches by a combined five points. Murin needs one win in the wrestle-backs to earn an NCAA automatic bid. Young and Warner both need two wins in the consolation round to earn an automatic berth.
Iowa (72) leads the team race by 13.5 points over Nebraska (58.5). Penn State (56.5), Northwestern (49), and Minnesota (44.5) round out the top five.
QUOTING COACH TOM BRANDS
"Overall assessment is we are looking forward. We have seven in the semis and three on the backside.  We like seeing those bonus points. I like seeing guys ride in tough positions. I like seeing guys in a 0-0 match get back points. I like seeing tough situations come out in our favor."
UP NEXT
Session II begins at 5:30 p.m. (CT) and will be streamed on BTN Plus. A round of consolations will be wrestled prior to the semis.
FIRST ROUND RESULTS (tournament seeds)
133 – #3 Austin DeSanto (IA) major dec. #14 Jordan Decatur (OSU), 17-3
141 – #3 Max Murin (IA) pinned #14 Hunter Baxter (MD), 5:57
184 – #3 Abe Assad (IA) major dec. #14 Kyle Jasenski (MD), 12-4
197 – #3 Jacob Warner (IA) major dec. #14 Nick Willham (IND), 14-4
285 – #3 Tony Cassioppi (IA) pinned #14 Parker Robinson (MD), 1:16
QUARTERFINAL RESULTS
125 – #1 Spencer Lee (IA) pinned #8 Nic Augular (RU), 2:53
133 – #3 Austin DeSanto (IA) dec. #6 Ridge Lovett (NEB), 1-0
141 – #6 Mitch McKee (MINN) dec. #3 Max Murin (IA), 3-1
149 – #2 Pat Lugo (IA) major dec. #7 Collin Purinton (NEB), 11-3
157 – #7 Peyton Robb (NEB) dec. #2 Kaleb Young (IA), 3-2
165 – #2 Alex Marinelli (IA) major dec. #7 Danny Braunagel (ILL), 15-2
174 – #1 Michael Kemerer (IA) pinned #8 Layne Malczewski (MSU), 1:43
184 – #3 Abe Assad (IA) major dec. #6 Rocky Jordan (OSU), 8-0
197 – #6 Shakur Rasheed (PSU) dec. #3 Jacob Warner (IA), 3-1
285 – #3 Tony Cassioppi (IA) dec. #6 Gary Traub (OSU), 4-0
SEMIFINAL MATCHUPS
125 – #1 Spencer Lee (IA) vs. #5 Jack Medley (MICH)
133 – #3 Austin DeSanto (IA) vs. #2 Roman Bravo-Young (PSU)
149 – #2 Pat Lugo (IA) vs. #3 Brayton Lee (MINN)
165 – #2 Alex Marinelli (IA) vs. #6 Shane Oster (NU)
174 – #1 Michael Kemerer (IA) vs. #4 Devin Skatzka (MINN)
184 – #3 Abe Assad (IA) vs. #2 Cam Caffey (MSU)
285 – #3 Tony Cassioppi (IA) vs. #2 Gable Steveson (MINN)
CONSOLATION MATCHUPS
141 – #3 Max Murin (IA) vs. #12 Matt Santos (MSU)
157 – #2 Kaleb Young (IA) vs. #8 Eric Barone (ILL)
197 – #3 Jacob Warner (IA) vs. #12 Nick May (MSU)
TEAM STANDINGS
1.           IOWA                  72.0
2.           Nebraska            58.5
3.           Penn State         56.5
4.           Northwestern   49.0
5.           Minnesota         44.5
6.           Michigan            39.0
7.           Ohio State          34.5
8.           Purdue                31.5
9.           Wisconsin          24.0
10.         Michigan State  20.0
11.         Rutgers               12.0
12.         Illinois                 9.5
13.         Indiana               4.0
14.         Maryland           0.0
SESSION I PHOTO GALLERY
Gallery: (3/7/2020) Big Ten Championships (Session I)