Hawkeye Fan Shop — A Black & Gold Store | 24 Hawkeyes to Watch 2019-20 | Hawk Talk — March
By DARREN MILLER
hawkeyesports.com
EDITOR'S NOTE: A version of this story first appeared in the March issue of Hawk Talk Monthy, the official online magazine of the University of Iowa Athletics Department. To view the entire March issue, click HERE.
IOWA CITY, Iowa — Pat Lugo entered the 2020 Big Ten Wrestling Championships with a record of 10-0 against everyone in the 149-pound bracket not named Sammy Sasso.
Lugo, a University of Iowa senior from Homestead, Florida, was the second seed at the conference tournament. The top-seeded Sasso, an Ohio State redshirt freshman, defeated Lugo 6-4 at Midlands in 2018 and 2-1 in a dual Jan. 24.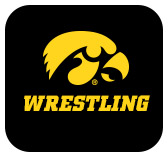 Still, there was no doubt in Lugo's mind that he was going to reverse his trend against Sasso on March 8 in Piscataway, New Jersey.
"I was 100 percent confident I was going to win that tournament," he said. "I told my guys and coaches I was going to win."
A first period takedown by Lugo held up during a 2-1 victory, giving him a Big Ten title after finishing third a year ago.
"I have been on point with my mentality, and physically, my shape is better," Lugo said. "I tell myself I would beat me yesterday, but I would lose to myself tomorrow. I'm always getting better."
It was a methodical march to the gold medal for Lugo, who won by 11-3 major decision over Nebraska's Collin Purinton in the quarterfinals and 4-1 over Minnesota's Brayton Lee in the semifinals. He finished the season 21-1 by winning eight straight matches. Seven of his wins came against opponents ranked in the top 10.
This was Lugo's third season in the Hawkeye program after transferring from Edinboro with 63 wins and NCAA appearances in 2016 and 2017. Lugo went 23-9 in his first season in the Hawkeye lineup after redshirting in 2017-18 while Brandon Sorensen held down the 149-pound spot. As a junior, Lugo was the 10th seed at nationals, but went 3-3 to finish eighth for his first All-America honor.
Iowa head coach Tom Brands said winning a Big Ten title can sometimes be downplayed because of the NCAA Tournament on the horizon two weeks later. Staying motivated in 2020 would not have be a problem for Lugo. He admitted that some days in class, when he should have been taking notes, he instead was writing the words "Mentally Strong" on a sheet of paper.
"I'm visualizing it, saying it out loud," Lugo said. "All that stuff builds up."
It also helps that every day in practice he entered a wrestling room that included Big Ten champions Spencer Lee and Alex Marinelli, and Big Ten runner-up Michael Kemerer.
"That winning is contagious, that confidence is contagious," Lugo said. "Just like catching the flu; you hang out with guys that have the flu, you're going to catch the flu. You hang out with guys that are winning, you're going to start winning."
With Lugo as the lone senior in Iowa's postseason lineup (Kemerer is expected to receive a medical hardship waiver), the Hawkeyes won their 36th Big Ten Tournament championship with 157.5 points. It is their fifth Big Ten Tournament title in the last 13 seasons.
Winning medals and trophies is fun for Lugo, but even that pales in comparison to spending time with teammates.
"Senior year and I'm going out with these memories," he said. "It has special meaning, it's like a cherry on top. But hanging out with the guys means more to me than winning titles. The long bus rides, the long plane rides with the guys, those are what I will remember forever.
"Winning titles is fun, but hanging out with the guys means the most."