Hawkeye Fan Shop — A Black & Gold Store | 24 Hawkeyes to Watch 2019-20 | Hawk Talk Monthly – February
By JAMES ALLAN
hawkeyesports.com
IOWA CITY, Iowa — On March 11, at around 4:30 p.m., senior closer Grant Leonard was putting the finishing touches on the University of Iowa baseball team's 3-1 victory over Kansas at Duane Banks Field.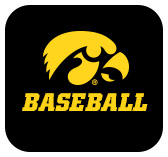 It was Leonard's fourth save of the season and gave the Hawkeyes their 10th win…and momentum heading into a three-game weekend series against Cal State-Northridge in Northridge, California.
The trip to California did not happen.
Less than 24 hours later, just 15 games in, Iowa's 2020 season was over.
"It happened so quickly," said Iowa head coach Rick Heller. "We were playing Kansas on Wednesday, flying to Northridge on Thursday, and as of noon (on March 12), we were going to Northridge.  An hour later, we told the team we were not going to Northridge, and an hour after that, our season was done."
After receiving word that the CSUN series was called off, Heller called the first team meeting Thursday to make plans for a weekend scrimmage.  The Hawkeyes needed to stay locked in for the following weekend where the team would host Saint Mary's in their first home series of the season at Duane Banks Field.
Instead, Heller called the team for an As-Soon-As-Possible meeting.  Leonard and his teammates knew it wasn't good news.
"If we have a meeting, it's at a certain time, but once we got the memo that it was ASAP, we knew it wasn't going to be the best news," said Leonard, one of four team captains.  "Seeing all the ESPN updates about how the NBA was postponing its season, we figured we would follow suit."
Instead, Heller delivered the bombshell. All NCAA Championships, including March Madness and the College World Series in Omaha, were being canceled because of a coronavirus pandemic.  All team activities were also suspended and then canceled by the Big Ten Conference.
"Having to call them back and tell them our season was over came with a lot of emotion, sadness and tears," said Heller. "The feeling I had was similar to the talk I had at Northern Iowa when they dropped baseball (in 2009).  That's the only talk I have ever had to give a team that felt like that."
"It was a shock, we didn't know what to do," said Leonard. "It was a crazy whirlwind of emotion. The first thing we thought of was how do you cancel a season when our goal was Omaha, and that was in June and July? When we heard the news, there was anger, disbelief, shock, and frustration."
Over the next 24 hours, Heller went from preparing scouting reports to ensuring players were taken care of, emotionally and from a safety standpoint.
"All of us felt when we got up that next morning that it was a bad dream and that there was still a chance we could play," said Heller. "We were hopeful if things moderated in mid-April, there was a chance we could get together at the end of April or May to work out and/or scrimmage to give closure to this team and our seniors."
Before the season's abrupt end, the Hawkeyes were trending well. Iowa sat at 10-5 overall while playing the hardest nonconference schedule of the Heller era.  Iowa posted wins over three ranked opponents — Arizona, North Carolina, and Duke — in the season's first month and were a deep, balanced squad that was poised to contend in the Big Ten in 2020.
"With the schedule we played, we are the pseudo Big Ten champs," said Heller. "We tied with Maryland and Penn State for the best record up to this point and we were leading the league in batting average, on-base percentage, and fielding percentage. The team ERA was 3.39 with a .217 batting average against and we had 147 strikeouts with only 50 walks.
"This team was maturing and that was the message this team was hearing in the fall. We knew we had to improve at some things, but we felt if we did, we had a chance to be special."
Heller credits the team's chemistry and the leadership displayed by the captains and senior class.
"(Justin) Jenkins, (Ben) Norman, Leonard, and Jud (Grant Judkins), were part of the Big Ten Tournament championship team (in 2017)," said Heller. "They won a silver medal in Taiwan, went to the Dominican Republic, and won 113 games to this point.
"Those guys wanted to leave a legacy and this group worked with a tremendous purpose each day. When you do that, you have a chance to be special.  This group had that. (The way it ended) doesn't take away from what they achieved. They left the bar higher and the bar has been set for next year.  No matter what happens, they left the program in a good place."