Hawkeye Fan Shop — A Black & Gold Store | 24 Hawkeyes to Watch 2019-20 | Hawk Talk — March
By DARREN MILLER
hawkeyesports.com
IOWA CITY, Iowa — Nothing represents the dominance of University of Iowa 125-pound junior Spencer Lee more than the events that unfolded after his lone "winner by decision" of the 2019-20 season.
On Feb. 8 in Michigan's Crisler Arena, Lee dominated Wolverine junior Jack Medley, 8-1. But since he only lost by a regular decision, Medley walked off the mat to a standing ovation from 4,000 fans in the home crowd. Three days later, Medley climbed the national rankings, a reward for his seven-point loss.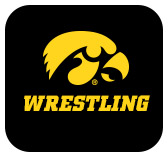 A native of Murrysville, Pennsylvania, Lee has been named winner of the 2020 WIN Magazine/Culture House Dan Hodge Trophy, presented annually to the nation's most dominant college wrestler. He earned 52 of a possible 57 first-place votes.
"I smiled and thought, that's cool," Lee said after hearing the news. "It's anticlimactic to me because the season didn't end the way we wanted it to. It is a silver lining; I keep saying these are unprecedented times and it's nice to have a little positivity."
The 2020 NCAA Championships was called off March 12 because of the coronavirus pandemic.
Lee won individual national championships at 125 as a freshman and sophomore. His career record is 63-5 with 24 technical falls, 21 falls, and seven major decisions. He was exceptionally dominate this season. In 18 matches — all wins — Lee scored bonus points in 17, recorded four first-period falls and nine technical falls, and averaged 5.0 team points per match. He outscored his opponents, 234-18.
"This is a unique Hodge Trophy because of the lopsided point differential. When you talk about 234 points to 18, that has got to be unprecedented," said Iowa head coach Tom Brands. "It is one thing when you look at a guy who can dominate by taking you down and letting you up and taking you down. But to get on top of a guy and score 17 straight points in 2 1/2 minutes, that is a whole different animal and tell-tale of dominance. Give Spencer Lee full credit."
Lee is the third Hawkeye to win the Hodge Trophy, a recognition introduced to college wrestling in 1995. He joins Mark Ironside (1998) and Brent Metcalf (2008).
"I know it is a little after the (Iowa head coach Dan) Gable era," Lee said. "I don't know how many more Hawkeyes would have won, it would have been interesting to see if that award existed back then."
Gable's last season as head coach was 1996-97.
Other than the fact they were all dominant competitors, Brands said it is impossible to compare Ironside, Metcalf, and Lee because of differing styles on the mat.
"Spencer Lee is a turning fiend and he is getting better," Brands said.
As dominate as Lee was, he said he still had more to show. He was prepared to deliver a third national title at the NCAA Championships on March 21 in Minneapolis, eager to provide an emphatic ending to his junior season.
"I listened to my coaches," Lee said. "When they told me to cut someone, I cut them, I didn't shake my head and say no. I focused on scoring points the entire match — for seven minutes or more if needed."
The last time Lee was on the mat was at the Big Ten Championships from March 7-8 in Piscatway, New Jersey. He was named Big Ten Wrestler of the Year after pinning Nick Aguilar of Rutgers in 2:53 in the quarterfinals, winning by 19-3 technical fall over Medley in the semifinals, and winning by 16-2 major decision over Devin Schroder of Purdue in the finals.
Adding to what Lee accomplished collegiately this season was his winning the U.S. Senior National freestyle championship at 57 kilograms in December in Dallas. Lee defeated Jacob Moran, Shane Kim and Darian Cruz by 10-0 scores, then won his semifinal bout over Viatli Arujau, 14-4. In the finals, Lee defeated four-time All-American and 2015 NCAA champion Nathan Tomasello, 8-2.
"You saw more diversity in his wrestling and I think the U.S. Open helped that," Brands said. "He dominated that tournament in Dallas, too, don't forget that."
Four wrestlers have won multiple Hodge Trophies: Cael Sanderson of Iowa State (three), Ben Askren of Missouri (two), David Taylor of Penn State (two), and Zain Retherford of Penn State (two).
So, is Hodge Trophy No. 2 on Lee's to-do list for 2020-21?
"I guess you could say that," he said. "I'm going to focus on winning the next match and continue to keep scoring points at a high level and get ready to go for my third national title."