Hawkeye Fan Shop — A Black & Gold Store | 24 Hawkeyes to Watch 2019-20 | Hawk Talk Monthly – February
IOWA CITY, Iowa — The University of Iowa baseball program is "Catching Up" with former Hawkeyes.  In the first segment, the program reconnects with All-Big Ten catcher Tyson Blaser.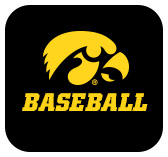 Blaser, who played for the Hawkeyes from 2007-11, was a third-team All-Big Ten selection as a senior after hitting .306 with 18 doubles and 21 RBIs.  The Taylor Ridge, Illinois, native led Iowa to the Big Ten Tournament title game in 2010 and he was a four-time Academic All-Big Ten selection.  Blaser signed as an undrafted free agent with the New York Yankees in 2011; he is currently in his first season as the manager of the Pulaski Yankees — the defending Appalachian League champions.
You played in the Yankees farm for a couple years, then bullpen coach, and most recently was named the manager of the Pulsaki Yankees, a rookie affiliate of the Yankees… what has your journey been like the in the professional ranks as a player and a manager?
"It has been a great experience. I was grateful for the opportunity I received back in 2011 by the Yankees and was able to make the most of the opportunity. When I was released in 2015 as a player I thought my professional career was over. I accepted a high school teaching job and was the head baseball coach there as well. We had our first child in 2015 so professional baseball was far from my mind. That changed in 2017 when, out of the blue, I received a call from one of my friends in the organization offering a coaching job back with the Yankees. As hard as it may be to believe, it was a tough decision for my family and I. We would be jumping back into a life of instability, travel, and time apart. In the end, we agreed that this was a great opportunity and a way to get back into professional baseball. There have been ups and downs personally and professionally, but I have thoroughly enjoyed my time coaching in the minor leagues. I am looking forward to the opportunity of being a manager this year when baseball is able to start back up."
 
How has COVID-19 effected your daily life, and what are you doing to keep busy/productive?
"Surprisingly, my family and I have been spending a lot of time together. We have a schedule we follow every day to try and give the kids some normalcy day-to-day. We trade off days throughout the week as who is the homeschool teacher. We lay out everything from meals to chores to free time and family activities. I've taken advantage of the extra time at home to do some home projects that I couldn't find the time for in the past. On the professional side we have been having Zoom meetings three times a week, sending emails, watching video, and trying to prepare for the season. I've been trying to stay in contact with some of our players and coaches to continue to check in on them and make sure everyone is staying safe during this time."
 
What was your favorite baseball memory as a Hawkeye?
"Hands down, it was the run to the Big Ten Tournament championship game in 2010. That team got on a roll. It was great knocking out Michigan in the tournament and beating Purdue five times in one week, including twice in the tournament, to knock them out as well. That was a great group of guys and we were on a roll at the end of that year. We ran into a good Minnesota team in the championship game, but it was still a good memory."
 
What was your favorite non-baseball memory during your time at the University of Iowa?
"There were so many! I was/am a huge Hawkeye fan, grew up a Hawkeye fan and will always be a Hawkeye fan! Iowa-Iowa State wrestling duals were always awesome events to attend. (College) GameDay coming to Iowa City in 2006 was great, but my favorite memory was the entire 2009 college football season. The excitement around Iowa City was something everyone could feel. There was a real chance of making the National Championship game until the naked bootleg in our endzone against Northwestern, which led to (Ricky) Stanzi's high-ankle sprain. That was a tough loss. I remember the Hawkeyes were on the cover of Sports Illustrated that year, too. As a whole, that was a fun year."
 
Reflect a little bit about your time at Iowa — on and off the field — and how that set you up for your professional career.
"The University of Iowa and Iowa City is an amazing place to be. It has that small town, Midwestern feel that I love, but it is a major Division I university. The education I received as a history major and going through the School of Education is good as any in the country. Everything from participating in my first election back in 2008 and getting to see Iowa's important role in that process to Iowa City's eclectic and bustling downtown of shops, restaurants, and bars to the amazing sporting events, and the life-long friends I met at Iowa. They all have had a profound impact on my life."