Hawkeye Fan Shop — A Black & Gold Store | 24 Hawkeyes to Watch 2019-20 | Hawk Talk Monthly — March | Final Wrestling Notes | For Lee, Hodge Trophy is a Silver Lining | Lee Wins Hodge Trophy
IOWA CITY, Iowa — The National Wrestling Media Association announced Friday that the University of Iowa wrestling program set an NCAA record and led the nation in average and total attendance for the 14th straight season.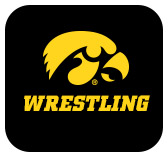 The Hawkeyes averaged a record 12,568 fans in seven home dates, seeing a total of 87,979 fans enter the gates of Carver-Hawkeye Arena to watch college wrestling. It marks the first time in NCAA history that a program put more than 10,000 fans in the building for every home dual. The previous average dual attendance record was 12,166, set by Iowa in 2015-16, the season that opened with the "Grapple on the Gridiron" at Kinnick Stadium.
Iowa has led the nation in attendance in each of head coach Tom Brands' 14 seasons. This year was the 12th straight the Hawkeyes averaged more than 8,000 fans.
The NCAA Division I Wrestling Attendance Top 25 for 2019-20
| | | | | | | |
| --- | --- | --- | --- | --- | --- | --- |
| Rank | School | Dates | Total | Average | Best | Top Draw |
| 1 | Iowa | 7 | 87,979 | 12,568.4 | 14,905 | Penn State |
| 2 | Penn State | 8 | 60,833 | 7,604.1 | 15,995 | Ohio State |
| 3 | Iowa State | 7 | 33,562 | 4,794.6 | 11,238 | Iowa |
| 4 | Rutgers | 7 | 29,091 | 4,155.9 | 5,405 | Maryland |
| 5 | Ohio State | 8 | 32,940 | 4,117.5 | 4,657 | Northwestern |
| 6 | Oklahoma State | 9 | 33,328 | 3,703.1 | 7,070 | Oklahoma |
| 7 | Minnesota | 6 | 17,730 | 2,955.0 | 4,025 | Wisconsin |
| 8 | Arizona State | 6 | 17,171 | 2,861.8 | 8,522 | Penn State |
| 9 | Fresno State | 6 | 15,577 | 2,596.2 | 3,584 | Rutgers |
| 10 | Lehigh | 6 | 15,135 | 2,522.5 | 6,047 | Penn State |
| 11 | Virginia Tech | 6 | 14,899 | 2,483.2 | 4,235 | North Carolina |
| 12 | Nebraska | 7 | 16,776 | 2,396.6 | 5,960 | Penn State |
| 13 | Northern Iowa | 6 | 13,006 | 2,167.7 | 4,006 | Oklahoma State |
| 14 | NC State* | 5 | 10,669 | 2,133.8 | 4,383 | North Carolina |
| 15 | Wisconsin | 7 | 13,784 | 1,969.1 | 3,073 | Penn State |
| 16 | Michigan | 7 | 13,403 | 1,914.7 | 3,909 | Iowa |
| 17 | Indiana | 7 | 11,414 | 1,630.6 | 1,914 | Iowa |
| 18 | Princeton* | 4 | 6,151 | 1,537.8 | 2,284 | Iowa |
| 19 | Cornell | 6 | 7,846 | 1,307.7 | 2,000 | NC State |
| 20 | Missouri | 5 | 6,327 | 1,265.4 | 2,464 | Iowa State |
| 21 | South Dakota State | 7 | 7,901 | 1,128.7 | 1,679 | North Dakota State |
| 22 | Binghamton | 5 | 5,556 | 1,111.2 | 2,705 | NC State |
| 23 | Lock Haven | 6 | 6,379 | 1,063.2 | 2,218 | Central Michigan |
| 24 | Utah Valley | 7 | 7,415 | 1,059.3 | 1,411 | Wisconsin |
| 25 | West Virginia | 7 | 6,936 | 990.9 | 2,250 | Utah Valley |