By DARREN MILLER
hawkeyesports.com
IOWA CITY, Iowa — Sasha Schmid knew the prototype she was searching for when the University of Iowa women's tennis head coach hit the recruiting trail for the first time as a Hawkeye.
Of course, Schmid was looking for someone with a passion for the sport. She wanted an athletic, fit, competitor with a sparkling personality. Schmid found the complete package in Michelle Bacalla, the first student-athlete she signed at Iowa.
"Michelle is a great representative of the type of person we want," Schmid said. "She is another example of a quality student-athlete who continues to develop over the course of their career at Iowa."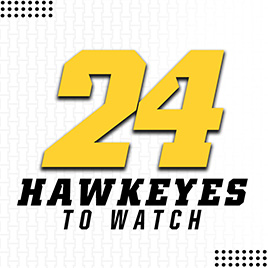 Bacalla, a 5-foot-4 sophomore from Skokie, Illinois, attended Niles North High School where she was a four-time state singles qualifier and placed fourth as a junior and senior.
"It was cool to know I was her first recruit," Bacalla said. "I loved the atmosphere at Iowa, I loved the people, the academics. It felt like home when I visited, and I knew I would have everything I needed and everything I ever dreamed of at Iowa."
Bacalla comes from a tennis family. Her oldest brother, R.K. played tennis at Western Michigan, and another brother, Dave, played tennis at Valparaiso. The Bacalla siblings have their fraternal grandfather, Antonieto, to thank for their love of the sport. Antonieto spent his entire life in the Philippines and passed his love of sports to his son (and Michelle's father), Cris. Instead of tennis, Cris opted to play basketball in college in the Philippines, where his eventual wife, Eppieh, competed in volleyball.
"(Grandpa Antonieto) was interested in and loved tennis, and tried to get my dad to play, but it never clicked with my dad," Bacalla said. "(After immigrating to the United States), my dad didn't want the three of us to play any other sport except tennis because he felt that was our best opportunity."
Growing up with brothers who were already involved with the sport, it was not unusual when Michelle started swinging a racquet when she was 5 years old. There were parks near their home, and like clockwork after school, the family would head to a court. Cris bought cans of balls, threw them in a makeshift basket and hit and hit and hit to his children.
"We would get our exercise and train with our dad," Bacalla said. "It was a good way to get out of the loop of school and get into the routine of adding tennis to our everyday life. It was a good way to bond with my brothers."
In her first season as a Hawkeye in 2018-19, Bacalla finished with a record of 12-12 in singles and 6-6 in doubles. Most of her singles matches (14) were at No. 5. A highlight occurred at home against Indiana on March 31, 2019. The match score was tied, 3-3, and all that remained was the result between Bacalla and Michelle McKamey. After dropping the first set, 6-0, Bacalla rallied to win the next two, 7-5 and 6-3, to give Iowa the victory.
She was even more successful as a sophomore because of improved mental strength and physical grit.
"Michelle had a good base as a freshman and has continued to have a good foundation from an athleticism standpoint," Schmid said. "As her sophomore year progressed, you saw maturity in terms of her strength and conditioning combining with maturity as a person. The more she competed, she continued to grow, and she was playing her best tennis near the end of the season."
Bacalla was 11-8 in singles (4-2 at No. 3) and 10-9 in doubles; the Hawkeyes won four of their last five to finish 6-6. In the final match against Michigan State on March 8 in East Lansing, Michigan, Bacalla teamed with sophomore Samantha Mannix for a win at No. 2 doubles. She defeated Lauren Lemonds, 6-3, 5-7, 6-4, at No. 3 singles and the Hawkeyes won, 4-3.
A highlight of Bacalla's sophomore season was when Iowa upset No. 50 Kansas State on Feb. 23 in Iowa City. Bacalla defeated Margot Decker, 5-7, 6-1, 6-3 at No. 3 and the Hawkeyes came from behind for a 4-3 victory.
"That was a monumental moment for us, it was our first win over a ranked opponent in a long time," Bacalla said. "Then we beat Michigan State in our Big Ten opener; I felt all the work we did from fall of this year to that point was amazing. All that work we put into our season was apparent with our winning."
"Michelle is a complete tennis player and balanced off both sides. She has no weakness; she is fit and quick, so she is also good on defense."

Iowa head coach Sasha Schmid
Bacalla is pursuing a degree in elementary education and wants to teach first grade. She returned home to Skoie after the Big Ten and NCAA canceled the spring seasons March 12 because of the coronavirus global pandemic. Bacalla has been making do with body weight workouts and she even dusted off a weight set she hadn't touched in years. A stationary bicycle is used for conditioning.
"Michelle is a complete tennis player and balanced off both sides," Schmidt said. "She has no weakness; she is fit and quick, so she is also good on defense."
She is also goal oriented.
"I want this team to win Big Tens and eventually win NCAAs," Bacalla said. "We talked a lot about goal-setting, and I want our team to be successful. No matter what, we will have each other's backs and keep ourselves accountable."