Hawkeye Fan Shop — A Black & Gold Store | Hawk Talk Monthly — May | 24 Hawkeyes to Watch 2019-20
IOWA CITY, Iowa — The University of Iowa baseball program is "Catching Up" with former Hawkeyes.  In the latest segment, the program reconnects with All-America first baseman Brad Carlson.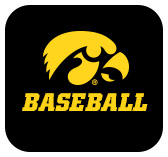 Carlson, who played for the Hawkeyes from 1999-2002, was a second team and freshman All-American after hitting .367 with 21 home runs, 17 doubles, and 77 RBIs during his freshman season in 1999.  The Lisbon, Iowa, native finished his career as Iowa's school record holder in home runs (45), tied for first in doubles (54), second in total bases (419), and fifth in hits (226).
Get us up to speed. What are you doing these days and are you still involved with the game of baseball?
"I currently live in Mount Pleasant, Iowa.  I am in my second year teaching kindergarten/first grade special education at Washington Elementary in the Fairfield CSD and I'm blessed to be around such awesome kids!  Some may remember my Senior Day in 2002 where my fiancé was pregnant with what is now my 17-year-old hockey player (Omaha 18U AAA) son, Trey.  On weekends during the long hockey season, I enjoy traveling around the Midwest watching him play and hanging out.  When not traveling, I spend time seeing my friends and hanging out with my girlfriend in the Iowa City area. 
 
"I am not currently involved doing a whole lot with the game of baseball, other than being a fan.  I occasionally will hit up some high school practices when I know the coaches, just to be around the field/players.  Red Top Baseball out of the Iowa Valley League was nice enough to let me throw on a uniform and hang with the young pups a couple years back, which was a blast.  I worked for Diamond Dreams Baseball/Softball Academy for seven years, beginning in 2010, and enjoyed teaching the game to kids of all ages as a private instructor. I'm getting that itch to get back in the game, I am looking for the appropriate opportunity that I will enjoy."
 
How has COVID-19 effected your daily life, and what are you doing to keep busy/productive?
"Being a teacher and having the school closures, it has affected my daily life immensely.  Not only do I miss my students and the Washington Elementary staff, but trying to "teach remotely" has been a new experience… Zoom meetings and a lot of emails!  I am spending time with my girlfriend and her sons, fishing, and TV watching pieces my day together in between the meetings. I wish I could say I was working out on a daily basis, but have yet to begin…..maybe tomorrow!"
 
What was your favorite baseball memory as a Hawkeye?
"My favorite memory of Iowa baseball as a Hawkeye was the people I had around me.  I loved having my mom and dad/family at my games.  Being a part of the Hawkeye family with my teammates working toward the same goals, pushing ourselves to best represent the Black and Gold.  I truly enjoyed just being around the guys and made a lot of lifelong friends in the process.  Coach Ken Charipar was an inspiration and saving grace to my success at Iowa.  He showed us a passion for the game, and people, that not many could match.  A day didn't go by that he wasn't yelling "Carlson" for something I wasn't doing right.
 
"Beating Miami (Florida), the 1999 National Champions, in 1999 on television down in Florida was pretty sweet, too. I am pretty sure they had to pull the face plate off the trophy because they already had Miami's name on it.  I have never seen a dugout clear out faster in my life.  The University of Iowa was Spring Break tournament champs that year.  I didn't play well at all, but my teammates carried us.
 
"Being an All-American, representing my hometown of Lisbon, Iowa, was a cool experience, especially because I was a walk-on my first two years." 
 
What was your favorite non-baseball memory during your time at the University of Iowa?
"Iowa City is a fun place to be an athlete, so we had a lot of memories as a team off the field, too.  We played a lot of cards and spent a lot of time together.  I enjoyed the traveling we were able to do on road trips to places I hadn't been.  My summer ball adventures took me to the Alaskan Baseball League (with a week playing in Hawaii), and a team out of Grand Rapids, Michigan, that took our squad over to the Netherlands for a 10-day World Port Tournament.  What an experience!  (Cuba, Taiwan, the Netherlands National Team, and our squad; Sullivan's Furniture). I got to live it up with my best friend, Kurt Vitense, that summer ("Morn'in Everybody"… inside joke w/KV).  I was lucky to have wonderful host families everywhere I played!"
 
As Iowa's career home runs leader and All-American, what were your playing days like as a Hawkeye?
"We didn't win as many games as we wanted to or should have, but I truly enjoyed the grind of competing at a high level with my friends.  I wasn't even the best player on our team.  I sure wasn't any cooler than any of my teammates because of awards, and they kept me somewhat humble on a daily basis.  The success happened so fast and I'm wasn't ready to handle to it appropriately, which led to a major decline in statistical categories over the next two seasons.  The journey was a bit of a roller coaster, but it was a good time.  Making the Big Ten Tournament my senior year was awesome.  We had great athletes and teams at the University of Iowa during my 1997-2002 run in all the different sports programs (men's and women's).  I have always felt that when our football and basketball programs have exciting and productive seasons, the entire campus has a contagious buzz!  It is/was truly great to be a Hawkeye!"
             
What was your baseball journey like after graduating?
"I didn't get picked in the MLB Draft, but I got a few calls asking me to come workout for some teams, but I decided it wasn't meant to be at the time, so I declined.  I had got married in December 2001 and soon after, had a son on the way, so I was job searching for a teaching position. I took a position as a fourth grade teacher in Plano, Texas. I became a solid slow pitch player and launched my fair share of show bombs with the Grand Forks and Fargo boys in North Dakota. Hitting large, yellow softballs being front tossed was pretty easy to hit with the electric bats."
 
Raybone (Ray Gilmore) wanted to ask what you remember about the home run you hit at Minnesota?
"Has it landed yet? It was one of the cleanest balls I have ever hit that was heading to the "Souvenir Shop" right off the bat.  It was an absolute no doubter with a nice bat flip over to the Minnesota dugout to let them know the Hawks weren't backing down to a solid Gopher squad. The ump didn't like it much, but a point was made.  That was my senior year, and first time we had beaten Minnesota in like the last 26 games we had played them. I knew a lot of their guys, so it got a little chippy!  That ball was smoked!  Estimate the distance for me Ray… I was more proud to watch it soar over the Dave Winfield sign on the scoreboard in right!
 
"I have so many great stories from my experience while at Iowa, so I could go on forever! I brag to my students these days that Mr. C didn't just play ball for the Hawks, but I was also Academic All-Big Ten all four years! They look at me like I'm nuts!"