IOWA CITY, Iowa – The Gold team posted a 7-3 winner-take-all victory in game five of the Black & Gold World Series on Wednesday at Duane Banks Field. The Gold team rallied from a two games to none deficit to post the series win.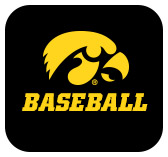 The Gold team jumped out to a 2-0 lead in the first inning and never looked back. Junior Trenton Wallace had an RBI single in the first and senior Zeb Adreon scored on an error.
Senior Ben Norman put the Gold team up 3-0 with a second-inning home run before the Black team got on the board via a bases-loaded walk from Dylan Nedved.
Adreon connected on a solo home run to right field in the third to push the lead to 4-1. The Black team closed the gap to 4-3 in the third courtesy of an RBI single by Andy Nelson and a sacrifice fly by Austin Martin.
Norman and Adreon were at it again in the fourth. Norman brought in two runs with an RBI single to make the score 6-3 and Adreon's RBI pushed the lead to 7-3.
Norman finished 3-for-3 with a double, home run, and three RBIs in the win, while Wallace was 2-for-3 with an RBI.
Nelson had two of the Black team's four hits, finishing 2-for-3 with an RBI.
Junior Ben Probst and freshman Jackson Payne struck out eight over 4 1/3 innings.