By DARREN MILLER
hawkeyesports.com
IOWA CITY, Iowa — Once Caitlin Clark got past the introduction of starting lineups, it was difficult to tell she was a freshman playing her first college basketball game.
The five-star recruit from West Des Moines, Iowa, was as good as advertised Wednesday, finishing with 27 points, eight rebounds and four assists, leading the Hawkeyes to a 96-81 victory over Northern Iowa on Mediacom Court in Carver-Hawkeye Arena. It is Iowa's 37th consecutive win at home.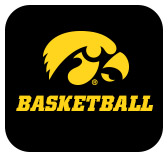 "She is what we expected," Iowa head coach Lisa Bluder said. "She is so good with the ball in her hands and she can score in so many different areas. She is going to get better…I think you will have even more fun seeing her in the future because you will see her passing skills a little more. We all know what an offensive threat she is."
Clark scored the game's first points — two free throws — 33 seconds into the opening quarter. Following in quick succession were a layup, assist, steal, rebound, second field goal and second rebound. When she took her first breather at the 5:36 mark, Clark was 2 of 2 from the field and 2 of 2 from the line, with two rebounds, a steal, assist and turnover.
At the end of the first quarter she had 10 points. By halftime, Clark scored 17 points on 7 of 11 shooting.
"We had been hoping for this day for a long time that we would actually get to coach her, so it was fun to have that happen."

Lisa Bluder, Iowa head women's basketball coach
Bluder spent so much time recruiting Clark that this game was sort of a dream come true for Iowa's coaching staff. Clark averaged 33.7 points per game last season at West Des Moines (Iowa) Dowling High School.
"We had been hoping for this day for a long time that we would actually get to coach her, so it was fun to have that happen," Bluder said.
Sophomore McKenna Warnock is an old pro compared to Clark. On Wednesday she played in her 31st game and made her fourth start. Warnock posted a double-double with 14 points and 13 rebounds. She had a game-high six assists.
"(Caitlin) is an amazing player, everyone can tell that," Warnock said. "She works hard in practice as well, which (media and fans) can't see. It's inspiring and she brings a lot to the table. She can facilitate for herself, but what she does for other people often goes unnoticed."
How does Clark's opener compare with those from Megan Gustafson and Ally Disterhoft, the top two scorers in Hawkeye history? Gustafson scored 12 points with seven rebounds in the first game of her career; Disterhoft had seven points with eight rebounds. Gustafson ended up with 2,804 points, Disterhoft scored 2,102.
The only time Clark showed any hint of confusion was before the opening tip. When Warnock's name was called as the first Iowa starter, Clark rose from her chair and took a step forward. She was the second Hawkeye introduced, but even then, she paused and made certain it was her name announced before running onto Mediacom Court.
"In our scrimmage I went first so I assumed I went first (against UNI)," Clark said. "I didn't think (the public address announcer) said West Des Moines, Iowa, correctly, so I didn't think it was me because I didn't hear it right. That's OK, it was my first time. I'll learn."
For Clark, it was all veteran moves from there.