By JAMES ALLAN
hawkeyesports.com
IOWA CITY, Iowa – Thursday night was just what Jack Nunge needed.
After being away from the team for 10 days following the unexpected death of his father, Nunge tied a career high in his season debut to lead the third-ranked University of Iowa men's basketball team to a 99-58 victory over Western Illinois on Mediacom Court inside Carver-Hawkeye Arena.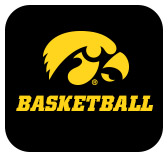 "I talked to my dad on Friday night and got the call nobody wants to get the next morning," said Nunge, a sophomore from New Castle, Indiana. "I knew I had to go home and be with my family. It has been difficult, but my mom is strong, my family is strong, my siblings are strong. We're going to get through this.
"Being able to play this game gave us a distraction for a night. That is good for my family."
Nunge was the first Hawkeye off the bench and he scored seven points in the first half before netting a team-best 11 points in the second half to tie his career high. He finished 8-of-11 from the floor (2-of-4 from 3-point range) and five rebounds in 19 minutes.
"It was incredible to see and I knew it was going to happen," said Iowa head coach Fran McCaffery. "He hadn't practiced in well over a week, he's been grieving with his family, and he had one of the best practices I had ever seen.
"He knows how to play, gets open, stretches the floor and makes 3s. He affects the game in so many ways. To see him get 18 and be on the floor in a critical juncture of the game, it was an amazing feeling as a coach. I am thrilled for Jack and for his family."
While Nunge provided a lift off the bench, senior Luka Garza wowed for a third straight game.
The All-America center scored 30 points in the first half for a second straight game before finishing with 35 points on 13-of-21 shooting and 10 rebounds in 25 minutes. It is his second double-double in three games.
Iowa led 11-7 over the first 4 ½ minutes before the Hawkeyes went on a 16-2 run to open a 27-9 lead. Garza scored 17 of Iowa's first 27 points.
The Hawkeyes limited Western Illinois to 28.2 percent shooting in the first half as the Leathernecks made just three of their first 21 field goal attempts. Iowa led 48-26 at the break with Garza out-scoring Western Illinois, 30-26, by himself.
After Iowa pushed its lead to 27 early in the second half, the Leathernecks went on a spurt, using an 11-1 run to close the gap to 56-39. At the 12:57 mark, a 3-pointer by Bettendorf native Will Carius cut the deficit to 15 at 61-46.
Three minutes later, Iowa's lead was up to 30 as a Nunge alley-oop dunk pushed the lead to 78-48 with 10:06 to play.
"That group with Keegan, Patrick (McCaffery) Joe T. (Toussaint), Jack, and CJ (Fredrick) – those guys were special in that stretch," said McCaffery. "The rest of the group got us up by a bunch and played well but seeing that group changed the complexion when they made a run at us. That was fun to see."
Junior Joe Wieskamp and Patrick McCaffery joined Garza and Nunge in double figures for the game with 11 points and 10 points, respectively. Iowa shot 47.1 percent from the field and made 8-of-23 3-point field goals, and the Hawkeyes were +13 on the glass (57-44).
Iowa assisted on 25 of 33 field goals and forced 14 turnovers. Western Illinois shot 30 percent (24-of-80) for the game and 19.4 percent (6-of-31) from 3-point range. Tamell Pearson led the Leathernecks with 12 points.
THE NEXT ONE IS A FUN ONE
After reeling off three straight wins to open the season, the Hawkeyes will face their first "real" test Tuesday when 14th-ranked North Carolina comes to Mediacom Court for the ACC/Big Ten Challenge.
"This is a big-time game for us and our program," said Garza. "We watch the on television and see what they do and we'll take a deeper dive after this game. We're excited and are going to get locked in on them so we can put our best foot forward."
OF NOTE
All-American Luka Garza recorded his 23rd career double-double, totaling 35 points, 10 rebounds, and two blocks tonight. Garza tallied his 20th point with 6:30 remaining in the first half. Garza has posted 20 points or more 19 consecutive games, dating back to last season. That ties N.C. State's T.J. Warren (2013-14) for the longest streak by a major conference player over the last 20 seasons.
Luka Garza outscored Western Illinois by himself in the first stanza tonight, 30-26. Garza surpassed Matt Gatens for eighth place on Iowa's all-time scoring chart in the first half. Garza has scored 30 points or more in the first half in each of Iowa's last two contests.
Luka Garza, who scored his 100th point in his third game of the season, is averaging 27.3 points in the first half of Iowa's first three games.
Jack Nunge played in his first game of the season following the unexpected passing of his father and tied a career high with 18 points.
Iowa recorded scoring runs of 18-2 spanning 3:51 in the first half and 22-2 spanning 4:27 in the second half.
Jordan Bohannon dished out five assists tonight surpassing B.J. Armstrong for fifth in Iowa career assists.
Iowa opened its season with 97+ points in each of its first three games for the first time since 1997-98.
Iowa has won 16 of its last 17 games inside Carver-Hawkeye Arena, dating back to last season.
Iowa improved to 10-0 all-time against Western Illinois.
UP NEXT
Iowa returns to action Tuesday against No. 14 North Carolina (3-1) in the ACC/Big Ten Challenge. Tipoff is set for 6:30 p.m. (CT) on Mediacom Court at Carver-Hawkeye Arena.