By SHANE STURTZ
hawkeyesports.com
IOWA CITY, Iowa — The past 10 months have been a challenge for University of Iowa football players, coaches, and Hawkeye fans alike. However, the return of Big Ten Conference football in late October gave everyone something to look forward to each weekend.
Thanks to improved testing and updated protocols, the Hawkeyes are heading into their seventh week with a 4-2 record and a No. 19 ranking in the latest College Football Playoff rankings after a perfect November.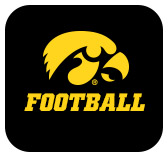 Yet one aspect still remains far from normal since March: recruiting.
"It has changed drastically because of the dead period we're in," assistant defensive line coach and defensive recruiting coordinator Jay Niemann said. "You have to be creative with your calls and points of discussion because a lot of the things you're typically talking about are not on the table for discussion right now."
The dead period has been extended to April 15 and schools are not allowed to have in-person interactions with recruits, which means no official or in-house visits.
With recruiting changed for the foreseeable future, a bigger focus has been put on the X's and O's for Niemann.
"The days right now are packed with a lot of football related stuff," he said. "We're spending most of our time in the meeting room with our players, out on the practice field, and having staff meetings, so we can get ready for the next game."
Most of Niemann's preparation is spent with the defensive line – a group that has three players ranked in the top five in the conference in tackles for loss. Junior Daviyon Nixon leads the Big Ten with five sacks and 11.5 tackles for loss, followed by senior Chauncey Golston's seven tackles for loss and senior Zach VanValkenburg's 6.5.
"It's fun to see them interact and have fun in things not even relative to football," Niemann said. "It just so happens they're in the same room together. They have a great bond and a great relationship built. Hopefully that has something to do with how they're playing as a unit on Saturdays, because I think we're doing a pretty good job up front."
Niemann's eyes are always on the energetic front four at practices and games, but in the film room, he gets a chances to watch his son, linebacker Nick Niemann, who is shining in his senior season, ranking second in the Big Ten in tackles (61), which includes 29 tackles in his last two games.
"I am grateful for the opportunity that he has had to play and that he has been able to string together some good ball games," Niemann said. "Hopefully he has a few more left in him."
Niemann's oldest son, Ben, has five games remaining in the regular season with the 10-1 and reigning Super Bowl Champion Kansas City Chiefs.
Whether it's father-to-son or brother-to-brother, the Niemann's have frequent contact with each other around their busy schedules.
"They're in contact, probably more than I realize," Jay Niemann said. "They're bouncing things off one another back-and-forth, whether it's on the Kansas City end or the Iowa end. They have a good bond and a good relationship."
The Hawkeyes are back in action Saturday, facing Illinois at Memorial Stadium in Champaign, Illinois. The game will kickoff at 2:30 p.m. (CT) and be televised on FS1.