By DARREN MILLER
hawkeyesports.com
IOWA CITY, Iowa —While Jay Higgins was making tackle after tackle for Brebeuf Jesuit (Indiana) Prep, it appeared the University of Iowa was the only Power 5 football program taking note.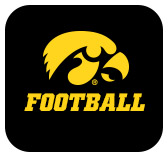 "I thought he was under-recruited," said Iowa head football coach Kirk Ferentz. "He didn't seem to be getting the attention we thought he deserved."
Higgins, a 6-foot-2, 219-pound linebacker, received double-digit scholarship offers, primarily from schools in the Midwest and in the Mid-American Conference. The summer before his senior season of high school, Iowa offered, allowing Higgins to live his Big Ten dream.
"I don't know how they saw it, but I was a hard-working kid willing to listen and get better every day," Higgins said. "It is like having knowledge of football and wanting to learn more."
Ferentz and the Hawkeyes are enjoying an I-told-you-so moment.
"I have this mindset that every play I feel I need to make the tackle. If I don't make it, it's a touchdown."

Jay Higgins, Iowa linebacker
"He has proven to be who we thought he was," Ferentz said. "He is a high-energy guy who has a good way of finding the ball. He starts on our kickoff team and that unit is doing a good job."
Higgins is the latest in the Hawkeyes' Indianapolis-to-Iowa City pipeline. Higgins and Julius Brents (Warren Central) went to the same baby-sitter, he played AAU ball with Tyrone Tracy's (Decatur Central) brother, and since fourth grade has been best friends with Iowa freshman defensive lineman Deontae Craig (Culver Academies). Redshirt freshman Justin Britt (Warren Central) is a center for the Hawkeyes.
"It starts with coach (Kelvin) Bell, he does a great job recruiting Indiana," Higgins said. "When you are five hours from home, it's good to know people. It has always been a dream of mine to play Division I with one of my best friends."
Higgins is living that dream with Craig, his roommate at Iowa.
It might not be a surprise since he grew up in Indiana, but Higgins' first love was basketball. As a point guard he averaged nearly 15 points, six rebounds, three assists and two steals a game.
"When I got to high school I couldn't give it up," Higgins said. "I focused more on football but I feel basketball is another team sport that allowed me to interact with people."
Known as a tackling machine in high school, Higgins has brought his nose for the football to college. He sees time at all three linebacker positions as well as starting on the kickoff unit that has allowed 12 returns for an average of 16.1 yards per return.
"I have this mindset that every play I feel I need to make the tackle. If I don't make it, it's a touchdown," Higgins said.
He also knows there is a lot to learn before he is ready for a majority of snaps on defense.
"It is understanding it took a lot of people a long time to play on the field," Higgins said. "Being able to get on the field so early is a blessing."
Spending five months in a linebacker room that includes seniors Barrington Wade and Nick Niemann has helped Higgins adapt to the Division I game.
"I have become so close with the linebacker group already," he said. "Also knowing that people are going through exactly what I'm going through: when I wake up early in the morning, my roommate (Craig) has to as well. People are like-minded trying to accomplish the same goal and it gives you motivation."
An avid fisherman, Higgins enjoys animals and is working toward becoming a veterinarian.
No. 19 Iowa (4-2) travels to Illinois (2-3) on Saturday. Kickoff is 2:30 p.m. (CT) and the game will be televised by FS1. The Hawkeyes have won four straight, Illinois has a two-game winning streak.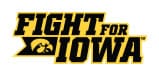 First-Year Player Profile Archive