By SHANE STURTZ
hawkeyesports.com
IOWA CITY, Iowa — The Tuesday before playing Illinois, University of Iowa senior wide receiver Brandon Smith met with media wearing a sweatshirt that said unguardable.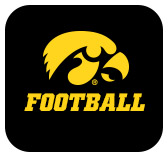 During the game, senior Ihmir Smith-Marsette stared down an Illini defender before walking into the endzone for his first touchdown of the game.
Swagger, confidence or a little of both, Iowa's wideout group, led by wide receivers coach Kelton Copeland, has a lot of it.
"Being a skill position player, whether on offense or defense, you better have a little bit of confidence," Copeland said. "You better have a little bit of what they call swag. You definitely have to have the belief in yourself – to me that's what defines swag.
"I'm an old school guy, so maybe the young cats have a better explanation for it, but for me, (swagger is) the confidence to know that you can do what is asked of you from your teammates and coaching staff. These guys have that swagger and confidence to execute when their number is called."
Smith-Marsette's number was called last Saturday in Iowa's come-from-behind 35-21 win at Illinois. His touchdown gave Iowa its first lead and his 13-yard, fourth-quarter rushing touchdown clinched Iowa's fifth straight win.
Smith-Marsette and Smith, the eldest of the receiver bunch, are leaders.
"They've paved the way," Copeland said. "They lead the group and set the tone in the meeting room. I tell them the biggest voice in the room has to be theirs. When they're on task and their mind is right, the rest of the room's mind is right."
Smith-Marsette and Smith have set the tone and then some in their Iowa careers.
Smith-Marsette became the fourth Hawkeye to reach 100 career receptions, he ranks 14th all-time in career all-purpose yards and owns the second best return average (28.7) in Big Ten history.
Smith became the 43rd player in program history to reach 1,000 receiving yards after a season-highs in receptions (five) and yards (58) at Illinois.
"Then you have guys like Tyrone Tracy, Jr., and Nico Ragaini, who we have seen make plays for us the last two years," Copeland said. "They're at the point now – in the third year in the program – where they know what it takes. They know what the expectations are from myself and more importantly, their expectations for themselves as teammates."
It's quite the list of playmakers Iowa has at the receiver position. One through five, each is capable of going the distance when they get the ball in their hands.
Look at Charlie Jones, who might not get as many reps on offense as the other wideouts, but if he has a sliver of daylight, he's making reservations for six.
Copeland wishes he could take credit for the playmaking ability, but said it comes down to recruiting, ability and confidence.
"It's one thing to do it in high school," he said. "It's another thing to execute at the Power 5 level. It's a combination of recruiting and these guys putting in the work because there are a lot of guys that have potential, but production is what it's about."
Like the chicken or the egg, which came first for the Hawkeye wide receivers? The playmaking or the swagger? Hard to tell, but either way, it's a fun group to be around for Copeland.
"The best thing I can say about coming to work every day is I don't feel like I'm coming to work," he said. "I feel like I'm coming to hang out with guys that I would hang out with if I wasn't coaching them."
The Heartland Trophy is on the line Saturday between No. 19 Iowa and No. 25 Wisconsin inside Kinnick Stadium. The game will kick off at 2:30 p.m. (CT) and be televised on FS1.