By DARREN MILLER
hawkeyesports.com
IOWA CITY, Iowa — The Heartland Trophy is coming into the Stew and LeNore Hansen Football Performance Center and it has a lot to do with efforts from student-athletes in the twilight of their college careers.
"If we're going to be successful, seniors have to play their best," University of Iowa head football coach Kirk Ferentz often says.
No. 16 Iowa defeated Wisconsin, 28-7, on Saturday to earn the bronze bull traveling trophy for the first time since 2015.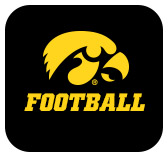 On this cold, overcast, windy, snowy afternoon in Kinnick Stadium, it came as no surprise when the first Hawkeye to touch the ball was senior running back Mekhi Sargent. With Senior Day introductions still fresh in his mind, he bulled to a 2-yard gain on his way to a 13-carry, 51-yard performance. Sargent moved in Iowa's top 20 in career rushing yards (1,740), inching past color commentator Ed Podolak.
With yards and points at a premium, the Hawkeyes relied on the warm right leg of senior Keith Duncan, whose field goals from 30 and 45 yards lifted Iowa to a 6-0 halftime advantage. The second field goal came with a second left before the break. Duncan moved into fourth in career field goals made and has been successful 20 times from 40-or-more yards.
Senior wide receiver Ihmir Smith-Marsette scored on touchdown receptions of 19 and 53 yards and his seven catches and 140 yards were game highs. With 110 catches for 1,615 yards, Smith-Marsette joined Iowa's top 20 in career receiving yards. His 140 yards against Wisconsin were the most by a Hawkeye receiver in nine seasons.
"I'm happy for the seniors to have a great memory as they leave Kinnick. That's a special thing for every one of them, something we talk about. I know they will look back on this game fondly. I'm happy for everybody on our football team, but especially our seniors."

Kirk Ferentz, Iowa head football caoch
"I'm excited to have the (Heartland Trophy) back," Smith-Marsette said. "The game plan was to keep pushing hard and attacking. When trophies are on the line, the game adds a little flavor. It was our time to take that trophy."
Those are genuine offensive highlights and usually when teams line up against Wisconsin, the words offense and highlights aren't used together often. The number of points the Badgers had allowed this season were 7, 11, 17 and 14. Thanks in part to sophomore Tyler Goodson running 80 yards for the game's final score, the Hawkeyes finished with 338 total yards, 127 coming on the ground. Entering Saturday's game, the Badgers ranked No. 1 in FBS for total defense (229.3 yards per game), rushing defense (72.3) and passing defense (157.0).
Iowa (6-2) extended its winning streak to six games and improved to 19-4 in the last 23 rivalry trophy games.
"The celebration was ecstatic," Goodson said. "The seniors haven't had a chance to bring the trophy into the locker room for a couple years now. It's nice knowing we worked hard and together to bring back the trophy for the seniors."
On this day, Iowa's defense was stouter than Wisconsin's and there were seniors on defense who stepped up on Senior Day as well. It started with a first-quarter fumble recovery by senior Nick Niemann which led to Duncan's first field goal.
There was senior defensive lineman Chauncey Golston, who had a game-high nine tackles with a sack and quarterback hurry.
"It starts with the player having that desire, more importantly the focus and discipline to do all the things you have to do over five years to become a really good college player," Ferentz said of Golston. "I can't say enough of the job Chauncey has done since he has been here."
The Golston-led Iowa defense held Wisconsin to 225 yards and 56 rushing yards on 33 attempts. Niemann finished with eight tackles, senior Matt Hankins made seven stops with a pass breakup.
"Every year it seems to come down to who can play more physical and who can run the ball and play great defense," Niemann said. "We weren't going to win the game if we didn't stop the run. We put our foot down and said we weren't going to let them run the ball; everyone held themselves accountable and it showed."
Up next for the Hawkeyes is a yet-to-be-announced matchup Dec. 19 during Big Ten Champions Week. If the game isn't in Iowa City, at least Iowa's seniors left with a good taste in their mouths.
"I'm happy for the seniors to have a great memory as they leave Kinnick," Ferentz said. "That's a special thing for every one of them, something we talk about. I know they will look back on this game fondly. I'm happy for everybody on our football team, but especially our seniors."
(The Big Ten announced Sunday that Iowa will play Michigan on Dec. 19 in Kinnick Stadium. Kickofff is 6 p.m. (CT).)