By JAMES ALLAN
hawkeyesports.com
IOWA CITY, Iowa – The trophy case is now full at the Stew and Elnore Hansen Football Performance Center.
Bruiser the Bull, aka the Heartland Trophy, will stay in the Iowa City following the 16th-ranked University of Iowa football team's 28-7 victory over No. 25 Wisconsin on a cold, snowy Saturday inside Kinnick Stadium.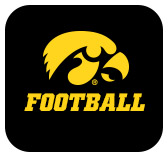 "To send the seniors out like that at Kinnick… that was amazing," said junior Mark Kallenberger.
The win gives the Hawkeyes their sixth victory of the season and gives the team possession of all four traveling trophies for the first time since the 2015 season.
Iowa's defense was punishing in the victory, surrendering 225 yards (just 56 yards on the ground) and forcing two turnovers. The Badgers punted nine times in the game and the only Wisconsin scoring drive came following a Hawkeye special teams' miscue that give the Badgers starting field position at the Iowa 25.
"We put our foot down and said we were not going to let them run the ball," said senior Nick Niemann.  "Everyone did their part tonight."
Senior Chauncey Golston had a team-high nine tackles, including four solo and a sack, on Senior Day, while seniors Nick Niemann and Matt Hankins had eight and seven stops, respectively. Redshirt freshman Jack Campbell had a fourth-quarter interception in the end zone, and senior Nick Niemann had a fumble recovery in the first quarter that set up Iowa's first score.
Offensively, Iowa came on in the second half after gaining just 112 yards over the first 30 minutes. The Hawkeyes finished with 338 yards for the game, which included 127 yards on the ground.
"It was to the plan to keep attacking, it would come," said Smith-Marsette. "We knew if we stayed patient it would come and keep going.  We knew we had to stay on the attack in the second half."
Sophomore Spencer Petras completed 14-of-25 passes for 211 yards and two touchdowns – both to Smith-Marsette. Smith-Marsette had a team-high seven catches for 140 yards, including 19 and 53-yard touchdown receptions in the second half.
Sophomore Tyler Goodson and senior Mekhi Sargent combined for 157 yards on the ground. Goodson broke off an exclamation-point 80-yard touchdown run in the fourth quarter and he finished with 106 yards on 11 attempts for a 9.6-yard average. Sargent had 13 carries for 56 yards.
Wisconsin quarterback Graham Mertz was 20-of-38 for 169 yards, while Jack Dunn had five receptions for a team-high 55 yards. Nakia Watson had 13 attempts for just 29 yards and a touchdown to pace the Badger rushing attack.
Quoting Head Coach Kirk Ferentz
"First of all, it was a tremendous win for our entire football team. To get our sixth straight, fourth trophy game, although this year we're just holding one of them. I am happy for everybody, especially our seniors. Those guys have done a great job. Now they can finish their careers here, not only seeing the bull, but us having it in possession. I am happy about that.
"I am happy for the seniors to have a great memory as they leave Kinnick. That's a special thing for each and every one of them, something we've talked about. I know they'll all look back on this game really fondly.
"Going into the game, we knew it was going to be a tough defensive battle. I think everybody understood that. You get in games like this, everything that you do is contested, every yard is a fight. That certainly was the case today.
"Also in games like this, it's all about trying to capitalize if opportunities appear. Wisconsin did a good job of that, at least on one of them. We were able to do the same thing today. I am happy about that.
"Some guys that did a great job, Keith Duncan broke a record, which is great, for long field goals. I am happy for him and certainly both of our senior receivers gave us a spark. Ihmir and Brandon came up big for us. That's what you have to do.
"I though standing on the sidelines, I have to pay compliments to Chauncey Golston, he did some good things. His pass-rush, the one tackle he had on a third-and-1 was exceptional. Not only did he tackle the guy, but pulled him backwards. The officials, there was no lack of clarity on that one. That was certainly good.
"Again, I think overall coming off an 0-2 start, I can't say enough about the way our football team kept their focus where it should be. They worked hard, gave great effort, and showed a lot of grit over the last six weeks. I am pleased for them and am happy for each and every guy on our football team.
The last thing, I just want to thank the parents, our senior parents being here. Unfortunately, they couldn't have a normal Senior Day, but hopefully this will work for them.
Also the people that got the field ready to go. It was dicey weather coming in, overnight and this morning and they got us in good shape. The field conditions were great. It gave us a chance to play a good game today."
How It Happened
The Hawkeyes forced a turnover on Wisconsin's first offensive series. On first-and-10 from the Badger 34, Watson fumbled a handoff and Niemann recovered at the 32.
Petras hit Brandon Smith for 14 yards on the first play, moving to the 18 and he connected on a screen pass to Goodson for eight yards to the 12 on third-and-12. Keith Duncan connected on a 30-yard field goal, giving Iowa a 3-0 lead.
The defenses and punters took the spotlight as Iowa's Tory Taylor and Wisconsin's Andy Vujnovich combined for 12 first-half punts. The Hawkeyes gained 112 first-half yards, while the Badgers mustered only 66 yards.
Wisconsin took over at the Iowa 37 on its final drive of the first half and after two Garrett Groshek rushes and a 4-yard completion to Jake Ferguson set up a fourth-and-1, the Badgers kept their offense on the field. Groshek set up in a Wildcat formation and Campbell blew up the rush for a 6-yard loss, giving Iowa the ball with 1:22 left.
Iowa capitalized on a Wisconsin pass interference penalty on the first play to move into Wisconsin territory and the Hawkeyes converted a third-and-5 with an 11-yard completion to LaPorta to the 32.
After an offensive pass interference penalty on Tyrone Tracy, Jr., moved Iowa backward to midfield, Petras connected with Goodson for a 20-yard gain on a screen to the 27 that put Iowa over the 100-yard mark in total offense. Duncan made the score 6-0 with a 45-yard field goal that ricocheted off the right upright.
Wisconsin moved 46 yards over nine plays on its first series of the second half, mixing the run and pass. Mertz three completions on the drive – for 6, 13 and 11 yards – but he misfired on a third-and-2 from the Iowa 29.  The Badgers came up empty when Collin Larsh's 47-yard field goal attempt was short.
The Hawkeyes turned to the air and capitalized, moving 71 yards on six plays to extend their lead. Petras hit Smith for 14 yards on the first play before connecting with Smith-Marsette in the seam for a 38-yard gain into the red zone.  Three plays later, Petras hit Smith-Marsette again for a 19-yard touchdown and Iowa was successful on the two-point conversion with a pass to Smith to push the lead to 14-0 with 8:49 left in the third quarter.
Iowa was in a position to keep the momentum when the defense stuffed Mason Stokke on third-and-2 from the Wisconsin 33. The Badgers elected to punt on fourth-and-1, but Wisconsin maintained possession when Charlie Jones tried to field the bouncing punt and the ball was knocked free and recovered by Adam Bay at the Iowa 25.
On the second play of the series, Mertz found Dunn for a 21-yard gain to the 1 before Watson scored from one yard out to cut the deficit to 14-7 with 5:42 left in the third quarter.
After trading three-and-outs, the Hawkeyes needed four plays to move 78 yards. Iowa converted a third-and-1 with quick pitch to Goodson for a 16-yard gain to the Iowa 47 and on the next play, Petras connected with Smith-Marsette for a 53-yard touchdown reception before he flipped into the end zone to make the score 21-7 with 1:23 left in the third quarter.
Wisconsin had a 16-play drive on its first series of the fourth quarter, covering 56 yards and using 8:39 of clock time. The Badgers moved the ball to the Iowa 19 before turning it over on downs.
The Hawkeyes ran three plays before Taylor was summoned to punt. Taylor mishandled the snap and kicked the ball off the turf for 40-plus yards, but was flagged for illegal kicking, giving the Badgers first and goal at the Iowa 5.
The Badgers mustered three yards on a Mertz rush and a shovel pass to Groshek to the 2. On fourth-and-goal, Campbell made a diving interception in the end zone for a touchback.
On Iowa's first offensive play of the ensuing series, Goodson broke an arm tackle, then made a guy miss, before putting an exclamation point on the victory with an 80-yard touchdown run to make the score 28-7 with 4:09 to play.
Postgame Notes
Iowa extended its winning streak to six games. Iowa has won six straight in the same season for the first time since 2015, when it opened the season 12-0. Iowa has outscored its last six opponents, 214-83, averaging 35.7 points per game offensively and allowing 13.8 ppg. during the winning streak.
Iowa ended a four-game losing streak to Wisconsin and regained possession of the Heartland Trophy. The Hawkeyes are 19-4 in their last 23 rivalry trophy games (Iowa State, Minnesota, Nebraska, Wisconsin), with all four losses coming to Wisconsin.
The win was Iowa's first against Wisconsin at Kinnick Stadium since a 38-16 win in 2008. Today's 21-point margin of victory was also Iowa's largest against the Badger since that same 2008 game.
Individual Notes
Petras is 78-of-131 (59.5) with 1,088 passing yards (181.3 ypg) during Iowa's six-game winning streak. He has thrown eight touchdowns and two interceptions over the last six games.
Petras' 53-yard touchdown pass to Smith-Marsette was the longest touchdown pass of his career.
Smith-Marsette moved into the top 20 in career receiving yards. He finished the game with seven catches for a career-high 140 yards, raising his career totals to 110 receptions for 1,615 yards. Today he passed Karl Noonan (1,478), Tevaun Smith (1,500), Maruice Brown (1,515), Ed Hinkel (1,588) on the all-time list.
Smith Marsette's 140 receiving yards are the most by a Hawkeye since Marvin McNutt had 151 yards against Purdue in 2011. The 100-yard receiving game was the third of Smith-Marsette's career.
Smith-Marsette had two receiving touchdowns in the third quarter (19, 53). They were the 19th and 20th touchdowns of his career (14 receiving, 4 rushing, 2 punt return). He is the 18th player in school history with 20 career touchdowns.
Smith-Marsette had 167 all-purpose yards today to raise his career total to 3,415 and move to No. 10 all-time in school history.
Sargent moved into the top 20 in career rushing yards. He finished the game with 51 rushing yards on 13 carries. He has 1,740 career rushing yards, 20th all-time in program history. Today he passed Ed Podalak (1,710).
Duncan connected on two field goals today (30, 45) to move into fourth place in career field goals made (50). He passed Kyle Schlicher today (51) on the school's career list. Duncan's 45-yard field goal in the second quarter was the 20th field goal in his career of 40 or more yards, the most in school history.
Golston registered a career-high nine tackles. Sophomore Dane Belton tied his career-high with six tackles.
Goodson's 80-yard touchdown rush in the fourth quarter was the longest rush of his career and ties for the 12th longest rush in school history. Goodson had 106 rushing yards, his fourth 100-yard rushing game of the season and the fifth of his career. Goodson's 80-yard TD run was the longest run by a Big Ten player this season and the longest rushing play by a Hawkeye since Tavian Banks went for 82 against Iowa State in 1997.
Campbell's fourth quarter interception in the end zone was his first career interception.
6 in a Row
Iowa has won six straight Big Ten games since opening the season with losses to Purdue (24-20) and Northwestern (21-20).
Iowa has won six straight Big Ten games for the fifth time in the last 30 years (2020, 2015, 2004, 1991). Iowa won eight straight conference games in 2015 and 2008, and seven straight in 2004 and 1991).
Iowa has scored at least 25 points in each of its six wins. It is the second time in school history Iowa has scored 25 points or more in six straight wins (2015, seven games).
Miscellaneous Notes
Iowa has played 21 straight games without surrendering 25 points, the longest streak in the nation among Power 5 teams.
Iowa vs. ranked opponents:
– Iowa is 8-1 when holding ranked opponents to under 250 total yards (last 217 vs. Nebraska in 2016).  Iowa is 6-1 when allowing seven points or fewer to ranked opponents (last 10-6 win vs. Wisconsin in 2015).
Wisconsin won the toss and elected to defer. The Hawkeyes have played 274 games under head coach Kirk Ferentz. Iowa has opened the game on offense 207 times (132-75). The Hawkeyes have opened the game on defense 67 times (36-31).
Up Next
The Hawkeyes will play Big Ten Champions week on Dec. 19. Game information has not yet been announced.