By SHANE STURTZ
hawkeyesports.com
EAST LANSING, Mich. — In its first Big Ten road contest, the University of Iowa women's basketball team (4-1, 1-1) dropped its first game of the season, 86-82, against Michigan State (4-0, 2-0) at the Breslin Events Center.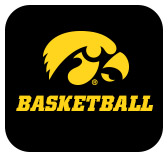 Freshman Caitlin Clark (35) and junior Monika Czinano (24) combined to score 59 of Iowa's 82 points, but it wasn't enough as Iowa tried to mount its second straight double-digit comeback.
Clark poured in a career-high 35 points, registering her third 30-point game of her freshman campaign. She also added seven rebounds, four assists, two blocks, and a steal to stuff the stat sheet.
Czinano was in double figures for the fifth straight game on 10-of-16 shooting from the floor.
Michigan State made its first four 3-pointers to jump out to a 12-2 lead, and would go on to lead from start to finish.
The Hawkeyes trailed by as much as 19 in the second quarter after 13 first-half turnovers, but cut the lead to single digits (63-55), heading into the fourth quarter.
Iowa's deficit shrank to as little as four points with just over two minutes left to play after sophomore McKenna Warnock drained a pair of free throws, but Michigan State responded with four quick ones of their own, and Iowa trailed by eight with 1:23 to play.
A Clark layup with 22 seconds left cut the deficit back to four points, and after Iowa forced a turnover on the ensuing inbounds play, Warnock was fouled and sank two more free throws to make it a one-possession game with nine seconds left.
Except this time, it was too little too late, as Michigan State's Nia Clouden, who scored 21 points, sank two free throws and Iowa failed to convert on the next possession as time expired and hand Iowa its first loss to Michigan State in the last three meetings.
OF NOTE
Iowa shot 26-of-28 from the free-throw line, shooting 92.9 percent – the highest free-throw percentage since shooting 12-of-12 against Penn State (Feb. 22, 2020). Clark was a perfect 9-for-9 from the charity stripe.
The Hawkeyes shot a season-low from 3-point distance (4-of-20).
UP NEXT
Iowa continues Big Ten play on Dec. 19 in Columbus, Ohio, against Ohio State. Game time is TBD.