By JAMES ALLAN
hawkeyesports.com
IOWA CITY, Iowa – Make it three straight over Iowa State.
Senior Luka Garza scored 34 points, including 21 straight in the second half, to lead the third-ranked University of Iowa men's basketball team to a 105-77 victory over Iowa State on Friday night on Mediacom Court inside Carver-Hawkeye Arena.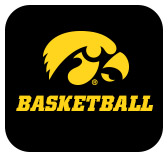 The Hawkeyes are 5-0 heading into their nonconference finale Sunday against Northern Illinois.
Garza made 13-of-14 field goals in the game, including a career-high six 3-pointers (in seven attempts) en route to his third 30-point game this season. It was his eighth 30-point game of his career.
"It was great for our team to move the ball today," said Garza. "Several guys got hot at different points and we're just the type of team when we find the hot hand, we keep going to it and a lot of guys were great tonight."
No one more than Garza.
Iowa was leading 68-55 when the Greatest Garza Show on Earth began. He hit four consecutive 3-pointers in a span of 2:13 to push the Hawkeye lead to 80-58. After back-to-back put back layups pushed the lead to 64-61, Garza hit his sixth 3-pointer at 7:24 mark before a layup at the 6:49 mark capped his run and ended his night.
"I felt like nothing I was going to shoot would miss," said Garza, who scored 25 of his game-high 34 points in the second half. "I felt like everything I was putting up was a good shot."
The Hawkeyes stretched their lead to a game high 30 points in the final minute courtesy of a deep 3-pointer from walk-on and Iowa native Austin Ash.
Iowa shot 54.8 percent from the field (compared to 43.8 percent for Iowa State), but Iowa State made two more 3-point field goals (13-11). The Hawkeyes were 20-of-24 from the free throw line (ISU was 8-of-10) and Iowa out-rebounded ISU, 38-32.
Redshirt sophomore Jack Nunge posted a double-double, finishing with 17 points and 10 rebounds. Nunge scored 15 points on 6-of-7 shooting and grabbed eight rebounds in the first half when Garza played just seven minutes with after picking up two fouls.
Junior Joe Wieskamp was the third Hawkeye in double figures with 16 points on 6-of-9 shooting, while sophomore Joe Toussaint had seven assists in 13 minutes.
The Hawkeyes got off to a quick start, jumping out to an 11-2 lead over the first three minutes before Iowa State countered by scoring 13 of 19 points to close to 17-15 at the 13:46 mark. Iowa followed with an 8-0 spurt to open a 25-15 lead at the 11:19 mark.
When Garza departed the game at the 10:48 mark of the first half with his second foul, the Cyclones capitalized, using a 14-2 spurt that turned a 27-18 deficit into a 32-29 lead. Iowa weathered the storm and closed the half on a 23-9 run to take a 52-41 lead into the locker room.
Javan Johnson led a trio of Cyclones in double figures with 20 points on 8-of-16 shooting.
QUOTING HEAD COACH FRAN MCCAFFERY
"Luka has really become well-equipped to handle whatever they throw at him. He's seen it. He never panics. He gets rid of it. He shoots it outside. He can go one dribble kick. He can make a dribble move to the basket. Go off either shoulder in the post.
"But sometimes the most impressive thing, I mean, the offensive rebound put-backs, when you have a good possession, it doesn't go in, they think they got a stop, he gets it, puts it back in. I mean, those things really wear on the other team, and that's what he does."
ONE. TWO. THREE.
Iowa has won three straight over Iowa State for the first time since 1988-90.
"That's huge. That's something CJ (Fredrick) and I were talking about after the game," said Wieskamp. "Coming in in the same class, we're 3-0. That's special and we want to continue to move that forward."
NUNGE PICKS UP THE SLACK
Nunge was one of the most important Hawkeyes on the court in the first half, spelling Garza while he was in foul trouble. The Indiana native nearly posted a first-half double-double, finishing with 15 points and eight rebounds in 12 minutes.
"I knew I couldn't get into foul trouble and I knew I needed to step up for our team," said Nunge. "That's been our mentality throughout the offseason, if someone misses a practice here or there, it's the next man up. That's something our team has taken ahold of this year."
"Jack was huge tonight," said Garza. "For him to step up in my role and be very good and to have 15 at the half, he was killing them. It gives me great confidence that if I make a mistake (with foul trouble), we're not doomed. We have a team with a lot of guys that will step up when I make a mistake."
OF NOTE
Iowa has won four of the last five contests against Iowa State, including three straight.
All-American Luka Garza netted 34 points (25 second-half points) on an efficient 13-of-14 shooting from the field, including 6-of-7 from 3-point range. That is the most points scored by a Division I player who has played less than 20 minutes in a game over the last 25 seasons.
Garza has reached the 30-point plateau eight career times. Garza scored 21 straight Iowa points spanning 5:15 in the second half. Garza passed Roy Devyn Marble for sixth in Iowa career scoring. Garza drained a career six 3-pointers, five in the second half and four on four consecutive possessions spanning 2:13.
The Hawkeyes scored a season-high 105 points, the most points scored by either team in series history.
Jordan Bohannon joins Bob Hansen, Kevin Boyle, and Mark Gannon as the only Hawkeyes to register four victories over the Cyclones in their career.
Redshirt sophomore Jack Nunge posted his second career double-double (17 points, 10 rebounds).
Tonight's win was Fran McCaffery's 450th career win as a head coach. He has 199 victories as Iowa's head coach.
Iowa opened its season with 93+ points in each of its first five games for the first time in program history.
Iowa has won 18 of its last 19 games inside Carver-Hawkeye Arena, dating back to last season.
UP NEXT
Iowa concludes its six-game homestand on Sunday against Northern Illinois (0-4). Tipoff is set for 1:01 p.m. (CT) on Mediacom Court at Carver-Hawkeye Arena.