Editor's Note: This story first appeared in the December issue of Hawk Talk Monthly, the official e-magazine of the Iowa Hawkeyes. The publication was named best in the nation in 2018, 2019 and 2020. To read Hawk Talk Monthly, click HERE.
By DARREN MILLER
hawkeyesports.com
IOWA CITY, Iowa — Beth Kemerer's hunch was correct. Her son, Michael, was a math guy.
Michael Kemerer, a three-time wrestling All-American for the University of Iowa, understands numbers like his 75-7 career record, 41-1 dual mark and 173 dual points scored. But his fascination with numbers has more significance in the classroom. It led Kemerer to earning a bachelor's degree in finance and he is currently in his third semester of graduate school, pursuing a master's degree in finance.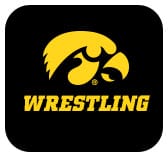 Kemerer's undergraduate and graduate grade-point averages have hovered around 3.3 and 3.4 (on a 4.0 scale). Four times he has been named Academic All-Big Ten, he has also been recognized as a scholar-athlete by the National Wrestling Coaches Association.
The traits that have made Kemerer one of the top 174-pound wrestlers in the nation have served him well in the classroom.
"You have to stay disciplined," Kemerer said. "You're putting a lot of physical and mental energy in your training and doing everything right there, so you have to be disciplined. There might be times where it would be easier to sit on the couch and watch TV or take a nap. You have to do your studying, work ahead and stay on top of it. You have to make it a priority. If you don't, you will start falling behind and you will make it a lot tougher on yourself down the road."
"There might be times where it would be easier to sit on the couch and watch TV or take a nap. You have to do your studying, work ahead and stay on top of it. You have to make it a priority."

Michael Kemerer, Iowa 174-pound wrestler
Kemerer's mother was also a role model because of her profession. For years Beth worked at PricewaterhouseCoopers and Bank of New York Mellon in the Pittsburgh area.
"She got me into it," Kemerer said. "Going into college I had a rough understanding (of studying business) but didn't know a lot. Once I started taking classes and learning about it, I was interested. From there, I built off that."
He enjoyed a wealth management class last spring because it touched on different aspects of investing. His international economics course is one of his favorites this semester. He is also captivated by an international finance class.
"It talks about how our world is so connected now and how different currencies and exchange rates affect the world," Kemerer said. "It is cool, especially now with the pandemic, you see how it has affected each country differently. It's a good time to be in a class like that."
Wrestling is a top priority for Kemerer, who can compete for the Hawkeyes in 2020-21 and 2021-22. His first semester at Iowa was the fall of 2015 and the native of Murrysville, Pennsylvania, is one of the most seasoned veterans in the Dan Gable Wrestling Complex. He wore a redshirt in 2015-16; as a freshman he went 33-3 at 157 pounds, finishing runner-up in the Big Ten and third at the NCAA Championships. As a sophomore at 157, Kemerer went 27-3 and placed fourth at the NCAA Championships. An injury kept him from competing in 2018-19.
"You never want to get injured and miss a whole season, but you can quickly find positives from it," Kemerer said. "I graduated the spring I was hurt, so I had more time to finish strong with academics."
He said the faculty in the Tippie College of Business has helped him develop skills as a student and the professors have been understanding when he balances the academic and athletic workload.
"I have built a lot of relationships in the program that have contributed to my success," Kemerer said.
Last season, Kemerer competed at 174 and won 15 of 16 matches and finished runner-up in the Big Ten. The NCAA Championships was canceled because of the coronavirus pandemic, leaving a void in Iowa's resume. The Hawkeyes were undefeated in Big Ten duals, won the Big Ten Tournament and were favored to win their 24th NCAA Championship.
That gold medal outlook has carried into the 2021 season that is scheduled to begin in January.
"The expectations are high, they are always high," Kemerer said. "You keep those high expectations and want to be better than last year. We have a lot of guys who are driven individually and for the team, so expectations are higher than ever. We're excited to see if we can keep pushing up that ceiling and scoring more and more points for the team."
High expectations. Driven individually. Pushing the ceiling. Those characteristics define Kemerer on the mat and in the classroom.