By SHANE STURTZ
hawkeyesports.com
IOWA CITY, Iowa —On Saturdays and Sundays, there's not many schools getting more offensive line respect than the University of Iowa.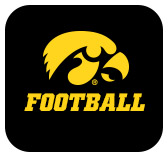 This week six offensive linemen earned All-Big Ten recognition. You read that right, six, offensive lineman were honored by the conference. That's pretty unheard of, but not for Iowa, a team that has seen production from eight different guys up front.
"This group has come together," said offensive line coach Tim Polasek, who is in his fourth season at Iowa. "We value things like being competitive and improvement driven. We've always stressed over the last four years about being the most connected group. It's about the group being connected, and then ultimately being aggressive through their rules and principles."
Iowa's O-line rules and principles were laid 22 years ago with the arrival of head coach Kirk Ferentz.
"The techniques have been consistent through the years," Polasek said. "That's what's made us a premier spot in recruiting offensive linemen. A premier spot when it comes to development."
Ferentz began his Division I coaching career as Iowa's offensive line coach from 1981-89, thanks to the mentorship of his high school coach, Joe Moore.
Coincidentally, Iowa's offensive line unit was named a semifinalist for the 2020 Joe Moore Award earlier this week. Ferentz's guidance from Moore, legendary head coach Hayden Fry, and more helped Ferentz build one of the greatest offensive line traditions in the country.
Polasek understands what that tradition means to Iowa and its brand.
"That's something I take a lot of pride in — maintaining and sustaining the standard," Polasek said. "Every day we're trying to reestablish what the standard is and get the young guys to understand that. Accountability from the old guys down is what I have been pleased with."
A former Hawkeye who improved every year at Iowa and lived up to the standard is the 13th overall pick in last year's NFL Draft, Tristan Wirfs.
"This guy is slowly but surely becoming one of the best tackles in the National Football League," Polasek said. "The good news with Tristan is, he is still a young football player. He's learning as he goes. He's gifted and such a good athlete. It's good to touch base with him. The thing I feel strongest about with Tristan is how much he still cares about this program."
Wirfs is Iowa's offensive line headliner in the NFL this season, but veterans like Bryan Bulaga, Riley Reiff and Brandon Scherff, and then up-and-comers like Austin Blythe, Ike Boettger and James Daniels, are a handful of the 11 Iowa offensive linemen who are on NFL rosters.
"We're not selling hope," Polasek said.  "We're selling production and development. If guys turn on the TV on Sunday, you see our guys doing it."
The current offensive line, led by senior left tackle Alaric Jackson and redshirt sophomore center Tyler Linderbaum, will eventually be producing at the next level, but everyone on the line develops differently.
Poalsek calls it a "race to maturity," to see how fast an offensive lineman can join the travel roster or even practice with the first unit and eventually contribute on game days.
"We're continually going to coach every guy," Polasek said. "We're going to approach every guy differently based on their personality. The expectations can't change. The standard can't change. The one thing that is critical is that everybody is ready when they get their opportunity. And those opportunities, just like this year, come in different ways."
Iowa's next opportunity to extend its six-game winning streak will be decided Sunday with the bowl selection show.