IOWA CITY, Iowa — Three-time first-team All-Big Ten and former University of Iowa third baseman Keith Noreen passed away on Dec. 19, in Florida.
Noreen died from complications of a blood clot in his brain, which led to a stroke. He was 52.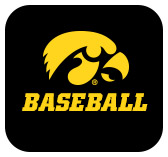 The Barrington, Illinois, native played for the Hawkeyes from 1987-90 and he is the only player in program history to earn three first-team All-Big Ten honors. Noreen was also Iowa's Bob Oldis, Jr., Most Valuable Player in 1988 after hitting .371 and leading the team in triples, walks, and game-winning RBI.
In 1989, Noreen earned American Baseball Coaches Association All-Region honors after ranking third in the Big Ten in hits, runs and RBIs. He hit .389 with 89 hits (15 doubles) and 62 runs in helping Iowa to a 37-20 overall record and a runner-up Big Ten finish.
As a senior, Noreen guided the Hawkeyes to a Big Ten regular season title (it is the program's last regular season crown) and an NCAA Regional berth. Iowa finished 38-19 overall as Noreen hit .402 and tied for the conference lead in Big Ten games with 27 runs while ranking in the top five in home runs (six), hits (37), and RBI (25).
Thirty years following his Hawkeye career, Noreen's name still litters the Iowa record books. He is the all-time record holder in hits (267), RBI (193), total bases (441) and game-winning RBI (27), while ranking second in games played (216), runs (200), tied for third in singles (183), tied for sixth in home runs (37), and ninth in doubles (42).
Following his Iowa career, Noreen played one season in professional baseball for the Sumter Braves in the South Atlantic League.
Noreen is survived by his mother, Barbara Noreen, and four older brothers — Kevin, Kenneth, Kristopher, and Kipp. He was an uncle to Kara, Kali, Kendal, Kolton, Melanie, Kate, Jackie, Sami, Nicki, Brittany, Alex, and Todd. He was preceded in death by his father, Robert Noreen.
In memorial, the family has requested donations be made to the University of Iowa Stead Family Children's Hospital in Keith's name.